Should you use Facebook ads?
We get the question often, "should I advertise on Facebook?", and the answering is always an resolute "YES". With Facebook ad network reaching over 2 billion active users, you'd be silly to say no to social advertising. No matter what you sell, it is guaranteed that your customers are spending a significant amount of time every day on social and you're already late to the party.
If you're reading this now (early 2017), Facebook's ad platform is very much in it's infancy and is yet to hit it's peak. This is great for you as an advertiser as it means that your ads will still be relatively cheap. As time goes by and more and more businesses begin using Facebook ads to speak directly with their audience, the battle for consumer attention will become ever more fierce, and what started off costing you £2 will soon turn into £4, then £6 then £10 and so on. The message that should be taken from this is get started using Facebook ads as soon as possible while it's still cheap.
Here's a great guide that will help you get your Facebook Ad account set up.
Define your objectives
Before jumping in, it's important to decide what you're using Facebook advertising for. If you want to drive more sales, your strategy will be very different for if you want to build brand awareness.
There are 3 stages in the typical customer purchasing cycle. They are as follows:
Awareness
The awareness stage is usually the first interaction that a customer will have with your business. On Facebook, this may be a video or a blog post you have posted. The best brand awareness pieces will not only grab people's attention, but it will also make them feel something. You can achieve this by having a deep understanding of your audience and appealing to their interests and deploy that in a social environment.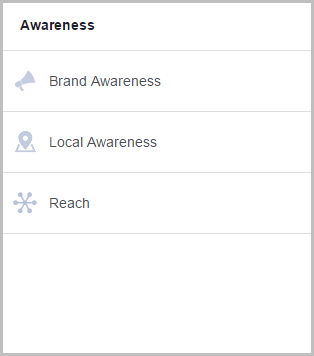 Consideration
At this stage, the customer has decided they need a product enough to commit to a purchase but they need to do their own research. Here, they will usually shop around to see which company is offering the best fit for them, at the best price. A suitable objective at this stage would be to try and get people to click through to your website to learn more about you and your products.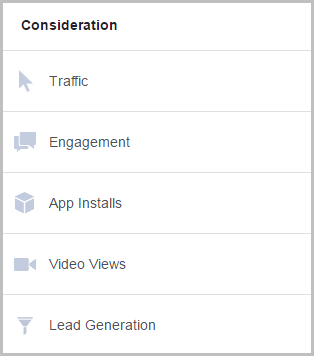 Conversion
At this stage, the customer is ripe and ready to buy and here is where you would ask for the sale. A discount promotion of sorts would be a suitable bid for the sale.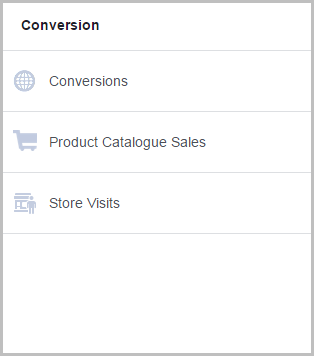 Different types of Facebook advert sets
Within each objective you have 'mini targets' otherwise known as 'ad sets'. For instance, in the Consideration objective, you can then choose what you're trying to achieve, e.g. Traffic or Video Views. Your selection here will define the type of advert that you go on to publish. In my example, I'm looking to get more people to my website so I'll choose Traffic.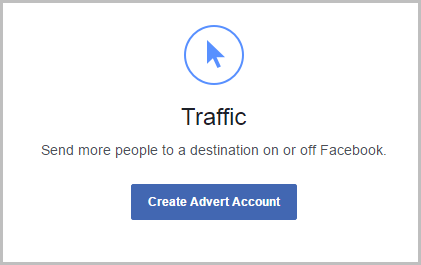 Targeting
Targeting is the thing that sets Facebook apart from any other form of advertising. We seem to be so willing to give Facebook all of our data to the point that it probably knows more about us than we do (joke, no joke).
The interface is relatively straight forward and you can pick it up pretty quickly. Try and be as specific as possible when choosing your target audience, otherwise Facebook will just show your ad to anyone and everyone and drink your money. Instead of trying to boil the ocean, take it one drop at a time.
Once you have set your wider targeting parameters such as age, location and gender, try and be as specific as possible with interests. Again, this will come from a deep understanding of your audience and what they're into.
Location
In my example, I'm selling puppy outfits and accessories direct to consumers. I'm only operating in the UK, so I'm going to target my ads to people inside the UK.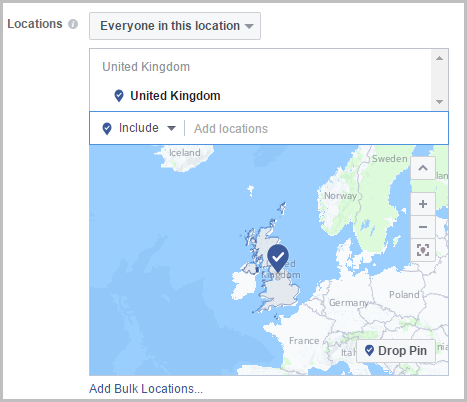 Age
I want to target people that actually have buying power and can make the buying decisions and I also only want to target people who are pet owners themselves. By being very specific and putting thought into my targeting, I'm ensuring that I will get the best return on investment by only showing my ads to the right people.
I'm going to make an assumption and say there are fewer people under the age of 21 that own their own pets so I'm going to exclude them from my targeting. I'm also going to exclude people over the age of 55 as they are less likely to purchase products through social advertising.
Gender
Everybody loves animals! I'll target both males and females for this.
Languages
As I'm only targeting the UK, I'll stick with English.
Detailed targeting
This is where Facebook targeting start to get really powerful. Here's where you can really drill down on who you want to see your ad. You can target your audience by things such as their interests, what pages they follow and even life events and behaviours. For instance, I will target people who like dogs and dog pages on Facebook. I can also use the behaviours category to target 'dog owners' and people who 'buy dog products and food'.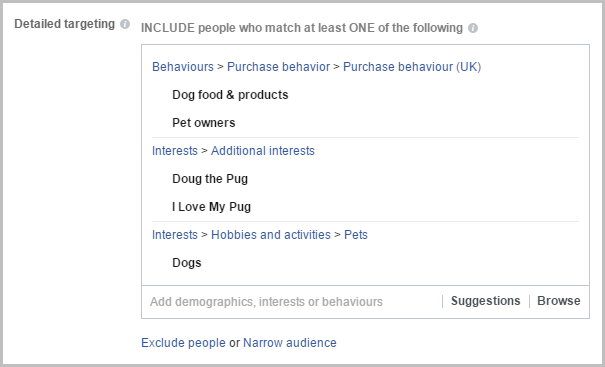 Save audience
If you're going to be using this audience regularly, you can choose to save the audience and use it in different ad sets and campaigns. Click 'Save this Audience' to store this audience set for future campaigns. You will be able to see this audience saved when you set up a new ad.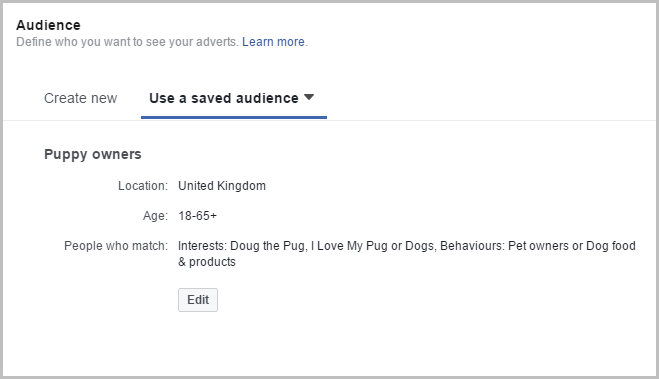 Placements
Here you can take control of the places where your adverts will be shown to the audience you have previously specified. I'd recommend leaving this on 'Automatic' as Facebook knows where and when your adverts will perform best (likely better than you will).
Budget & Schedule
This is where you tell Facebook how much you want to spend. You can choose how much you'd like to spend a day and also specify how long you want your ad to run for.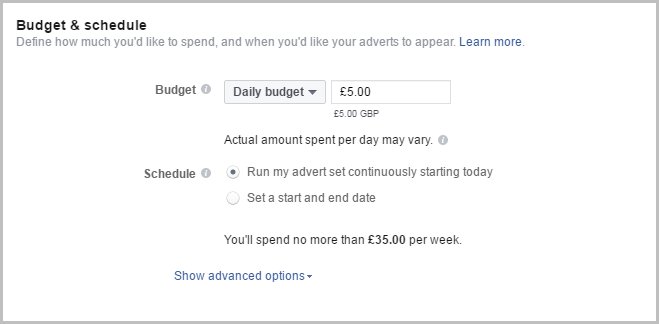 Don't forget, you can turn off your ads in the campaign view whenever you like.
Format
This is where you choose how you'd like your advert to look. There are a number of formats, all with their own unique benefits and best practices. Facebook has strict standards that your advert must follow before you publish. For instance, if your ad is too text heavy and looks spammy, Facebook will not allow it to be published.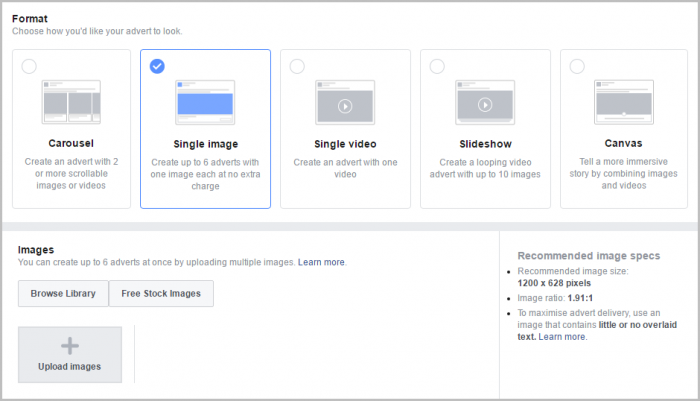 Advert preview
The advert preview shows you how your ad will look in the Facebook feed. Remember, most people view Facebook on mobile devices so be sure to preview your ad in the mobile view before publishing.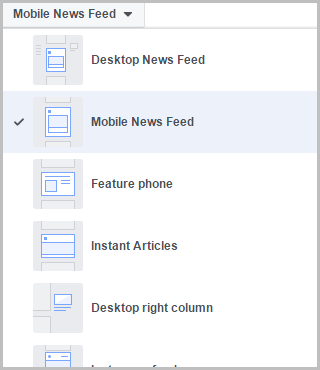 Facebook Pixel
The Facebook Pixel is a little piece of tracking code that you place on your website that allows you to track customer behaviour on your website after they have clicked on your ad. This will allow you to see if your customers are converting (making a purchase) after clicking on your ad. Here's a guide on how to install the Facebook Pixel on your website.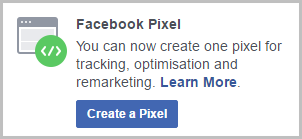 You're now ready to publish your first advert. Once you've published, you can track your adverts progress in the Facebook Ads Manager.