These days it seems like everyone and their dog has a Cricut machine and an Etsy shop. With over 2.5 million shops competing to make a name for themselves in the multi-billion dollar a year Esty market it can be difficult to stand out from the herd. To avoid getting lost in the shuffle, steer clear of these 4 mistakes that Etsy users commonly make.
Mistake #1: Not offering quick (and free!) dispatch and delivery
In the age of Amazon shipping, anything longer than 2 days seems like weeks. In fact, studies are showing that the consumer mindset has changed in the last few years with many leaning towards making more last-minute purchases than planned ones. You can take advantage of those procrastinators (like me!) by checking the "Ready for dispatch in 1 business day" option from the back-end of your Etsy shop. Doing this instantly cuts the number of products you're competing with by up to 90% and gets your products in front of shoppers who are ready to buy today.
Another caveat of the "Amazon effect" is that more and more consumers are expecting free delivery. To a lot of your potential customers a product advertised at £15 with free shipping is more appealing than an identical product at £10 with £4.99 shipping. Our mindset is changing, and you need to adapt!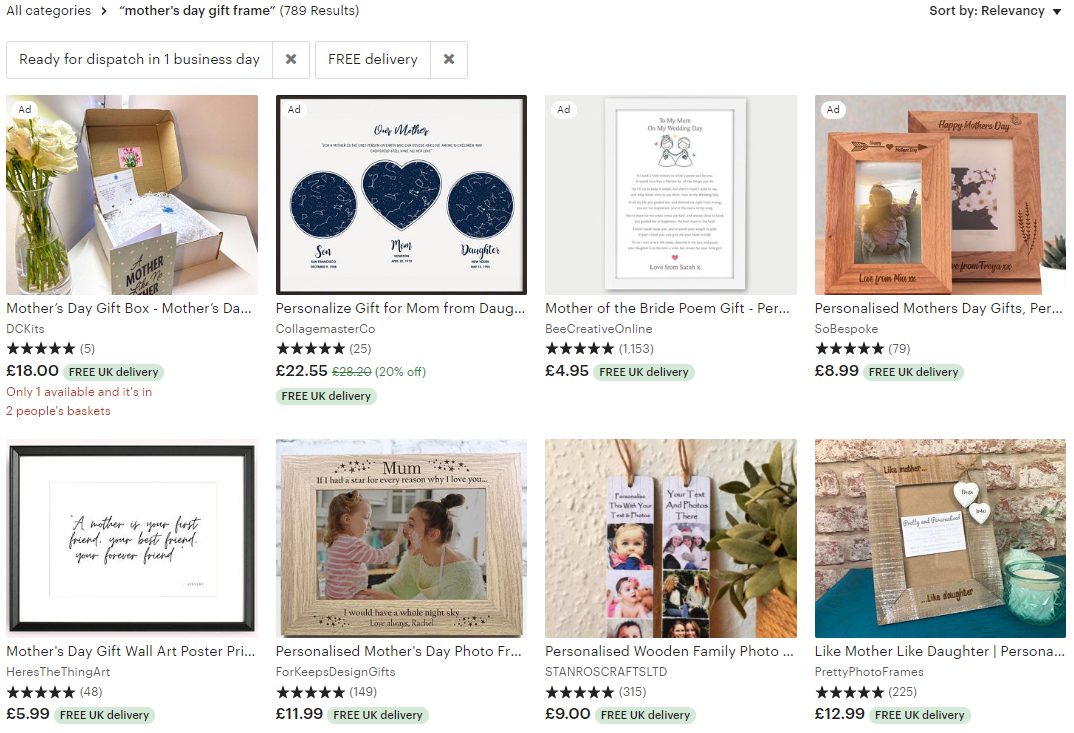 Try this little experiment yourself: search for a product on Etsy, something like "mother's day gift frame." Make a mental note of how many products appear with your initial search. For me it was 27,172 results. Now filter those results to only show products with free delivery and one day dispatch. The results for my search are now at only 789 products! For a shopper looking for a last minute mother's day gift the field has been severely narrowed by these two filters. Joining this list means you have a lot less competition and an increased chance of making that sale.
Mistake #2: Not collecting email addresses
Email marketing is something that should not be ignored with any ecommerce channel, and Etsy is no exception. When someone makes a purchase from your shop, it is because they already have a genuine interest in your brand and the products you have to offer. Don't let them be a one and done purchase! Following up with updates, sales and offers will bring these customers back for more.
First, you're going to want to find an email marketing service. The most well known is MailChimp, but Etsy users seem to also love Flodesk and Mailfold. If you're an EKM customer, I suggest having a chat with our Email Marketing experts who can assist you with getting your Etsy contacts added into your mailing list.
Once you've chosen a way to manage your subscribers, how can you get them to sign up? You'll want to have a sign up link on your website or blog and also on any social media channels you utilise. It is always a great idea to entice your customers and followers to subscribe by advertising an opt-in offer. If you're anything like me you've probably fallen for the old "sign up to our newsletter for 10% off your next order" trick dozens of times. That's because it works!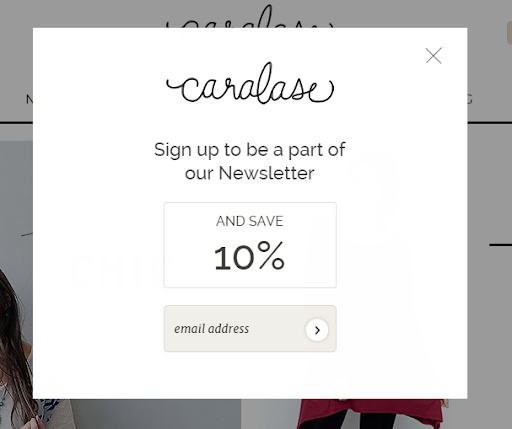 It is worth noting that depending on which country your shop operates from you may need to take an extra precaution or two when it comes to your email marketing strategy. If your shop is based in the UK or an EU country, you'll need to be GDPR compliant. Luckily this is easy to do! You only need to have a current Privacy Policy attached to your shop. Etsy provides a great template to get you started. As long as you have a Privacy Policy for your shop and follow the rules of consent with your email marketing list, you'll have nothing to worry about.
Mistake #3: Ignoring social media
Similar to email marketing, being involved on social media is absolutely essential in today's ecommerce world. Facebook, Twitter and Instagram are the biggest players here, and depending on your business you may be involved in all or just some of them. I mentioned before how email marketing allows you to reach out to and update people who already have a genuine interest in your business and your products. Social media does exactly the same thing, but takes it to the next level by allowing your customers to interact with you!

Rebel Melts includes a thank you card with their orders encouraging customers to share photos of their orders on social media and the company often re-posts this content on their own Instagram Feed.
You can use Instagram to post lifestyle photos of your products and encourage your customers to send you photos using your products to feature on your page. Remember when you were in school and you felt so proud when the teacher would put your work up as an example for the class? Your customers will feel the same way when they see a photo they took being shared on your page! Plus, if your customers are posting and tagging you on their own social media pages, that is free advertisement for your business. It's a total win win.
So how can you grow your following?
Add links to your blog, newsletter, Etsy page, and website
Put a card in with the order listing your social media handles and encouraging your customers to tag you
Run a giveaway where participants have to like, share, and follow
Follow other accounts within your sector and interact with them
Mistake #4: Not diversifying your sales strategies
Picture this:
You see someone with a cute phone case, one that you've been looking for for ages. You walk up and ask the person where they got it, and they say "I got it on Etsy."
When your customers find you on Etsy they don't associate the items with you and your brand, they associate it with Etsy! In order to legitimise your business you should have your very own website with your own domain name that builds YOUR brand, not Etsy's!
I'm not saying you should stop selling on Etsy, it is a great place for customers looking for unique handmade items to find sellers like you! What I am saying is that when you send out your newsletter you should encourage your customers to make their next purchase from your website, not your Etsy shop. Not only will you be helping to build and strengthen your brand, but this way you won't have to play games with the endless line of Etsy fees and compete for space on the first search page.
If you're ready to get selling online, look no further than EKM, the UK's #1 ecommerce platform. EKM is simple to use and offers great customer service, a dedicated account manager, in house email marketing and PPC experts and doesn't charge any seller's fees.
---
If you'd like to learn more about setting up your own online shop, read on for more insights into running your own online business here.