If you're new to the business world, finding ways to effectively market your business can seem daunting and perhaps you're not sure where to start. We're going to be talking through the best 5 ways you can market your business in 2021.

1. Update your website / social media
First of all, you'll need to ensure that your website, social media and other online business information is up to date and correct. You don't want to be putting time, money and effort into directing traffic to your website and social media if they're outdated or contain incorrect information. 
Updating your website
When it comes to updating your website, this can be anything from a few optimisation tweaks, to applying a new responsive theme.
If you don't already have a fully responsive theme (a theme that adjusts its layout based on the screen size of the device it is viewed), then you need to speak to your provider about updating your website with a responsive theme. There are many reasons to do this, but most importantly this will help provide a better experience for your customers and will also help your Google rankings due to improved readability.
Other smaller optimisation tweaks you can make to your website are to ensure that your images are compressed so your pages load faster – this also helps with your Google rankings. That your product descriptions are correct, and you have multiple product images for your products.
Now is also a good time to review your payment gateways to make sure that you have adequate options for your customers to checkout with. Buy now pay later options such as PayPal's Pay in 3 are starting to gain a lot of popularity. Particularly if you have high priced products, it enables your customers to checkout and spread the cost while you receive the full amount upfront.
Updating your social media
Next up, you should check over your social media accounts to see if your contact details are correct. If you haven't posted in a while, schedule some posts to go out at least a few times a week on each channel. This is so potential customers don't find your social media channel and think you're not open because of a lack of posting.
If you have any out of date seasonal cover images make sure to replace them with the current seasonal offers or just update to a more generic image. And of course, make sure to respond to any messages and comments you have.
This also extends to checking your Google My Business account and making sure that your opening hours are up to date, and that your contact information is correct as well. Once you're sure that both your website and your social media profiles are up to date we can now look at the different ways to market your business to boost sales.
2. Email marketing
Email marketing is still one of the most powerful ROI (Return on Investment) marketing activities you can do for your business. According to data from Hubspot 59% of respondents say marketing emails influence their purchase decisions.
Customer retention
You can harness the power of email marketing in a lot of ways to boost your sales and grow your business. If you're an already established business and have a solid customer base you want to make sure your marketing efforts include them.
You want your existing customers to feel valued and appreciated in order for them to become repeat customers and you can use email marketing to do this. First of all, if you don't have one already, create a newsletter that your customers can sign up to get the latest offers, deals and news from your business. This is a great way to keep in touch with your customers and keep your business in the forefront of their mind.
Customer acquisition
Your newsletter also doubles as an acquisition tool for your marketing efforts too. Once someone signs up for your newsletter but they have yet to become a customer, you can then design email marketing campaigns around your latest offers and most popular products.
You can also send out marketing campaigns for the launch of new products for example and offer a small discount for your loyal customers. But there are many ways to segment these email marketing campaigns such as by gender, interests, location and more.
If you're an EKM customer, why not speak to our email marketing specialist who can help you develop the perfect email campaigns for your business. Learn more about email marketing here.
3. Advertising
When it comes to advertising your business, there are many ways to go about it. Whichever you choose largely depends on your advertising budget and your goals. Let's walk through some of the most common forms of online advertising for ecommerce businesses.
Google Shopping
Perhaps one of the most popular options for ecommerce businesses, Google Shopping which now accounts for 82% of all UK retail ad spend, is one of the most cost effective forms of advertising. Google Shopping essentially puts your products at the forefront of Google search results for your chosen products.
When setting up Google Shopping you'll be asked to set a daily budget for your campaign as well as selecting your bidding strategy which is how you pay for people to see, click on and interact with your ads.
You can set this to a manual CPC (Cost Per Click) strategy which means you choose the amount a click would cost you or you can set up an automated bid strategy. Other options include 'Maximise Clicks' which tells Google to automatically set your bids to get as many clicks as possible within your budget.
You can speak to our paid advertising specialists about setting up Google Shopping here.
Facebook Advertising
There are also many forms of advertising on social media platforms too but we're going to focus on Facebook advertising. Forms of advertising on Facebook include:
Image ads

Video ads

Video poll ads

Carousel ads

Slideshow ads

Collection ads

Dynamic ads

Messenger ads

Stories ads

Facebook pixel remarketing
While most of these formats serve a purpose of putting your products in front of an audience set by you in a campaign, they can be costly and show little ROI if done incorrectly. We're going to be focusing on the Facebook Pixel and how it can help boost your sales.
The Facebook Pixel is a small piece of code that you insert into your website which allows it to track conversions, create lookalike audiences and remarket to people who have viewed products on your website.
This is such a powerful tool because it's utilising an already interested audience and showing your products to them over and over again on their social media feeds. It takes roughly 7 touchpoints in a customer journey before they buy, so the more times you can get your product in front of potential customers, the better.
It also allows you to create lookalike audiences which can help advertise your products on Facebook to people who are similar to your current customers – hence a lookalike audience. This can help build your brand awareness, increase your reach and boost your sales.
Both of these ways of advertising your business have great ROI's and will surely help you kick off the new year with a bang – particularly for the January sale season!
4. Run a social media competition
Something you may not have looked into previously but social media competitions can help support your business in a number of ways. From building your social media following, to creating engagement, reach and brand awareness.
If one platform works particularly well for your business for example Instagram, consider running the social media giveaway on this platform to begin with. The main aims for the giveaway are to increase your following, and reach new audiences.
To do this, no matter what you're giving away, the rules need to include at least the following:
Like the post

Follow the account

Tag 2-3 friends in the comments

Extra entries for sharing on stories
This way you'll build your following and also increase the brand awareness of your business by people tagging their friends and family in the post. You can use tools such as ShortStack to track the giveaway and choose a winner at random. 
Whilst this won't directly impact your sales, it's important to build an audience on a social media platform that's interested in your products. A giveaway is the perfect way to find these people because if they're willing to enter a giveaway, they're probably willing to check out your website and maybe even buy a product or two from you.
5. Create a customer loyalty program
Last but not least is creating a customer loyalty program. Sometimes overlooked but loyalty programmes can be valuable to customer retention and repeat business. There are many ways to set up a loyalty program from a points-based system, which is very popular to tiered programmes and paid programmes.
Whichever type you choose will depend on your business and what you're happy with but a points-based system is the easiest, most popular and can be quite effective in bringing back repeat customers and creating brand loyalty with them.
A great example of a points-based system is Starbucks loyalty programme. Whenever you spend a certain amount with them, you get a certain number of points that can be redeemed in the future. The same can be applied to online businesses but perhaps with a 10-20% discount on items rather than completely free but whatever discount you choose is up to you.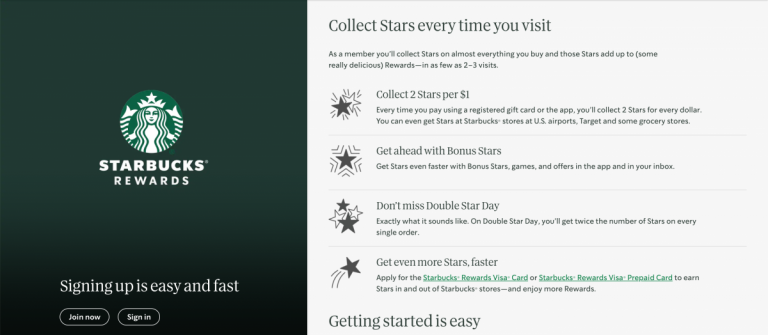 If you've chosen to implement any of these 5 ways to market your business in 2021, let us know how you got on by following us on social media and sending us a DM!
---
If you'd like to learn more about setting up your own online shop, read on for more insights into running your own online business here.