If you're a merchant then you're probably pretty used to dealing with payment gateways for your online shop. As a necessity when you sell online, you'll want to make sure you're getting the best deal possible, which is why you should look to review your shops' payment gateways every year or so.
Each payment gateway will have its own benefits and of course it's own charges for online transactions. Which payment gateways you choose or already have installed in your online shop will greatly depend on what kind of shop you run as well as your audience.
You may already have a good idea of what payment gateways work for your business which is great, but are you getting the best rate? If you're new to ecommerce, finding out what's best for you may take some time but will be worth the time to ensure you have the best options available for your customers at checkout.
In this blog, we'll be exploring each payment gateway and reviewing the benefits for each so you can make an informed decision about which payment gateways a best for your business. If you're new to payment gateways read on but if not, you can skip straight to Payment Gateways.
New to payment gateways?
If you're new to the world of ecommerce and are looking into your payment gateway options, this blog will walk you through exactly what payment gateways are and how they work.
A Payment Gateway is an online tool used for taking payments online through ecommerce shops. A payment gateway is required to take payments for purchasing items online.

If you're looking to trade online, even if you already have a brick and mortar shop, an online payment gateway is a must. Some can also connect to your shops POS (Point of Sale) system or even your accounting software to help you keep track, but we'll get into this later on.
How do payment gateways work?
You would install the chosen payment gateway into your online shops' checkout process. To do this would differ from platform to platform but on EKM, you'd simply add your selected payment method to your online shop. You can read more on this here if you're already an EKM customer.
The payment gateway acts as, well, just that – a gateway between your shop and the customers bank. When a customer makes a purchase on your online shop, the payment gateway is instructed to take the payment from that customer's chosen bank or card details and transfer the amount to your business bank account. The gateway would then verify the card details securely by encrypting sensitive details and ensuring that the data is passed from one party to the other.
Throughout this blog you may come across some industry terminology which can include; 'The Merchant' this would refer to you, i.e an online business, 'The Customer' also known as 'The Cardholder' who would be the person wanting to purchase an item and 'The Acquirer' also known as 'The Acquiring Bank' who would be the financial institution that maintains the merchant's bank account (known as the merchant's account).
However, if you have any questions about payment gateways at this point you can contact our ecommerce experts on 0800 003 044 003.
Payment Gateways
PayPal is one of the more well known online payment gateways and is used worldwide with over 370 million accounts. The business accounts they offer can suit a wide variety of business needs.
Benefits:
Affordable for businesses of all sizes

Offers chargeback protection on qualifying transactions

Accepts all forms of payment including credit and debit cards and PayPal payments

Transparent pricing
Fees:

PayPal fees are currently 2.90% + £0.30p per transaction. To give you a better idea of how that would look, take a look at the example below. Remember that this would be for every transaction so the higher the value of the order, the higher the fee, so you would need to take this into account.
*This fee applies to EKM customers who are on the Standard and above plans. EKM Basic customers pay 2.1% + 20 per transaction. For non EU card payments fees are 3.6% + 20p per transaction. Pricing may change dependant upon merchant criteria. The advanced card processing rates is 1.8 for all plans above Basic and 2.1 for our Basic plan.
---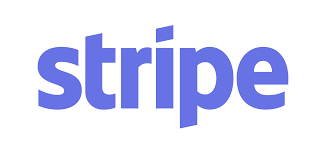 Stripe is another great payment gateway that offers a fully online solution. As both a merchant account and payment gateway, Stripe allows you to accept payments and deposit funds into your bank account. Stripe also allows for the use of Apple Pay with your online payments which is a great option for customers who purchase mainly on mobile.
Benefits:
Quick and simple set up

A fully secure and seamless experience for shoppers

Auto-sync with Stripe Dashboard for easy order management

Fully compliant for PCI, PSD2 and Strong Customer Authentication (SCA) regulations
Fees:
EKM has worked out a deal with Stripe so our customers can get the best rates possible. Stripe rates on EKM are; 2.2% +20p on our Basic plan and 1.9% +20p for our Standard plan and above.
This fee applies to EKM customers who are on the Standard and above plans. EKM Basic customers pay 2.1% + 20 per transaction. For non EU card payments fees are 3.6% + 20p per transaction. Pricing may change dependant upon merchant criteria.

---

Klarna is one of the most popular "buy now pay later" payment gateways. With over 4000 retailers accepting Klarna, including big clothing brands, Klarna makes sure that you always get paid while suiting your customers' needs.
Benefits:
Klarna takes all the risk so you always get paid

100% secure checkout

Simple buying process making it easier for customers

Hassle-free checkout

Buy now pay later

No chargebacks

No return fees
Fees:

Klarna can be included in your EKM shop with no extra monthly or set up fees. Our Basic plan customers can get access for a 2.49% transaction fee, Standard a 2.19% fee and our Advanced Plan receives a 1.99% transaction fee.
---

With WorldPay, you'll be able to accept payments from all major card methods as well as access to multi-currencies and world-class fraud screening.
Benefits:
Straightforward pricing with no additional or hidden fees

Easy interface and real-time dashboard

Stay in control with payment pages that are displayed to customers on your site

Supports all major debit and credit cards
Fees:
WorldPay has two simple options when it comes to their fees – a pay as you go plan and pay monthly plan. What you choose will depend upon the nature of your business but below are some examples for each. Please note that on the pay monthly plan there are two different fees for credit and debit cards.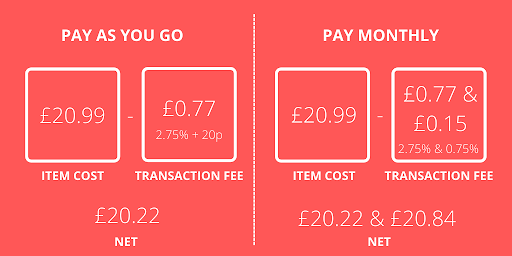 ---

Amazon Pay can make shopping on your online shop easier for customers who already have Amazon accounts. It uses their payment and delivery options within their Amazon account to complete purchases on your site, making the process quite simple.
Benefits:
Keep customers on your site by not redirecting them to a third party website

Accept payment easily and securely in line with your checkout experience

Mobile-ready with no extra set up required

Added protection with Amazon Payments
Fees:
Amazon Pay fees are dependant upon the monthly payment volume going through the gateway. Their processing fee ranges from 3.4% for less than 1,500 to 1.4% for 55,000 and above; all have a 0.20 authorisation fee on top as well. The monthly payment volume is based on the total average transaction payment volume processed by Amazon Payments for the three months preceding the application date. You can read more into this here.
What is PSD2?
PSD2 is an EU Directive designed to regulate payment services and payment providers throughout the EU. Adopted in 2007, the legislation helped to establish an EU single market for payments to encourage safer, more innovative payment services.
PSD2 builds upon previous legislation and seeks to improve customer rights in a few ways. Firstly the transparency of terms and conditions enabling customers to make an informed decision. This includes greater transparency around currency and exchange rates at the point of sale. The legislation also requires payment providers to resolve complaints in a timely and appropriate manner.
What this means for you as a shop owner
When the new legislation PSD2 SCA (Secure Customer Authentication) comes into force, this will change the way you'll be able to take payment on your online shop. Customers will be required to provide two forms of ID from, something only the customer knows i.e a PIN or password, something only the customer has i.e. a mobile phone or payment card or something unique to the customer such as their fingerprint.
Since the first draft of PSD2 the industry has lobbied for certain exemptions:
Face to Face contactless payments include single transactions under €50, with a maximum cumulative value of maximum of €100 or five transactions150 or five transactions

Singular online payments must be less than €30, up to a maximum of €100 or five transactions

A transaction can be exempted from SCA if it is "low risk" and certain requirements must be met

Recurring payments made to the same merchant for the same amount

Corporate payments must be made by a legal person i.e. a business rather than a customer

Consumers can whitelist merchants so that all future transactions do not require additional security
As an EKM shop owner, you don't have to take any action at this stage (at the time of writing 12/11/2019).
What is 3D Secure?
3D Secure is a little different to PSD2 and was actually introduced in 2001 by Visa. When you purchase an item online, you will be redirected to your debit or credit card providers 3D secure page on their website.
You'll then either be asked a password which you should have already set up with your bank or will need to enter an authentication code. Once verified the payment will be accepted and processed.
Business Bank Account
One of the most important elements to get set up when running a business is a business bank account. Business bank accounts can offer you a bit more than your regular personal bank account and can help to keep your business finances in order.
EKM partner with Revolut, a business account platform for domestic and international payments. Revolut can help you to save on exchange rates, cross border transfers and other fees as well as helping you save time by automating and streamlining your accounting tasks.
Here are just a few benefits of a business bank account:
Get unique GBP and EUR account details for local payments

Hold, send and receive funds in up to 28 currencies

Have an unlimited number of physical and virtual corporate cards

Take a variety of payments online including Apple Pay

Attached receipts with descriptions and view expenses in real-time
Did you know that EKM customers who set up a business bank account with Revolut will receive £25 free, just for setting up an account. You can learn more about this here.
---
If you'd like to learn more about setting up your own online shop, read on for more insights into running your own online business here.