Black Friday. One of the busiest times of the year for any retailer or business owner. However, this year may be a little different, with a cost of living crisis – energy bills rising – we may see customers being more conscientious in their purchases. Experts do still predict that ecommerce spend vs high street spend will continue to increase.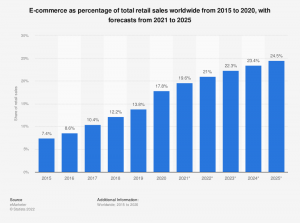 So if you've left your Black Friday preparations to the last minute, here are a few hacks to get your business ready for Black Friday, right on time. 
Black Friday Discounts
Probably one of the most important things to check off your to-do list is setting up your discounts. These are the core of your plans for your Black Friday sale so firstly, make sure they're irresistible. From heavily discounting popular items to providing your customers with amazing offers such as 3 for 2 or free gifts with every order over £50, make sure that your customers will go crazy for whatever discount or set of discounts you're offering.
With only over a week away, if you can, get your discounts set up early and test, test, test them! There's nothing worse than waking up on one of the busiest days of the year to find your discounts aren't working. It creates unnecessary stress and problems for you to fix before your day has really started.
You can also set your discounts up to automatically go live at 00:01 on Friday the 25th of November so your discounts can be applied and you can take orders while you sleep. You should also look to test out this too and make sure that once a discount is automatically applied that it still works and behaves in the correct way.
If you're an EKM customer, you can have a look at our extensive range of guides on getting your discounts setup here.
The early bird gets the worm
This year, it's not just about who has the best deals and most eye-catching ads. It's all about extending your Black Friday sale to cover a longer amount of time. As they say, the early bird gets the worm. Larger businesses like Amazon and Gymshark have already started their Black Friday sales over a week early to cash in on those hunting for deals online.
You should consider trying to get a piece of the early bird pie and launching before the day itself. Perhaps launch on Monday and run a week-long Black Friday and Cyber Monday sale for your customers. Some businesses are running different types of discounts at particular points throughout the week but not telling their customers which deals will be on and when.
This strategy helps keep customers engaged and checking your online shop for the perfect deal for them. It also creates some urgency with your sale as it's not just the same throughout the week and the customer can get the deal at any point. We'll talk more about how to create urgency in the next section.
Create urgency
There are many strategies for creating urgency on your online shop and you should be taking full advantage of them this Black Friday. If you're an EKM customer you can read our guides on our product urgency feature here. Here are some of the most common strategies you can implement on your online shop with a brief overview of what they are.
Countdown timer
If you plan on having a promotion for a limited amount of time then a countdown timer on those products will help increase the urgency for the customers browsing those products as it ticks down to zero.
Get it by timer
You can use this to let customers know how much time they have left on a product in order to receive it by a specific day.
Cart reservation timer
If a customer has products in their cart or basket, you can create urgency by telling them that their cart is only reserved for a particular amount of time, perhaps an hour or 30 minutes.
Free delivery message
You can add a delivery message on your products or your checkout to let customers know how much more they need to add to their baskets to qualify for free delivery. This can also help boost cart value.
Low stock warning
A low stock warning urges customers to check out quickly before your limited supply runs out. This urgency tactic is used widely across the retail industry and can be very powerful.
You can choose to implement one or a combination of these strategies to gently push your customers to checkout with larger basket values this Black Friday. EKM customers can learn how to set up any of these product urgency features in our handy guide.
Email marketing
Probably one of the most powerful tools you have in your business arsenal is email marketing. Particularly on busy days such as Black Friday, email marketing can prove to be a highly valuable asset for both you and your customers.
Not only can sequenced campaigns be set up so your customers automatically receive a set of Black Friday emails promoting your sale across the week. You can even tailor the emails with specific products, discounts or categories depending on the interests of your chosen segment of customers.
Email marketing isn't just reserved for promoting your sale, but it can also be for engaging with your customers and encouraging them to become repeat customers. Your newsletter is a powerful tool all year round and you can thank your newsletter subscribers with an extra gift or discount when they shop with you on Black Friday. This can also help encourage other customers to sign up to your newsletter, meaning you can engage with them all year round and not just on sale events.
Abandoned carts
Lastly, when you've put all that hard work into getting a potential customer to your online shop, had them browse your products and even had them add a few things into their cart, the last thing you want is for them to abandon their cart.
Luckily, there are a few things you can do to help remind them of the products they were looking at and encourage checkout. First, if they've completed some of the information or logged into an account on your online shop, you can send that customer a reminder email about the items in their cart.
Reminding them that they still have items waiting can help give a gentle nudge and push them over into a sale Why not include a small discount code in the email? That way you'll know that your abandoned cart email did its job.
The second thing you can do is set up Facebook remarketing ads which can help you boost your sales by showing the products the customer has been browsing as advertisements on their social media feeds including Facebook and Instagram. On average it will take from 7-10 touchpoints in a customer journey before a customer will checkout. This strategy can also support you in encouraging customers to checkout their items with urgency messaging, similar to what we talked about earlier.
With these Black Friday hacks in your back pocket, even if you've left it until the last minute you'll have everything you need to have a successful Black Friday sale and more.