Why do ecommerce referral programs work?
Because no one can be a better advocate for your ecommerce business than satisfied customers.
When your current customers tell their family and friends about your business, they are informing them about how valuable your service is.
And as new customers pour-in due to such referrals they'll stick around longer, which translates to more business growth and success.
This happens because referred customers have less churn and a higher LTV (Life Time Value) than people from other ecommerce marketing methods and strategies. And it's clear that customers with less churn and high LTV (loyal customers) are the catalyst for fast growth and a strong ecommerce business.
So if you aren't running an ecommerce referral program you're missing out on such potential. But how do you start?
Find out why customers would refer your business
Not every referral program works the same way. So when designing your referral program it's crucial to take into account what incentives will work best for your type of business and will be considered valuable to your customers.
People won't refer their family and friends to your business just because you requested them to. You need to let them know and experience the value your offer provides them and then leverage it as a driving force to motivate them to be a part of your referral program.
Once you discover what motivates your current customers to do business with you and also want to refer their friends, you can then use that value to build your referral program. And to use your "brand's value" to structure your referral program means that your incentives must be valuable and related to your business. For example, Riff-Raff, a toddler toy brand, gives advocates free toys when they refer people to their service.
The incentive is tied to the brand's value to the customer (a toy) and also the referral.
Choose the right incentives to motivate customers to become advocates
Let's look at two types of incentives you can offer.
Cash incentives
A referral program based on simple monetary incentives is one of the easiest methods for motivating customers to become advocates via the program. To start with, you can offer your clients cash rewards for promoting your products.
Depending on your business model the amount offered would differ. However, when you are offering monetary incentives it is crucial to ensure that you don't lose money in the process.
Take for example, Basecamp a project management software brand that adopted the monetary approach by offering their referrals and customers $50 each per sign-up. The reward, which was a 50/50 split, offered the new referral and existing customers equal incentives, to begin with.
Image Source: Screenshot
Service upgrades
If offering cash incentives isn't a possibility for your business type you can motivate your customers to tell your family and friends about your business in other ways. And offering people extra services or products (like the Riff-Raff example above) is an excellent option.
You can give customers priority access to new releases, extended warranties, specific products only for referral members, offer access to an exclusive webinar etc. Just discover what your customers consider valuable and then offer it for the referrals.
An excellent example of this type of incentive is Dropbox's referral program, which utilised an offering of additional storage space in exchange for referrals from customers.
Image Source: Screenshot
By giving the existing customer additional storage space per referral, Dropbox made the customer's accounts a lot more valuable. Normally, customers using the service would have to purchase additional space but with referrals, they got it for free.
To implement the program Dropbox created a basic landing page and the customers are prompted to type in different email addresses to send them confirmation emails with the invite.
Image Source: Screenshot
It's a seamless way to have customers reach out easily to people they know who will benefit from Dropbox's service.
Dropbox even goes a step further and allows customers to copy the referral link directly, share it to Facebook, and import their Gmail contact list.
Find out which customers will likely refer your business and reach out to them
Every one of your existing customers is a potential advocate. However, targeting customers who will possibly be more successful in helping build your referral program quicker is the smarter move.
Knowing which customers will likely refer their colleagues and friends to your business is a lot easier than you may think. With a little bit of outreach and a method of tracking its results, an NPS survey can be used to identify your best advocates.
In case you aren't familiar with the Net Promoter Score Survey (NPS), it is an excellent way to track how your customers feel about your offer.
The survey seeks an answer to the question "will you be willing to recommend our product to a colleague of a friend?" Depending on the outcome of the survey customers can be categorized into three groups:
Passives (7 to 8): These customers are satisfied with your product and its value but are passive towards referring friends and family and can be attracted by other brands with similar offers.
Detractors (0 to 6): These types of customers are unhappy with your product and will harm your referral program by negative word of mouth.
You can use email messages for sending NPS surveys, a few days, a week or two after purchase. While sending an NPS survey days after purchase isn't a hard rule, you must give room for the customer to test out your product and see its value for themselves first, before asking them if they will be willing to refer people to your product. As only then will you get a genuine answer.
This is because sending an NPS right after purchase may put them off, as it may seem like you are just trying to use them.
Reach out and promote
Once you identify the right customers then you can segment the likely willing customers for more targeted outreach to request that they join the program. This will also help to boost engagement concerning your ecommerce referral program. Hunter's directory of templates is a great help when it comes to writing the right outreach email.
After outreach, you then need to promote your referral program via social media, blog posts, ad placements, etc.
Conclusion
Starting an ecommerce referral program may look like a daunting task but utilizing the right strategies for your business type it's a seamless process.
So why the wait? Go ahead and implement the ideas listed in this piece.
---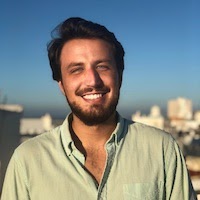 Raul Galera is the Partner Manager at ReferralCandy and CandyBar, two tools helping small and medium businesses run customer referral and loyalty programs. He's been working in the tech sector for the past seven years and regularly writes about marketing, ecommerce and tech.
---
If you'd like to learn more about setting up your own online shop, read on for more insights into running your own online business here.