There are currently many digital marketing tools at our disposal in the online world. Social media, SEO (Search Engine Optimisation) and PPC (Pay Per Click) advertising are amongst some of the key methods that marketers incorporate into their strategies. However, despite the number of tools available to marketers and business owners, email marketing remains the firm favourite channel, generating the highest ROI (Return on Investment).
Email marketing is a high-impact, cost-effective and highly measurable way of delivering your marketing message to your subscribers. It has the durability and control that other channels lack. Your Facebook, Instagram and Twitter profiles will constantly evolve as we develop new technology, leading to changing algorithms and updates. While social media is a great platform to interact with your audience and create new connections, email allows you to nurture a deeper relationship, which ultimately converts your customers into loyal, champions for your brand.
Recent research shows that email marketing is actually 40 times more effective than social media due to higher response rates, meaning it's a must-have digital marketing strategy.
It's safe to say that email marketing is here to stay. For small businesses with a low budget, it's a highly inexpensive way to share your message without investing heavily in advertising. It's an easy way to reach your customers, particularly as more and more consumers use their mobile phones to access their inbox.
This article is a practical guide detailing how to effectively use email for ecommerce business. It covers the process of gathering your contacts to building your email list and how to get the most out of email marketing.
1. How to build an email list
If you want to grow your business and increase sales, building a strong and targeted email list should be at the top of your priority list. Without valuable contacts, you have nobody to send your email marketing campaigns to. Growing an email list from scratch can often seem like a daunting task, but most of the challenge lies with knowing where to begin. There are many methods of data collection that can take place both online and offline, but here are some of the most effective methods for ecommerce businesses.
Offer an incentive
People aren't going to hand over their email address in exchange for nothing, then think again. Those days have gone! The average consumer already has hundreds of emails clogging their inbox on a daily basis. So, why should they fill up the valuable space they have left by subscribing to another mailing list? A saturated marketplace leads to consumers becoming more selective with what marketing communications they choose to receive.
One of the most effective ways to get around this issue is to offer an exciting and original incentive to encourage more email signups. Many ecommerce businesses offer somewhere between 10%-20% discount off the first purchase when a customer signs up to their email list. This is a very popular choice as not only are your customers going to receive your marketing communications, they will also feel encouraged to make a purchase from you. Other incentives might include exclusive access to product releases, vouchers, and free samples.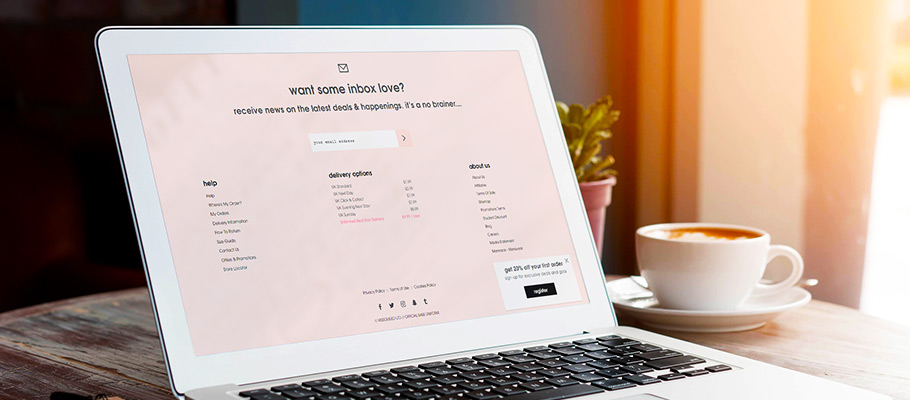 Create a sign-up form
One of the simplest ways to collect email addresses is to feature an opt-in form somewhere on your ecommerce site. The trick to remember at this initial stage is that the less information you ask for, the better. You do not want to deter people by asking for anything more than an email address and a first name. First names are useful for targeting customers with personalised emails, which we will come back to later.
Highest converting places
Below are the highest converting places that you could feature the sign-up form on your website:
Pop-up box
Top of your site
Footer
Hold a contest or giveaway
It's safe to say that the concept of winning is extremely appealing, particularly when there is an enticing prize on offer. Many businesses host contests on social media platforms in order to grow their following and gather entrants' email addresses. One of the great things about contests is that the potential customers that you are trying to target are the exact people who will be interested in winning the products or services you offer.
The most effective type of contest to gather email addresses is called a sweepstake. The winner is chosen at random, which requires the least amount of effort on the entrant's part, and you don't have to sieve through streams of content to choose the most deserving winner.
When choosing a prize, try to stay clear of random 'generic' prizes that are unrelated to your product offering. You will attract the wrong people who are only interested in one thing and that's not your business. Instead, offer a free best-selling product or product bundle that showcases exactly what your business is all about. If you want to offer a cash prize, then give it in the form of a voucher that can be used exclusively on your website. This will allow you to attract your target market, which consists of people who are actually interested in the products that you sell.
Social media
Facebook Business Page
If you don't already have a business page on Facebook, you should add it to the top of your to-do list. Follow our social media guide to learn how to get your social profiles set up correctly. Facebook is a great platform that you can use to collect email addresses. You can add a 'sign-up' button to the top of your business page, and point it towards a landing page on your site that has the email sign up form.
Facebook Ads
Using Facebook ads is also an effective way of bringing in sign-ups. You don't have to throw lots of money at the ads to get them in front of the right audience, you just need to be strategic and target correctly. Consider advertising your offer or incentive, such as '10% off your first order when you sign up to our email list', and then change the call to action (CTA) to 'sign-up' so that you can collect email addresses.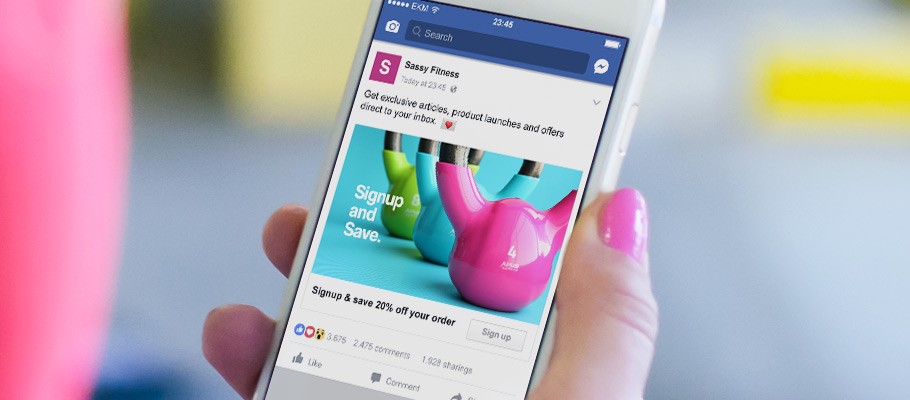 Advertise your contest / giveaway
So, we've already talked about potentially setting up a contest or giveaway to collect email addresses. Now, we'll move onto the best way to promote this. Create a post with an eye-catching image or graphic and add all of your contest details so that the terms of entry are clear. Share the contest on each of your social channels, and encourage users to share it with their own networks. Make an email address a requirement for entry, and direct people to a form where they can enter their details. It would also be worth considering boosting your posts to further expose your contest to a wider audience.
In-store data collection
Collecting data doesn't necessarily have to take place online. If you have a brick and mortar store too, there are simple techniques you can use to get those all-important email addresses.
Ask at the point of sale
As discussed earlier, incentives (such as money off your next purchase) are crucial for building your list. Choose the incentive you are going to offer, and ensure that your sales assistants ask every single customer for an email address at the checkout in exchange for money off. Some businesses have now taken a paperless route with their products, so if a customer purchases from you in-store, you could ask for their email address to send the receipt to rather than printing it out – another great way of collecting email addresses.
Ensure that your customers give you verbal consent, and understand what sort of content they are receiving to comply with GDPR regulations. This simple data collection method will capture your customers' attention, and you will have built a strong, healthy email list in no time.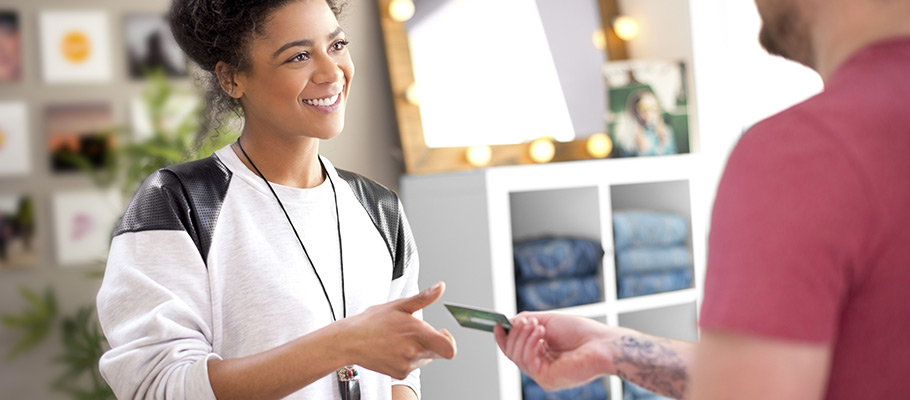 Use receipts and flyers
Using print is a great way of collecting email addresses even after a customer has left your store. Consider adding instructions to the bottom of your receipts detailing how to join the mailing list. Not everyone will take the time to read their receipts, but for the few that do, it's a simple change that requires minimal effort.
You should also consider creating small, eye-catching flyers that you can place at the POS, or slip into your customers' shopping bags. Highlight the discount or incentive you are offering, and once again include the instructions to signup to the list.
Quality over quantity
One of the key things to remember when building your email list is that it is not about the number of contacts you have, it is about the quality. It's better to have 150 quality engaged contacts who are interested in your products, than 1000 contacts who won't even open your emails. This is why you should never purchase an email list, particularly as there are now new GDPR regulations which we will cover in the next section.
The new GDPR Regulations
It's important that when we talk about email marketing that we touch a little on the General Data Protection Regulations (GDPR). This regulation states that you cannot send email marketing to individuals unless they have opted-in to receive your communications when they signed up to your mailing list. The regulation applies to any organisation processing personal data of EU citizens, and requires consent for every usage of personal data including name, email address, address, phone number, social media accounts and IP addresses.
Ensure that your email marketing provider has regulations in place, and make sure that you understand it and abide by it.
To learn more about GDPR view the Information Commissioners Office Guide to the General Data Protection Regulation (GDPR)
2. Get the most out of your list
Now that you've tackled the difficulties of building your list, it's time to move onto getting the most out of those valuable contacts you have stored. To do this, you need to devise a clear strategy. The strategy should include crucial details such as your choice of list segmentation, the type of content you intend to send out, and the timing and frequency of send. It's a good idea to create an email marketing content calendar so that you can set up your campaigns more strategically.
Lots of planning and preparation needs to be put in at this stage, so in the next section, we will walk through the key considerations to prevent your emails from flopping.
Types of email marketing campaigns
In order to run a successful series of email marketing campaigns, you need to differentiate the content that you put out to create interest and excitement. If you just keep churning out the exact same product-focused email week after week, your subscribers will switch off and may potentially unsubscribe from your list. Instead, you should mix up your email content by providing inspiration, informative pieces, and exciting new products. Avoid focusing all of your attention on the hard sell and focus on building relationships.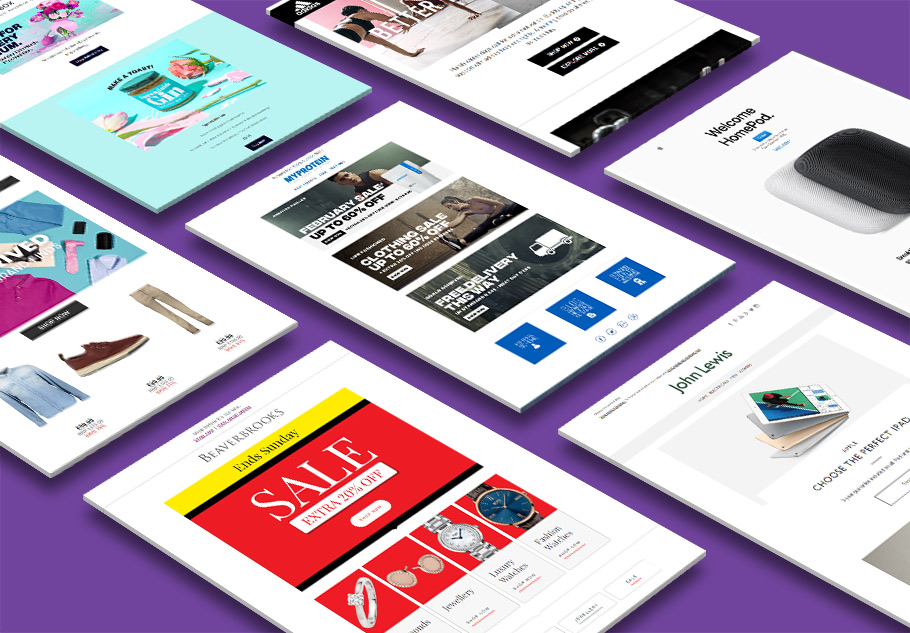 Newsletter
Email newsletters are a great way to update your customers on any company news or general updates, with a key objective of improving brand awareness and building those all-important relationships. Think of it as a monthly round-up. A newsletter should include information which informs, benefits, and entertains your subscribers in some way. It may include new product releases, promotions or useful blog content.
Promotional / Offers / Discounts
Promotional emails are used to shout about products and services, with the sole purpose of enticing customers to make a purchase, usually through discounts and special offers. They tend to be short and sweet, with a clear offer usually taking shape in a simple graphic or image.
New products
It's safe to say that customers never get bored of seeing something new. Whether it's a new gadget, a new collection or a new colour palette. As humans, it's in our nature to crave the next best thing. This is where new product emails are extremely effective, particularly if you clearly communicate the benefits that your customers will get out of buying this product.
Once again, consider offering some sort of incentive to encourage your customers to buy your new products. A limited time special price will create a sense of urgency and give your customers even more reason to purchase. You could also provide early access to your email subscriber list to provide exclusivity for new product releases and advertise this on your newsletter sign up sections on your website and across social media.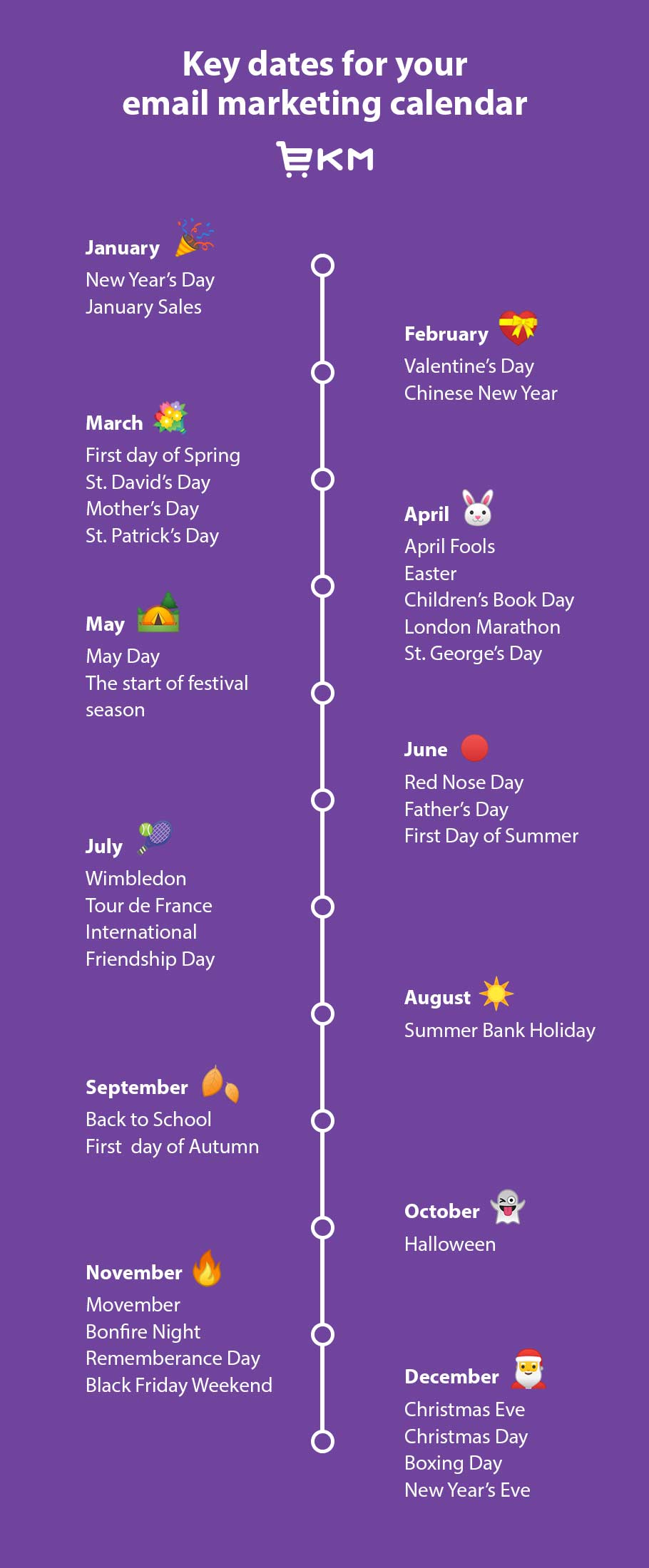 Seasonal emails
Seasonal events and special holidays present great opportunities for your email marketing campaigns, as they are a way to further connect with your audience. These major events often bring in the most revenue for many ecommerce businesses, so it's critical that you prepare by planning way ahead of time (preferably 2+ months in advance).
Key dates
Christmas, Valentine's day and Easter are some of the key major holidays that spring to mind, but there are also plenty of other smaller events to jump on too. Not all holidays will be relevant to every business, so it's important that you are strategic in choosing which to focus your efforts on. For example, a company selling cleaning products would benefit greatly from promoting during the 'spring cleaning' season, but not so much during 'gift-giving' seasons.
Blog posts
A great way to share regular content is to ensure that your blog (if you have one) is working in conjunction with your email marketing. Each time you put up a new post, send it out to your email list with a couple of lines from the post as a teaser to encourage your subscribers to read on. You could also include your top blog posts in your monthly newsletters as a round-up, in case any of your readers miss them.
Sequenced campaigns
Sequenced email campaigns allow the user to create a sequence of emails with fully configurable delays between them. The first email is sent when a contact is added to the group that you have assigned to the campaign. The second email is sent after a predetermined interval from when the first email was sent (see below).
Contact joins the group
Send first email
5 day delay
Send second email
7 day delay
Send third email
For example, let's say a customer signs up to receive 10% off their first order. Here, you could set up a sequenced email campaign where the first email you send includes the discount code and a friendly welcome. Three days later, you could send an email featuring products that you want to bring to attention and so on. Another great use of sequenced campaigns is counting down the days until a sales promotion is over.
It's simple to set up a campaign such as this using EKM Response, and you also have the option to send emails on specific days, such as the Friday after the first email or when a specific action is taken such as they've either opened or clicked the link in the email.
So, why should you use sequenced campaigns?
Sequenced campaigns have the highest success rates in terms of investment. They work well as they constantly prod your customers, raising brand awareness and ensuring they don't forget about you. Once you have set them up, they run automatically so you don't have to send them manually.
Segment your list
Segmenting your email list is a method of further narrowing down your target market into smaller groups so that you can send more specific, tailored messages. 83% of companies use some form of segmentation for their emails, as it increases the success rate of campaigns, leading to a whopping 760% increase in revenue. Marketers have realised that one size does not fit all. For example, while a customer base may be made up of individuals who share a common interest in health supplements, some may purchase supplements for weight loss, and some for weight gain. Therefore, you wouldn't target everyone with the same products.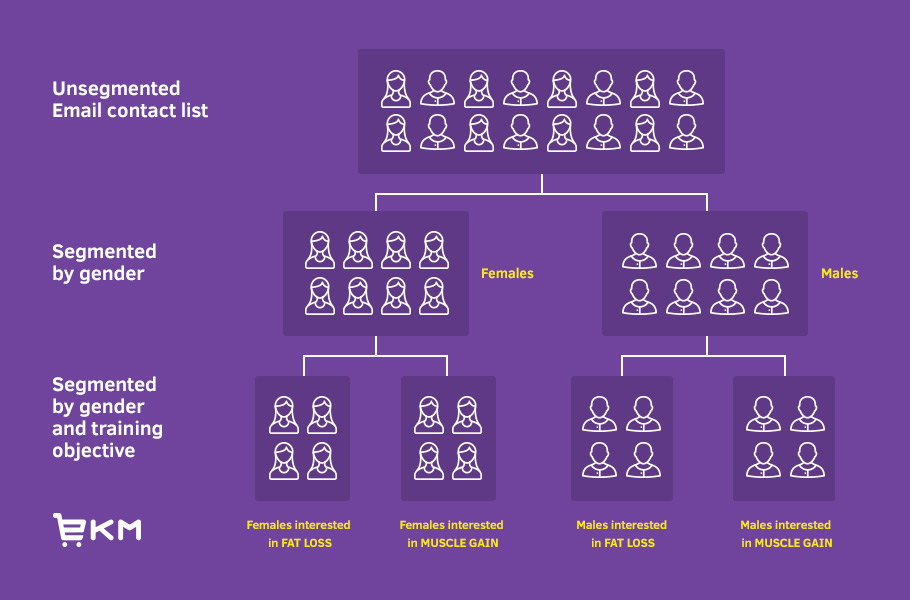 Segmenting your list by product preference is the most popular method used by businesses, however, there are numerous ways of segmenting your list. Segmentation can be as simple or as complex as you wish, however, do bear in mind that the more complex it becomes, the more time-consuming it can be.
The most common model used to segment a market consists of demographics, geographics, psychographics, behavioral information. This model is very popular amongst larger businesses however, you can pick bits out to help you segment your own customers. As you start out, you will find you have very little data saved about your customers, but as they begin to make purchases you can begin to target them more based on the products they purchase.
Segmentation model
So, how do we go about obtaining such information, when at the sign-up stage we only ask for an email address?

Create a Google form
A great way of collecting this data is to send out a data collection form in an email to your entire list. As discussed earlier, however, customers won't just hand over information in return for nothing. Consider offering incentives which will encourage customer loyalty such as free delivery for one month, 10% off your next purchase, free samples, or bonus products. The better the offer, the more likely your customers are to fill in the form. Try creating a Google Form and ask for data such as an address, DOB, gender. It's also a good idea to create a check-list of product categories so that your customers can tick their preferences.
You should consider including a 'why' when it comes to collecting data like date of birth. Some companies use it to send out 'Birthday Treats' to their customers on their birthday and this way they'll be more encouraged to give you this information. It also helps to build the relationship you have with them and makes them feel special to your brand.
The great thing about using Google forms is that the data is automatically input into a spreadsheet, so the time-consuming admin work is done for you. Ensure that you limit the form, keeping the questions as short and simple as possible, and test it before you send it out to your customers.
You've collected the data, what's next?
Once you've collected the information, you can then go on to create your targeted campaigns with tailored content. EKM Response allows you to enter this data when you go to add or edit a contact. You can add basic information such as name, address and telephone number in the 'optional fields', and then you get an additional 20 'custom fields' to play with as you please. As you continue to collect more information about your customers, you can begin sending more and more tailored emails.
So, now we've covered how to segment your list, you can go on to create more targeted campaigns.
Key considerations
This next section will cover some top tips on other factors to consider when designing your email campaigns. Each piece of the puzzle contributes to your email success and helps you to ultimately achieve your sales goal. From using templates, to choosing your send frequency, and measuring your campaigns, this section will cover the basis of everything you need to know when devising your email marketing strategy.
Templates
Templates are a lifesaver when it comes to designing your email marketing campaigns – particularly if you're short on time. They provide greater efficiency, functionality and versatility which helps to drive conversions. Why start from scratch when you have a tried and tested framework that you can build upon, and customised to suit your needs? They also offer your emails a sense of professionalism and can help increase the familiarity of your emails with your customers.
EKM Response offers a broad selection of fully customisable free email templates which have been designed to increase the delivery rate to your customers. They are fully responsive and work on every device, which is particularly important considering the volume of emails that are now accessed on mobile phones. For businesses that don't have a huge marketing budget, email templates are a great, cost-effective option for producing high-quality professional campaigns in a matter of minutes.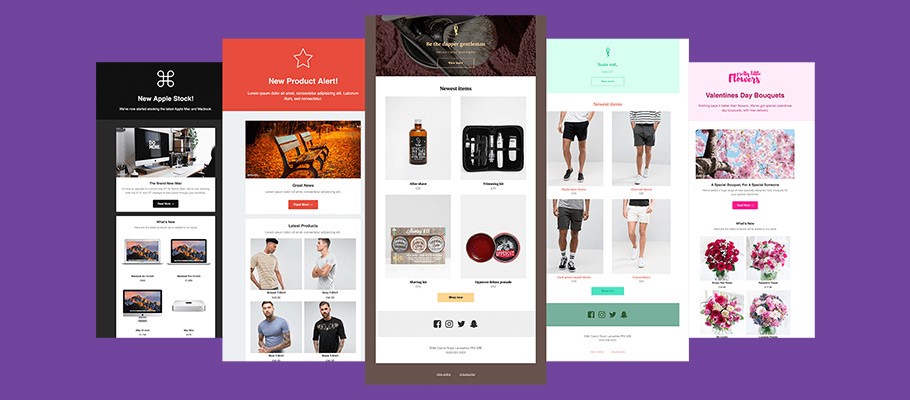 Using images, videos, animation and text
There are basic guidelines on how best to use images, videos, animation and text in your emails, as emails with too many images and large file sizes could be problematic. EKM Response templates have been designed with the right amount of images and text to avoid going into spam and junk folders. All you need to do is import your own images into these templates, and overwrite the text.
Images
Email templates don't usually exceed a width of 600-700 pixels, so it's advisable to keep your images within the constraints of the template. It's also recommended that you keep your image file sizes below 100kb, or you run the risk of your emails being spam blocked. Save your image files as a .jpeg or .png, and ensure that you are compressing them to make the file sizes as small as possible.
If you're worried about your emails exceeding the recommended size, don't worry as you can run a spam report on each of your emails using EKM Response before you send them. This gives you a score that tells you exactly how likely it is that your email will go into a spam folder, and how you can avoid it.
Videos
In a perfect world, we'd be able to click the play button and watch a video without being redirected from the email. Unfortunately, most email clients won't support embedded videos because the file sizes are so large. Fortunately, there are workarounds that you can use so that you can include videos in your emails.
The first option is to take a still from your video and edit a play button on top of the static image, so that your video looks ready to watch. Insert this image into your email template and link it to the landing page or video-sharing website you have uploaded it to, so that your customer can watch it. The second option is to use an animated GIF instead of a video.
GIFs
Adding animation to your emails is a great way of increasing your subscriber engagement and providing a little more interest than a standard non-moving image. It's a way of making your emails stand out against the many others in your subscribers' inbox.
GIFs are a brilliant file format to use as they are widely supported by email clients. While some clients such as Outlook don't support GIFs, the majority of recipients now open their emails on their mobile phones so this is no longer a major issue. When it comes to GIFs, keeping it simple is the most effective option. Avoid using anything too cheesy and only use them where they add value to keep your customers on their toes.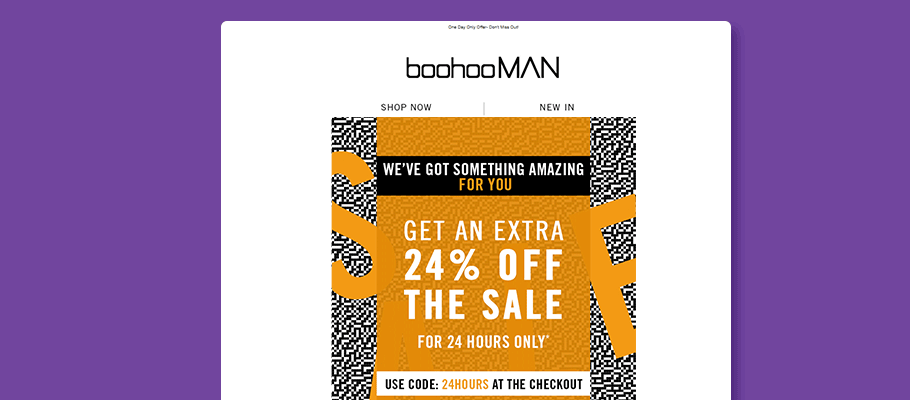 Text
While images and animations are fantastic for making your emails more visually appealing, there's no getting away from the fact that emails should primarily be text-based. Messaging you can get across in the copy of your emails will prevent you from using too many images. You want your copy to consist of teasers around 100-150 words that encourage your customers to 'read more' or to 'shop' your product ranges. So with that being said, you want to stay clear of using hefty paragraphs of text that your customers won't bother scanning through.
When it comes to design, as long as the text in your email is easily readable, you can be quite flexible with the font, colours, and size. It's a good idea to use bold text or capital letters for your headings, or for any piece of information that you want to stand out.
CTAs
A strong call to action (CTA) is the most vital piece of text within your emails. For each different action that you want your customers to take, provide a clear CTA that links off to the correct place. For example, 'Read more', 'Shop now', or 'Find out more'. Here are some tips that you should consider when designing your CTAs:
Make it short and snappy

Make it clear what's going to happen when the button is clicked, e.g. SHOP GIFTS

Putting your CTA into a box helps it to stand out from the rest of your copy
Send days and times
Email open times have become more sporadic due to many people accessing their emails on different devices at different hours of the day. This means there's no longer a solid answer for when you should send your email marketing campaigns to get the most opens and clicks. One time does not fit all, and your send time will depend on your industry and your target audience.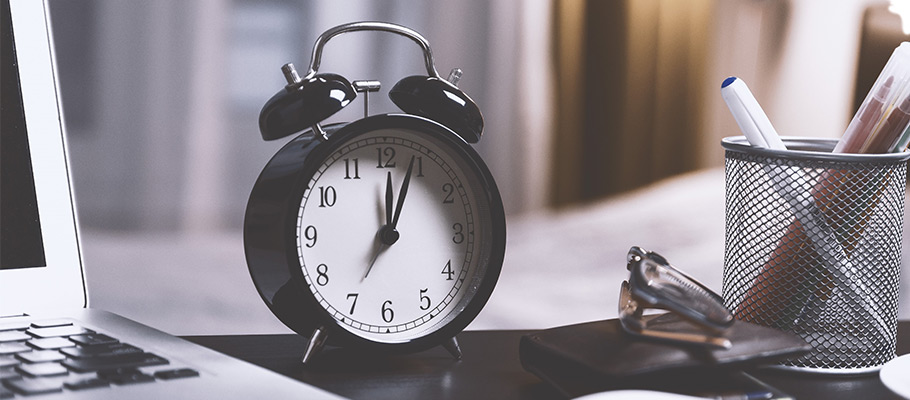 Despite the uncertainty, timing should still be a consideration in order to get the most out of your emails. Ideally, you want your emails to arrive in your recipients' inbox at a time when they are accessing their smartphone or are sitting at their desktop. You will also benefit from sending at a time when your competition is quietest so that you can rise above the rest, and stand out from the crowd.
Here's a basic guide on generic email send times that may or may not work for your business.
Monday
Mondays are generally the worst day to send emails as your customers are busy starting a new week at work. They will most likely delete what they consider to be unimportant emails that clutter up their inbox.
Tuesday, Wednesday and Thursday
Mid-week, mid-day tends to be the most popular and reliable strategy for marketers. Tuesday and Thursday are firm favourite days, with a recommended send time between 1-3pm.
Friday
Fewer emails are sent out on a Friday as customers are distracted with weekend preparations.
Weekends
Fewer campaigns are sent at the weekends when business owners and marketers are out of the office, and customers are out having fun.
Payday
Along with the different days of the week, you also need to think about the best time of the month to send your emails. The first and last weeks of the month generate more sales due to the way payday falls. The majority of salaried employees in the UK are paid around the start or the end of the month, so this is the time when they are most likely to part with their money.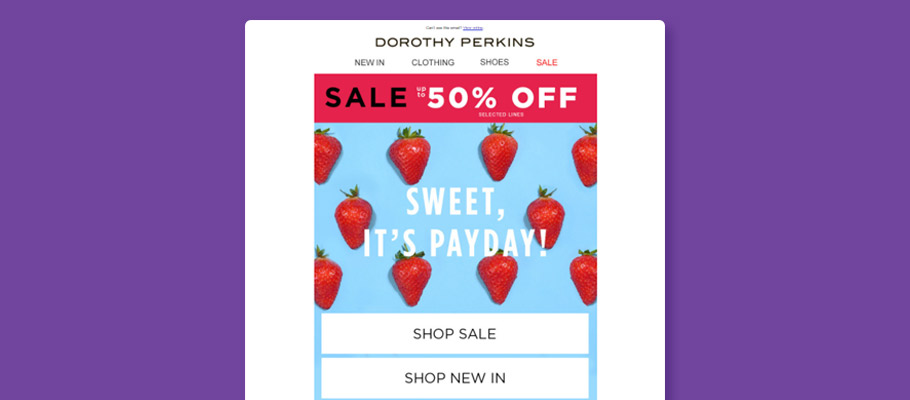 Consider your audience
Understanding your audience is crucial to discovering the best times to send your emails. For example, if you are targeting a younger millennial audience, the likelihood is they are going to be far more active at night than an older audience. While there are basic guidelines and common practices for email send times, it ultimately comes down to who your audience are, when they will be most active, and what it is that you are selling.
Test, test, test!
So, considering there's no concrete advice on when you should send your emails, the only way to find out is to test like there's no tomorrow. Segment your customer list into two so that you can run your own A/B split tests. Begin by sending half of your customers a campaign on a Tuesday at 2pm for example and then send the other half the same campaign the same day but at 7pm. Be sure to run several tests so that using trial and error, you can eventually discover the dates and times that best suit your business and your audience.
Send frequency
No one likes to be inundated with too many emails. In fact, 69% of recipients click the 'unsubscribe' button after receiving what they believe to be too many. But how many emails is too many? The majority of marketers send an average of 2-3 emails per month, however a recent study has suggested that 91% of users have no issues with promotional emails, providing they are well targeted and include compelling content. That being said, one email a week would be a healthy amount to maintain regular communications with your customers without overwhelming them.
Once again, running an A/B split test would work well here to decipher just how frequently your audience are happy to receive your marketing messages. You could also take a more direct approach and create a questionnaire to collect the vital information. There is no cookie-cutter answer, so understanding your audience is once again critical to making your marketing efforts a success.
Subject lines
While they're only a small part of your message, subject lines are the first thing that a customer will base their judgement on when they open their inbox. 47% of email recipients make a decision whether to open an email solely based on the subject line, therefore, first impressions are paramount. So, if you want your emails to be clickable, you need to be creative with your subject lines.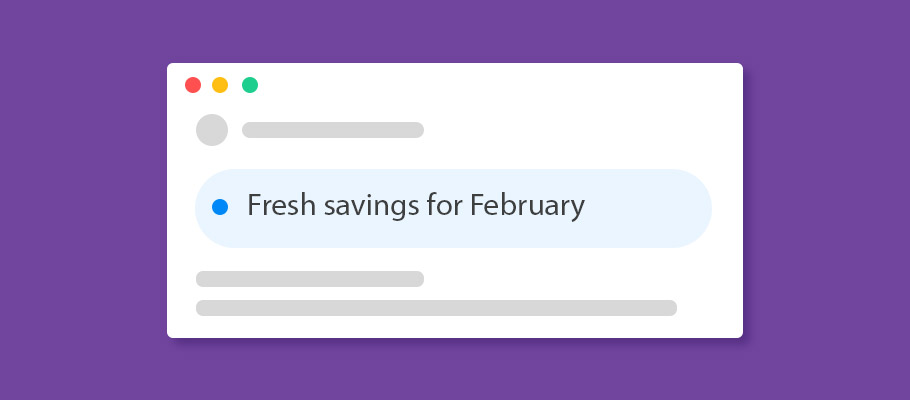 Keep it short and sweet
It's best practice to keep a subject line short and sweet. Your subject line will be cut off on mobile devices if it's too long, so you should try and stick to 50 characters or less. Try and get your message across by including the most important keywords, for example 'Don't miss out on the fantastic 50% off sale this weekend only'' would be more suitable as 'Did someone say 50% off?'. You simply need to catch the attention of the reader at this stage, as all of the additional information will be disclosed inside the email. The sole purpose of a subject line is to pique interest and get them to open the email.
Convey a sense of urgency
Creating a sense of urgency will cause your customers to act now and open your email then and there. Actionable verbs such as 'meet your new dress', 'take 20% off' or 'Shop an extra 10% off final clearance' are far more effective than just stating what is inside of the email, as they urge your customers to take action.
Creating urgency around a limited time offer is another way of enticing your customers. For example, if you have a special weekend event, something like 'This weekend only: 30% off!' would work nicely. If the sales promotion you are running is close to ending, countdown the number of days remaining in your subject line, for example 'Hurry! Only 2 days left in the Summer sale', or 'Last chance: Sale ends midnight'.
Add personalisation
Displaying the recipient's first name within the subject line of an email gives a sense of personalisation and importance, encouraging the recipient to open it, pleasing the spam filters. Here are some examples of where you might use personalisation in your subject lines:
Shannon your payday deals are waiting!
Shannon we've missed you
Here's 10% off your next order Shannon
Hurry Shannon, flash sale ends 9pm!
EKM Response allows you to add first name tags into your subject lines so that the recipient's name automatically displays. Now, this works fantastically as long as you actually have the customer data. However, not everyone will be willing to give you their details. If you don't have the customer's first name saved, nothing will display as a fallback, so it's important that you structure your subject lines in a way that would still make sense if the first name wasn't shown. For example:
Here's 10% off your next order Shannon
Would display as:
Here's 10% off your next order
But if you used punctuation, things could get messy
Shannon, your payday deals are waiting!
This would become:
, your payday deals are waiting!
Therefore, it's important that you keep this in mind when using personalisation tags.
Use emojis
Emojis can be used in place of, or to complement words in subject lines; either to spice them up or to shorten them. For example using 🍕in place of the word 'pizza' is a great way to reduce characters while also increasing engagement. If you do decide to use emojis, make sure they are relevant to the messaging. Also consider the fact that emojis display differently on different devices and different email clients, so testing is more important than ever.
If you're unsure whether your audience will respond well to emoji use, run an A/B split test for the same email with one version including an emoji, and one ditching it. When using emojis, stay clear of using too many, particularly if they are out of context. This will just look spammy and will have a negative impact on your open rates. Take a look below at some good examples of emoji use: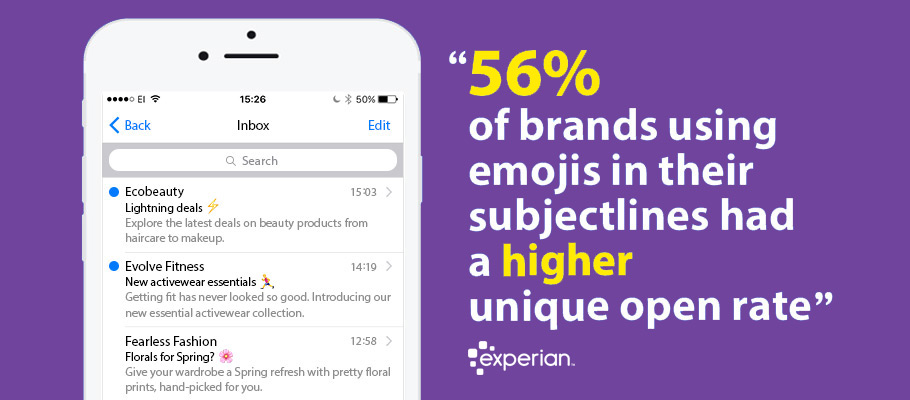 Friendly froms
Ensure that you use a familiar 'from' name so that your contact sounds familiar and trustworthy to your customers. If the reader doesn't recognise the sender, the subject line won't even matter, and the email will be disregarded.
The 'from' line consists of two parts; the from name and the from email address.
It's best to use your company name or brand name as your from name for most generic email campaigns that you send out. However, we will touch on why this could change in a moment. The from email address should be similar to the from name in order to further gain trust from your subscribers, for example see below:
| | |
| --- | --- |
| From Name | From Email Address |
| The Organic Garden | newsletter@theorganicgarden.com |
Ensure you use a valid email address, and please, never use 'no reply' in your email address as this is instantly removes the personable aspect, and makes it look like you don't care about your recipients.
Personal names
While it is usually best practice to use your company name as your 'from' name, there are situations where a person's name could be used.
For example, let's say you were sending an email thanking your customers for choosing to shop with you – giving a little more background story to your business. Here, using the business owner's name followed by the company name would be a special touch that would give the customer a far more personal connection to your business.
E.g. Samuel King, The Organic Garden
It's important to still include the company name so that your customers can recognise who the email is from.
Email personalisation
Along with adding personalisation into your subject lines, EKM Response allows you to embed tags into the email content which is highly effective for increasing your ROI. Personalise the copy in the email by adding the recipients name, which allows you to address them in a more direct manner.
Trustpilot rating
If your company uses Trustpilot, highlighting your review score in the footer of your emails is a great way to build trust with your subscribers. It's a small touch that reinforces your credibility as a business and takes away any fears or uncertainties that your customers may have. The simplest way to display your rating is to insert an image into the footer, or simply insert the Trustpilot signature so that you can link off to the site.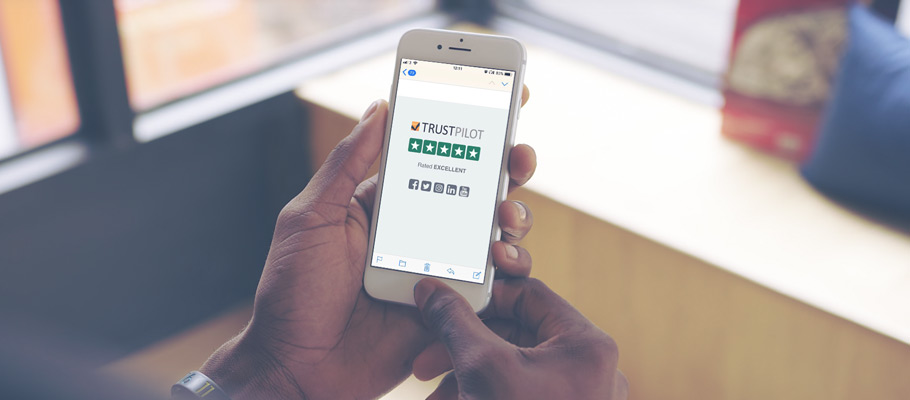 Previewing and testing
Before you send your email campaigns out to your customers, it's absolutely crucial that you test them to make sure that everything is working correctly. Ensure sure that your spellings and pricing are correct, your links direct to the right places and that your images are pulling through properly. If you fail to do this, your emails may appear unprofessional and amateur. Just remember, nobody's perfect. It's easy to miss a small error such as a broken product link, but this link could be the difference between your customers making the purchase or hitting the unsubscribe button.
To test your emails, begin by sending the first version of the campaign to your own email address and anyone else you may have working in your team; the more eyes the better. It's also a good idea to send the email to multiple email clients such as Gmail, Outlook and Apple Mail to check that it displays correctly. Once received, open the email in your desktop browser and thoroughly check through it, reading the subject line, each line of copy and clicking through all of the links. You should also open the email on your mobile phone to ensure that the email has rendered correctly across multiple devices. This can be time consuming, but it's an important process that you cannot skip. If you spot a mistake, make the necessary tweaks and send yourself another test. Repeat the process until you are certain that it's ready to go out to your customers.
Campaign measurement
Monitor and measure the performance of your email campaigns using EKM Response's informative and user-friendly statistics page. You should use these metrics on a regular basis in order to improve the effectiveness of your email marketing.
Open rate
Your opened rate is the number of recipients that actually opened your emails. If your customers aren't opening your emails and viewing your content, then your efforts have been wasted. If you have a low open rate, the root of the problem will more than likely be your sender name and/or your subject line.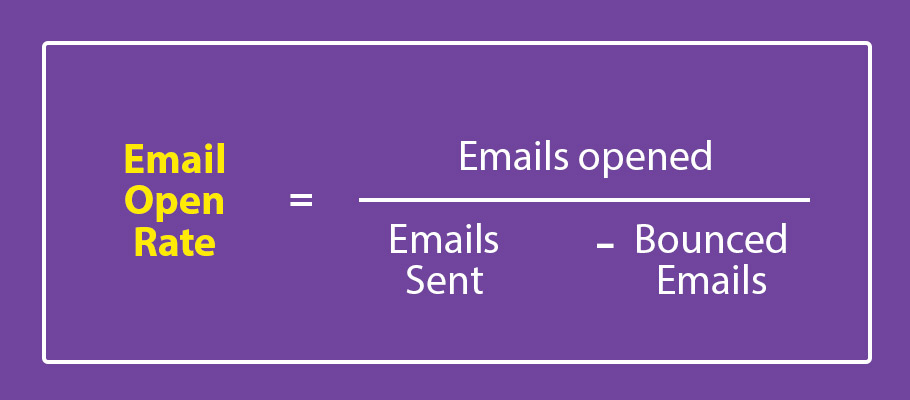 Bounce rate
When an email cannot be delivered to an email address, we call this a bounce. To work out the 'bounce rate', you must divide the total number of bounced contacts by the total number of delivered emails, and then x100. This calculates a percentage that you can use to measure your campaigns. A healthy bounce rate lies somewhere between 2-3%, therefore if you're consistently getting a higher rate it's important you try and pinpoint why.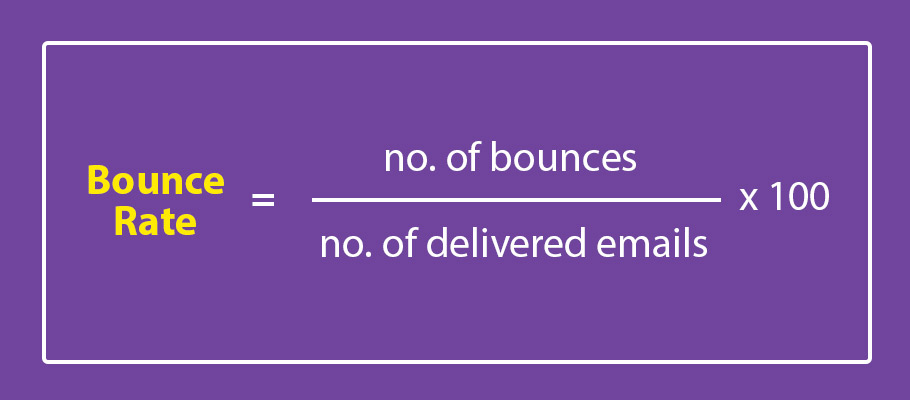 Factors that could affect email bounce rate can be split into two categories. These are called soft bounces and hard bounces.
Soft bounce
A soft bounce is a temporary delivery failure. This can include overloaded email servers, full recipient inboxes, out-of-office automated replies and suspicious spam content. As issues such as these don't necessarily mean an email address is invalid, it's a good idea to continue sending emails to these contacts in the future unless they continue to bounce.
Hard bounce
A hard bounce is a permanent delivery failure due to an invalid email address. This could be because the server is no longer in existence, or a spelling mistake has been made during the data input stage.
EKM Response will automatically remove users who have bounced three times, as your emails are more valuable to a user who actually wants to see your content.
Unsubscribed contacts
Unsubscribed contacts are people who have made the decision to opt out of receiving your emails. If a lot of your contacts are unsubscribing, there's probably an issue somewhere.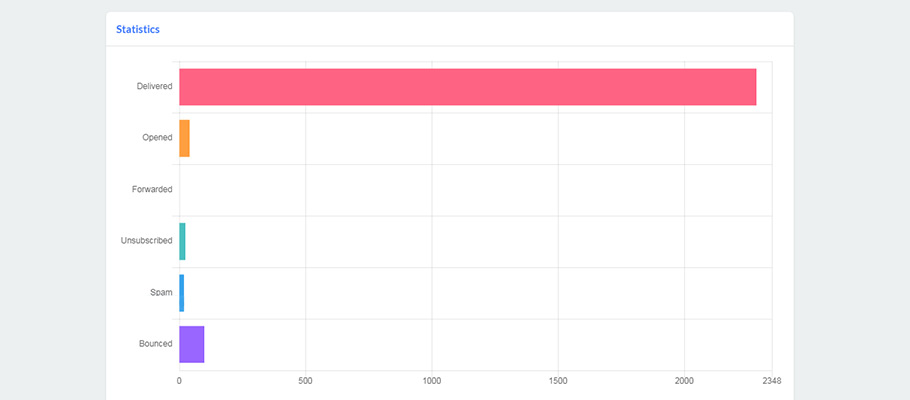 Here are the top reasons why people are probably hitting the unsubscribe button:
You're sending too many emails too often

Your content isn't relevant enough

Your contacts think your emails are spam

Your emails are not tailored enough to your contact's preferences

Your emails look unprofessional

You're constantly trying to sell them something

Your content is unoriginal or repetitive
If you can pinpoint the root of the problem, then you can aim to improve your campaigns and
Link tracking
Along with all of the metrics detailed above, EKM Response also allows you to view a full list of the links that were present in the email. The list also details exactly how many times each link was clicked, and who clicked them. This is a very powerful function as it allows you to determine which topics, products and special offers generate the most interest from your customers, so that you can get a better idea of the content that your customers want to see.
Conclusion
I hope that this introductory guide has helped you to get started with email marketing, and learn how to create effective campaigns. If you're brand new to email marketing, building your list and devising a strategy may seem like a mammoth task, but once you've delved into it, the results will speak for themselves. Higher conversion rates, increased return on investment, easy measurement and proactive, loyal customers are amongst the many benefits of utilising this marketing channel. As discussed earlier, your email list is the only marketing asset that is truly yours, so nurture it and ensure you're getting the most out of it.
---
If you'd like to learn more about setting up your own online shop, read on for more insights into running your own online business here.