One of the most common questions we get asked is "now what?". A lot of entrepreneurs find it easy to set up an online shop, but they sometimes tend to fall at the second hurdle, marketing their business.
[quote]
"Marketing's future is not a function of business, but is the function of business" – Haeckel (1997)
[/quote]
Today, building a website is easy, hence why there are nearly 2 billion websites online today. What most people find difficult is launching their brand and marketing their business. Since we have thousands of successful eCommerce businesses using EKM, I thought we might as well ask some of them for their number 1 piece of advice to a new business trying to get off the ground:
Get social
"The number 1 advice we would give is to get on social media, create a page on Facebook and advertise! But keep an eye on things, some things you do will just cost you money but others will work fantastic, create a Facebook pixel that will track sales on your website and important data and use this data! Use it to your advantage and off you go! The biggest advice we would give though is just 'never give up' there is always something that pops up and will get in your way but don't let it beat you!" – Grant Motteram, The Wool Factory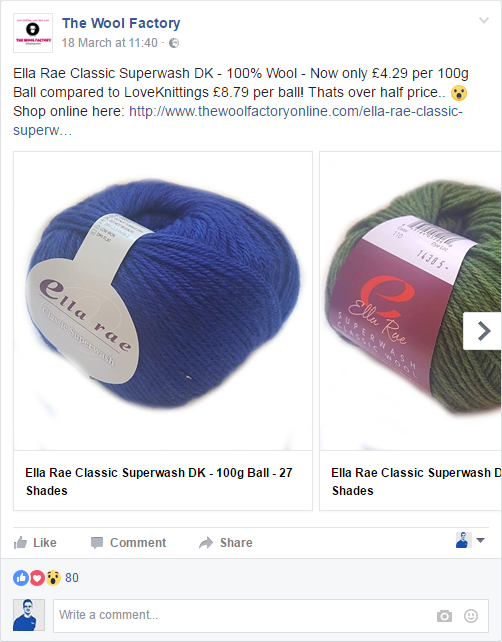 'Network, network, network'
"Believe in your product, never ever give up. Network network network by using social media. All social media platforms work in different ways, make time to see what your competitors are doing is a must. Run giveaway competitions and more, drive your customers to your website and keep them by offering the customer service they deserve and they will return." – Nicole Jamieson, Kenzo Crafts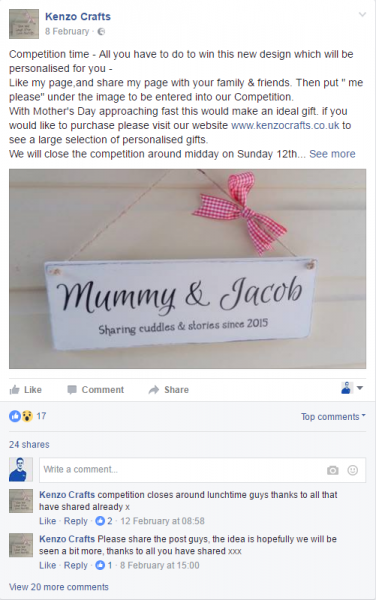 SEO
"You need to get found. SEO. You can do a lot in this regard yourself. Keywords, first page <H1> tag with super relevant content, internal links, then work hard on external links to your site. Keyword image names, titles, alt texts etc and make search engines find you. Google Webmaster tools, sitemaps etc. You won't sell much if people can't find you!" – Alan Forsyth, AGF Enterprises/UK Picture Framing Supplies
"Take an online or reputable SEO course. This will save you thousands of pounds and give you a great insight into making your website visible on the web." – Mark Dixon, Sweet and Nostalgic
'Don't be afraid to push your business'
"Don't be afraid to push your business. When I first started, I was afraid of using the business name on personal stuff, such as social media and emails as I didn't want to upset people by constantly pushing it in their faces. As time went on and things were still slow I started using my own social media as well as the business pages and even signed my personal Emails with Belles gifts under my name. This resulted in my web traffic tripling and sales going up, and most people didn't even mind." – Darryl Whitelock, Belles Gifts
Piggyback
"See if there is another business that you could a-line your business with, a partnership sometimes works, yet maintain your independence, mine works for both parties. Critical to this to work, synergy of personalities, co-operation, honesty with a common goal to succeed." – David Tozer, Dinkyclub.ca
Since we'd come this far, I thought I may as well ask a couple of our in-house eCommerce Experts for their advice for businesses about to launch their brand:
Know your audience and join the conversation
"If you're selling a specific products, you'll often find you have a very specific customer base. Your job is to find where the conversations are happening and jump in on them. This could be on forums, or even on specific hashtags on Twitter. Be sure not to just push your product in their face, however. It is a two way conversation so try to build up a relationship with these people before you ask for the sale to avoid scaring them away." – Danny Campbell (EKM eCommerce Expert)
Hack trends
"Try and jump on the latest trends and tie it back into your business offering. For instance, if you were selling cakes and the Great British Bake-off was trending, give a running commentary of the whole situation putting your own unique point of view on the matter. This is a great way of getting easy exposure to a wider audience who are clearly interested in your products or services.
I would also advise running regular competitions on social media. In my experience competitions get great interaction and are the perfect tool for lead generation and contact building. For instance, ask people to like and share your page to win free goodies. Before long, you'll find you will be speaking with new prospects and potential brand advocates." -Dominic Foran (EKM eCommerce Expert