If you're a social media novice, the term 'strategy' can be quite intimidating. However, you don't need to be an expert to create and execute a great social media strategy that returns real business results, you simply need to decide on what you want, and put a realistic plan in place to achieve it.
Setting your objectives
"You won't hit a target you can't see"
The first step is to reverse engineer exactly what you want and define the reasons you're doing it. It is not a decision that should be taken lightly, if you want to get actual results from social you need to respect its potential and invest the time on a weekly basis to achieve your desired results. Below are a few typical examples of what you might want to achieve:
Increase brand awareness
The shareable aspect of social makes it a huge opportunity to get your brand in front of new people and build an audience of potential buyers. By sharing content relevant to your industry or niche, your audience interact with your brand and your content will get shared into new networks. Remember, the key is to add value to your audience, whatever that may be.
Increase sales
Although your audience don't necessarily log in to social to buy products, it is where they spend most of their time. If you've built up a good enough relationship with them through your content, you can then give them a compelling reason to buy from you.
Increase customer loyalty
We've all heard that retaining customers is more cost effective than finding new ones right? Social is a great communication channel for a retailer to retain their customers and keep them coming back for more. Reward them, give them exclusive offers and don't give them a reason to shop with a competitor.
Social can be used for a variety of business objectives, however in the busy life of a business owner, you likely want to see a direct return on investment in some capacity. It is therefore important that you understand the fundamentals of the typical 'purchasing funnel'. This is essentially the journey a consumer will go through from the first interaction with your brand, through to purchase. Here is the simple version:
There are 3 steps they need to be considered in a typical 'purchasing funnel':
1. Awareness
This will be the first interaction somebody will have with your brand or product. This could be a video they see shared on Facebook, a blog post they're reading where you're mentioned or even a word of mouth recommendation from a friend or colleague. At the awareness stage, a business would hope that the initial interaction was good enough to compel the consumer to learn more about the product.
Example in social media context: A blog post from a fashion retailer advising upcoming seasonal trends and best buys shared on Facebook. The retailer would hope that a consumer would read the article and click to the website to browse their seasonal catalogue.
2. Consideration
At this stage the consumer has the intent to purchase a product like yours. They will proceed to look at reviews and compare your product offering to competitors. It is at the stage that your unique selling point needs to be clearly evident over a competitor.
Example in social media context: Consumers may use social media sites to look at reviews or see how you interact with your customers. If you don't have any reviews or social media interaction, a consumer might not trust you and decide to go elsewhere.
3. Conversion (decision & purchase)
The consumer will then decide whether they can afford to make the purchase or contact you to make the purchase over the phone or in store.
Example in social media context: Consumers often decide they want to purchase a product but leave it to a later date. It is your job as a retailer to make it easy for the consumer to come back to your product and make the final purchase. This can be done through remarketing ads which we will come to in a later section.
Define your audience
Knowing your audience is essential as a business owner. If you know your typical customer you'll know where they spend their time. If you know where they spend their time, you can then decide the most effective platforms to interact with them.
I'm not saying you shouldn't be visible and accessible on all social channels, but common sense dictates that you should invest more time in the platforms that will give you the best return. For instance, Instagram's audience skews slightly younger and appeals to very visual content. If this fits your business model, invest more time in Instagram.
Test and learn, you will often find which platform is most effective by using them and seeing which gets the most engagement. Keep a close eye on the type of people that interact with your content or buy from you, ask where they found you and what brought them to you, instead of trying to appeal to a wide audience, place all of your attention on those that are most likely to buy. Here are a couple of handy tools to help you understand your audience a bit better:
Google analytics – If you have Analytics linked up to your shop, head over to the 'Audience' tab. If not, here's a guide on how to setup Google Analytics.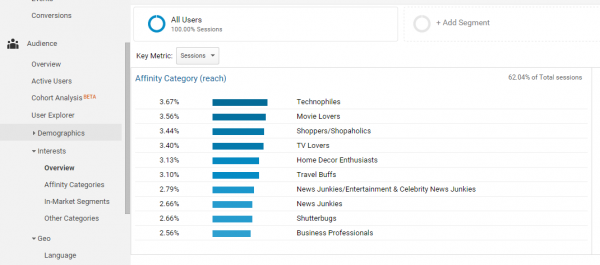 Facebook Insights
– It sometimes surprises me how much Facebook knows about us. Facebook insights will give you a deeper understanding of your audience, who they are and what they're interested in.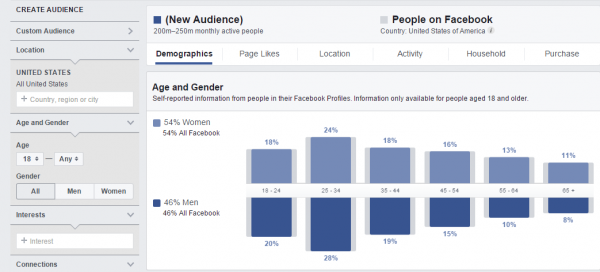 Build a content schedule
Without a proper content schedule you'll forget to post content at key times and you won't meet your objectives. Build a weekly content plan of when you're going to post and schedule your posts. This way you can focus your efforts on responding to comments and interacting with your audience.
Here's a quick guide on how to build a content calendar (plus a free template).
[quote]
Building a content strategy
[/quote]
Next up, we'll discuss how to measure the success of your content.