It can be a challenging task to choose an ecommerce platform, especially with the abundance of options available for you to utilise to get your business running online.
EKM and Shopify are some of the most popular options for people in the UK.
Shopify currently offers its services on a global scale whereas EKM has a priority focus on helping businesses in the UK to start selling online quickly.
Both of the platforms are trusted and reliable with both boasting a large array of users who support each platform making it even more difficult to choose from.
Our goal is to try and guide you through the advantages and disadvantages of each platform and how you can choose the ideal ecommerce platform for your business needs.
There are of course many other platforms for you to choose from, if you're looking for a comparison between other platforms like WooCommerce, BigCommerce and Wix, check out our ultimate comparison between what we deem to be the 5 best ecommerce platforms in the UK.
Who are these platforms for?
Both of these platforms have a similar target audience which is why you may often find comparable marketing messages across both of them. However, each platform does excel in different categories making each more suitable to different industries and businesses.
We will attempt to walk you through some of the most important factors you need to consider before choosing your ecommerce platform, these include:
Pricing
Both EKM and Shopify have a tiered pricing structure, with prices starting from £32.49 for EKM at the time of writing this, the platform has plans all the way up to it's 'Pro' plan at £549.99. EKM also has caps as to which plan you can be on depending on your yearly online revenue. This is put in place so you can receive the level of support you require depending on the size of your business.
It's also noteworthy to mention there are numerous additional services EKM provide, one of these being a custom online shop design service meaning you can have members of the in-house team who know the platform best design your EKM online shop to look the way you want.
Shopify also has a tiered pricing structure as mentioned above which you'll find to be a common trend across all of the big SaaS (software as a service) ecommerce platforms.
Shopify's pricing for its entry plan across their main platform starts at $29 at the time of writing this, their highest plan being the 'Advanced Shopify' plan at $299.
Shopify also has Shopify Plus which they use for large enterprise businesses and this is Shopify's 'enterprise-grade solution' where they can offer a much more bespoke service. While Shopify doesn't publish their pricing for Shopify plus on their website, many users have indicated pricing starts at around $2,000 a month and includes further transaction fees.
Note to UK readers: Shopify charges for their plans in US Dollars, so factor in any bank charges for currency conversion too.
One important thing people often overlook when choosing an ecommerce platform simply based on the price is the additional fees you may encounter once you're set up.
It's always good to research the transaction fees you will be losing out.
Shopify has been known for having some very steep transaction fees which means although the initial costs may seem cheaper you could lose out on a lot more in the long term.
As well as this, I would highly recommend further researching on the themes, features and integrations you're looking to utilise as not everything comes free, Shopify, for example, is very limited on the number of free themes they offer meaning you're likely to depend on a paid theme adding to costs you may have not accounted for.
Support
Support is very different from these two platforms, as mentioned previously Shopify is a global platform and they have a much larger market share in the ecommerce world. This can be a positive and a negative when it comes to support.
Due to more users being on the platform you'll often find if you come across an issue, other users are more likely to have also come across it before meaning you can find solutions across numerous forums dedicated for people on the Shopify platform.
However, this also means that if you would like to talk to a support team member from the company itself, you will struggle to get solutions in a timely manner as they have to provide support for so many different businesses resulting in you not receiving the adequate level of support you require.
EKM has a dedicated support team in the UK, available via live chat, email and telephone. The fact EKM have such a large focus on the UK at the moment signifies their level of support can be of a much higher quality than other platforms as they have a smaller base to focus on.

They also have dedicated account managers who you can go to directly, proposing a common face to always rely on for whatever support you require, they'll have an understanding of your business goals, remember the last conversation you had with them and depending on your plan are reachable on a direct dial phone number.
Ease of use
This can be a particularly important factor to people who aren't tech-savvy or have never set up an online shop before, having an easy to use interface can save you a lot of time and make you much more productive.
Shopify, in this case, has a very highly praised user interface, which is clean and minimal, helping you to focus on what you require. The platform has a very small learning curve and is highly renowned for being easy to use and intuitive.
EKM also receives a lot of praise for how convenient the back-end of the platform is, with customers stating how easy the 'inventory management', in particular, is on the platform.
Design
Design is often the first thought that comes to mind when you introduce the term 'online website builders'. It's vital when creating an online shop that you have a core focus on building a brand. Both of these platforms urge the value of this message as they understand the importance of creating your own successful online shop, and not relying on marketplaces as they'll continuously prioritise themselves over individual businesses.
Both of the platforms allow you to customise your site to look the way you want.
However, you are limited to the themes you can choose to make the process even easier on Shopify. Shopify currently has 72 themes, of that, 64 of those are paid themes starting at $140. If you're only looking at the free themes you'll be left with 8 themes to choose from.
EKM, on the other hand, has 70 themes that are all free at the moment, giving you a wide variety to choose from so you can get your brand looking the way you want.
Both platforms offer responsive themes optimised for mobile so you can cater to all of your audience across all devices.
One of EKM's unique selling points is their 'Evolution Mode' feature, this is exclusive to all EKM customers, where they're entitled to a free website review from our in-house design experts. On the standard and above plans, these changes and recommendations can also be implemented meaning your website will never go out of date on the platform and you don't have to worry about constantly changing and redesigning your website to fit in with the latest trends.
Speed/Performance
Another thing to consider when choosing your ecommerce platform is the speed and performance you'll receive and the speed of each platform as this can be detrimental to your sales if not optimised.
The graph below shows a comparison of the benchmarks EKM uses to compare the speed performance of the platform in comparison to other providers.
(the lower the number the faster the speed)
Marketing
One of the biggest challenges small businesses and startups face is marketing their online shops once they're set up. Having features in the platform that make this aspect accessible is something everyone looking to choose a platform should consider.
Both Shopify and EKM have a range of marketing features that enable you to get the most out of your online shop. As mentioned in the above section shop speed is massively important to keep customers on your site, however, it's also a direct ranking factor that impacts your SEO. Search engines are looking to provide the best results to searchers and having a quicker site over other search competitors can definitely give you an advantage in the SERP (Search Engine Results Page).
Not only this but both allow you to create visitor friendly URLs, add custom META tags and both have automatic image ALT tags ensure you're ready to rank organically with the basics from the first day.
You also get the ability to create product feeds on both platforms allowing you to utilise paid channels to promote your products. As part of EKM's additional services they also have an in-house PPC team who have the goal of increasing your sales and growing your business, the team can take care of the complicated setup processes required to utilise paid advertising and also manage your accounts for you so your accounts are constantly kept up to date and you can focus on other aspects of your business.

EKM also has its own additional email marketing service meaning you can utilise their very own email marketing software, however, this does come at an additional cost but a highly recommended investment, if you're looking to market your business.
Email marketing is seen as the marketing channel with the best ROI (Return On Investment) according to multiple studies and one that should be utilised where it can be.
Shopify also has a powerful marketing dashboard which you can analyse to gain insight on the overall performance of any of your marketing campaigns.
Plugins/Apps & Integrations
The plugins, apps and integrations that both of these platforms provide are undoubtedly one of the biggest contrasts between the platforms. This section will often be important to you depending on the nature of the business you are running.
For example, Shopify is very well known for their drop shipping integrations and excel within this department. They have a wide range of integrations to enable you to start dropshipping promptly which is also what a lot of their marketing pushes. Oberlo and AliExpress being the 2 most popular ways to accomplish this through their platform.
EKM also includes PoD (Print On Demand) services allowing you to create a clothing and merchandise inventory where products are only shipped when a customer makes a purchase, however, the number of integrations are more eminent on Shopify and the level of automation available with this is more distinguished too.
Nevertheless, dropshipping isn't for every business as it has several drawbacks, find out if dropshipping is the correct choice for you.
Reviews
Now that we've discussed some of the main factors you need to consider, taking in other users' opinions who have used the platforms and checking out reviews should also be a significant deciding factor. This often gives you an understanding of real issues you may encounter as well as the best and worst bits of each platform.
Here in the UK, Trustpilot is the biggest review platform. You can observe from a quick comparison Shopify choose not to focus on these reviews too much, however, they do have other review platforms which are more prevalent around other regions of the world which they prioritise so we have done a comparison against both. You can check out both platforms' individual profiles to get a better understanding of how they stack up against each other.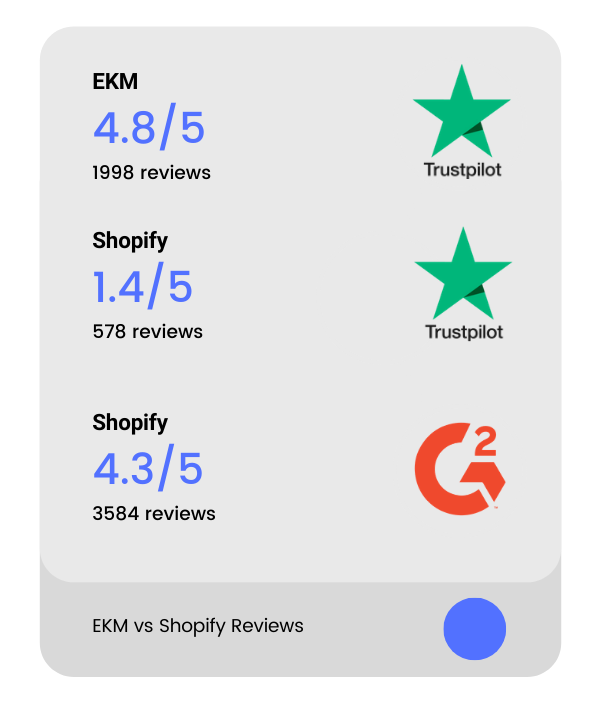 EKM vs Shopify: Which platform is best for you?
So with everything considered, which platform should you choose? The honest answer is, whichever meets the demands of your business more, and what model of business you are running. If you're looking for a dropshipping business, the number of integrations Shopify has that are seamlessly implemented into the platform make it a great choice. If support and ease of use are what you are after, EKM's dedicated UK support team and account manager blend exceeds many users' expectations.
The truth is you have to weigh up the good and the bad of each and decide what's most valuable to you.
---
Learn more about our ecommerce plans and get started with a free 14-day trial here.