Google Analytics for ecommerce is something that every online shop owner should have a good understanding of. We already talked about the importance of Google Analytics. Along with a brief explanation of the kind of reports you can use. We're going to look into the ecommerce side of Google Analytics and how to make the most of it.
Why you should track your data
Tracking and measuring the performance of your online shop or website is vital to identify areas of improvement. Your online shop should be continually evolving. This is to accommodate for best practices when it comes to web design, your SEO strategy and user experience.
Your website data will be able to give you insight into what's working and what may need tweaking. Data is at the heart of making important business decisions. Especially for your online shop where most if not all of your income comes from.
You will also be able to better control budgets on commercial campaigns by discovering what people are searching for. Then seeing if you can match their desires and search intent. But in order to track your data effectively, you'll need the right tools for the job.
This is because ecommerce businesses differ from other online companies due to direct transactions. You need a tool that can analyse and compare a wide range of data. From web traffic to sales, website performance and marketing activities. That's where Google Analytics comes in.
Google Analytics is a free tool open to anyone and can be set up on your online shop easily. You can learn more about setting up Google Analytics here in our basic introduction to Google Analytics.
What is Google Analytics ecommerce?
Google Analytics ecommerce tracking is a feature where you can track ecommerce data from your online shop. Such as sales amount, number of orders, billing location, average order value etc.
You will, however, need to set up the tracking code correctly on your website to access the ecommerce view. Once you have done so, this is an example of what the view should look like.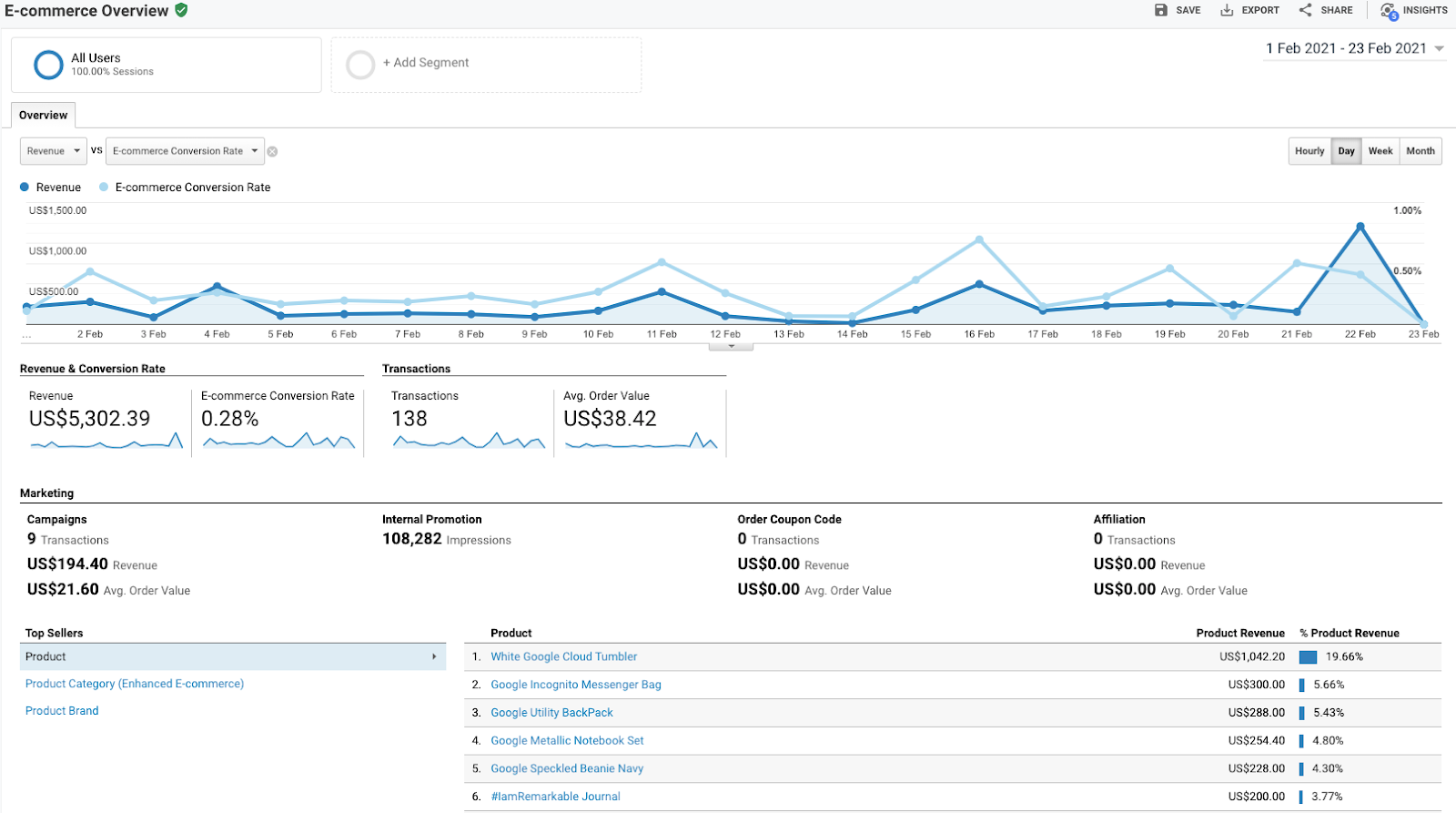 You will be able to see things such as shopping behaviour, checkout behaviour, product performance, sales performance and product list performance. There is also another section titled 'Marketing'. This is where you'll be able to see internal promotions, order coupons, product coupon and affiliate code.
This overview gives you a look into the status of your online shop with three categories of related metrics:
Revenue and conversion rate
The total revenue from ecommerce or in-app transactions. The ecommerce conversion rate is the percentage of visits that resulted in a transaction.
The total number of completed purchases on your site.
Statistics about your campaigns, order coupon code and affiliation.
Reports in the Ecommerce view
There are a few different types of reports within the ecommerce view. As mentioned earlier and we'll go into more detail about each below.
Shopping behaviour
First up is the Shopping Behaviour report. This lets you see how your customers are going through each stage of the shopping journey. From how many sessions it took for them to complete their journey. I.e. make a purchase, to how many abandoned items at each stage of the funnel.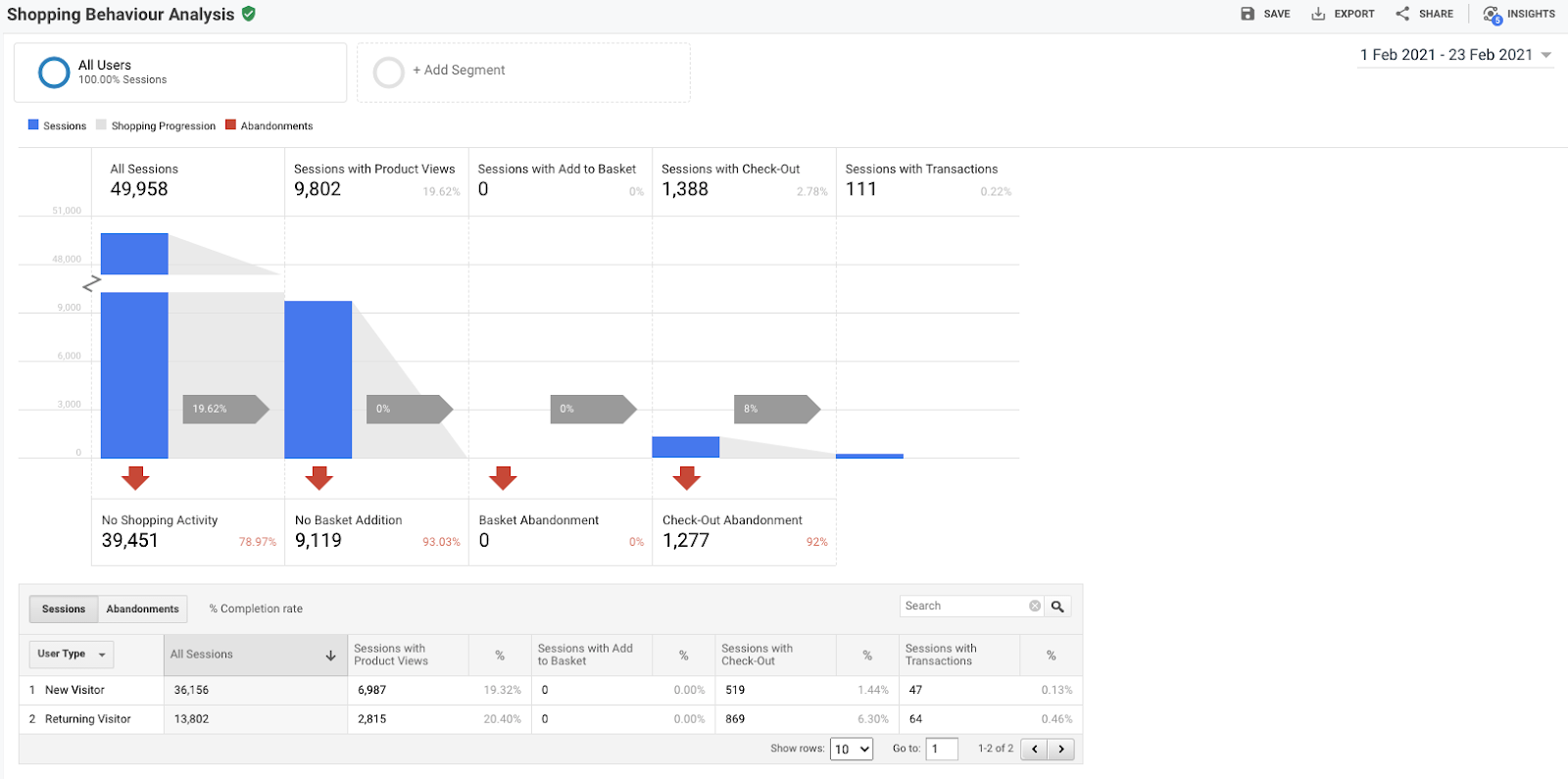 You can also create or apply any segment or view you have created in your account. This helps you to drill down further into your customers journey. This type of insight may be able to show you where your customers are dropping off more than anywhere else. If this is the case then the point at which they're dropping off needs some more investigation.
This could be in the form of A/B testing, user feedback surveys, heatmaps and more. These kinds of tools can help you understand what might be putting your customers off from continuing their journey. As well as what you can do to help avoid that going forward.
Checkout behaviour
The Checkout Behaviour report gives a clear overview of where your customers are leaving within the checkout process. If a customer has spent the time, research and they're willing to spend their money with you. And to get to this point and not complete the checkout process – something is wrong.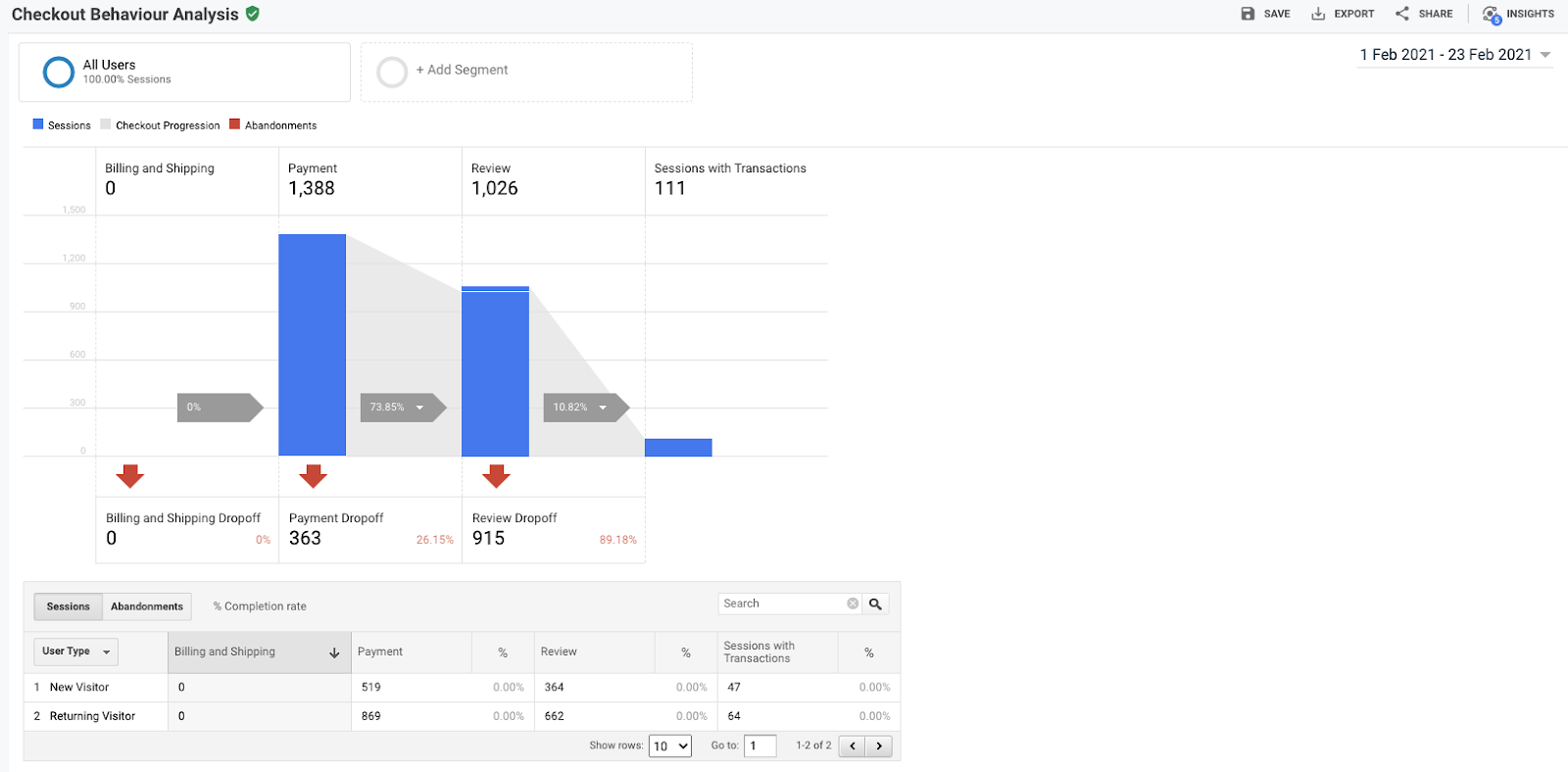 You can then investigate further into why potential customers are dropping off at that point in the checkout process. Do you only have 1 payment option available? Is there enough information on delivery?
Product performance
The Product Performance report provides you with information about your inventory. Including your products, product SKU, product category and product brand. From this report, you'll be able to view the performance of each product. See what's selling really well and what isn't that may need more of a marketing push.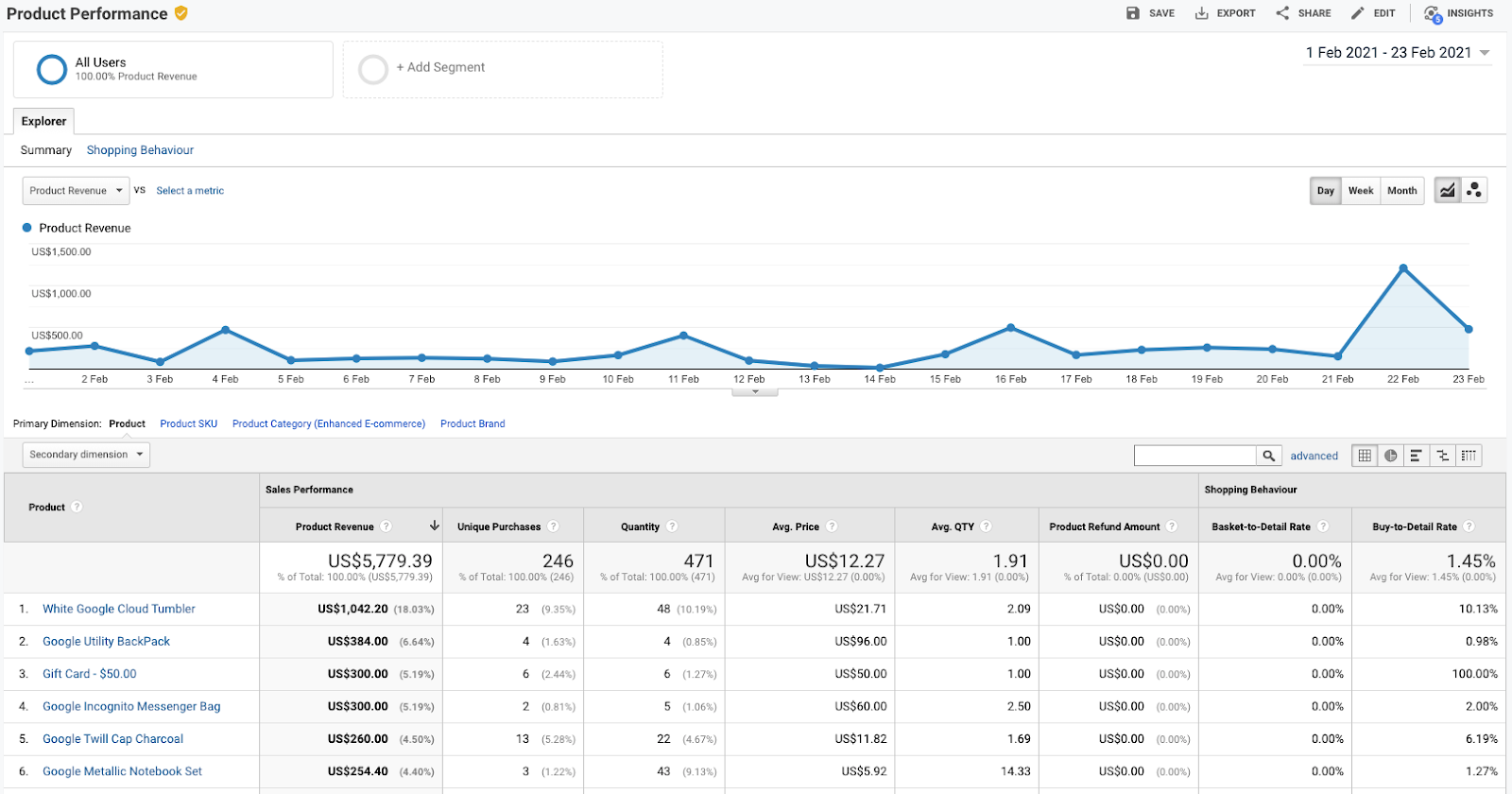 Sales performance
The Sales Performance report provides you with a more accurate financial picture of your data. From the transaction ID, to revenue, tax, shipping, refunds and quantity. You can also apply a secondary dimension to your report. This gives a more in-depth view of your sales performance such as what channels are bringing in the most revenue.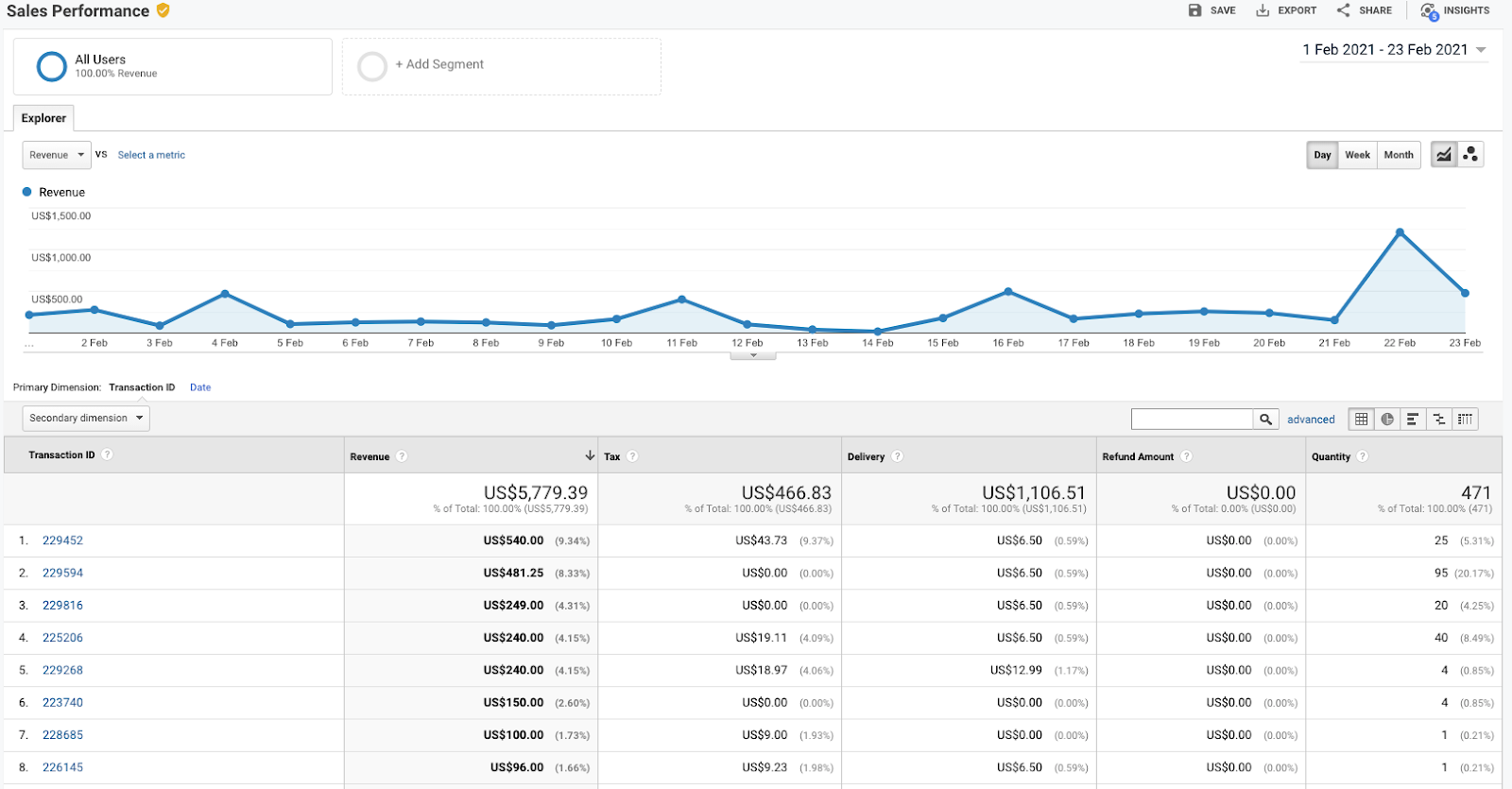 Product list performance
Your Product List Performance report will help you to understand how blocks, categories and search results lead to a product. Of course you will need to have a few categories on your shop to pull data on which category is performing better. But once you've got those, you'll be able to clearly see which category brings in the most revenue.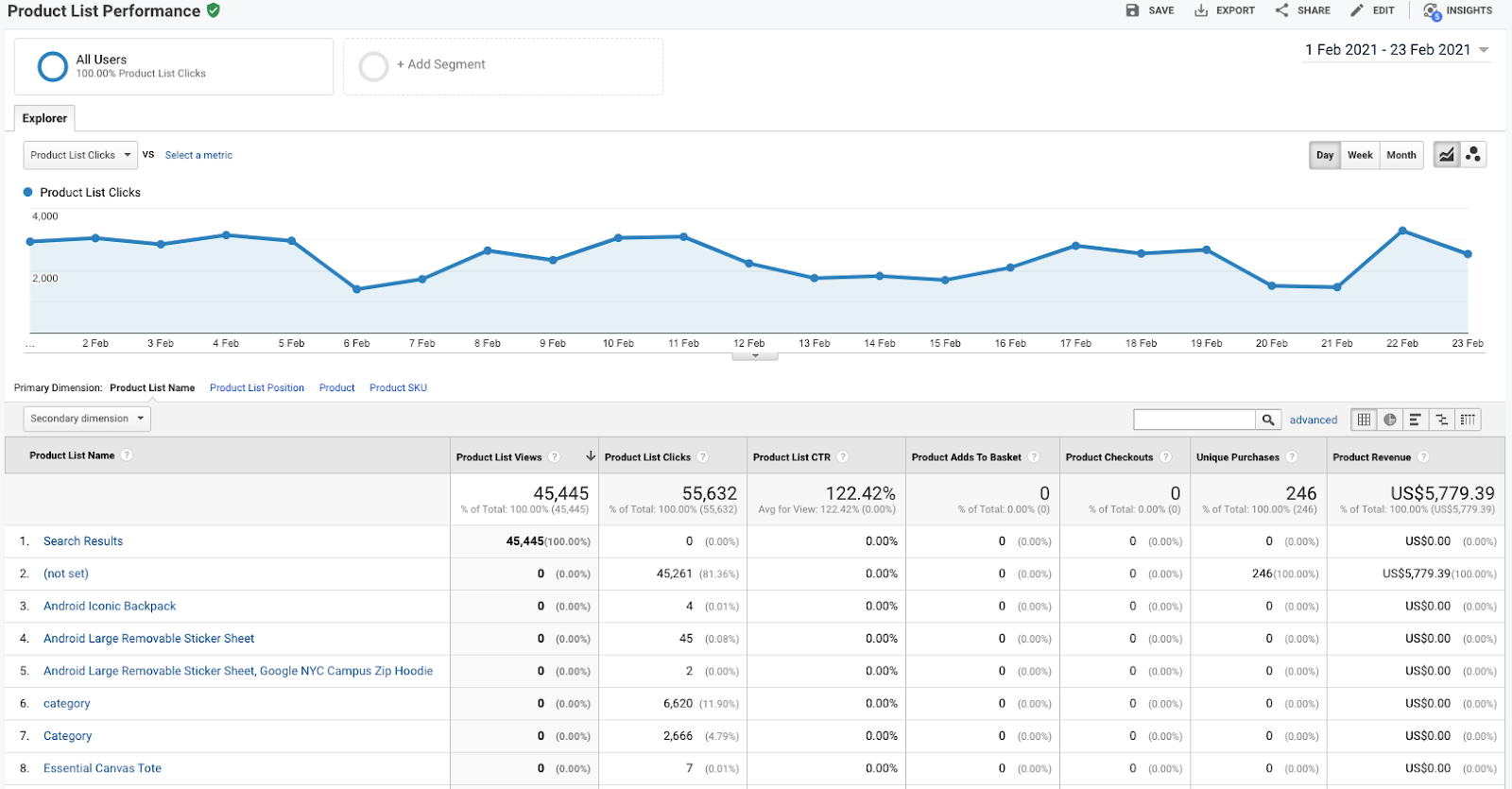 Marketing
Lastly the Marketing report will provide you with information on any marketing activities you're running. It will collect data about any internal promotions, order coupons, product coupons and affiliate codes.
All of this data can help you not only see how your online shop is performing but where improvements can be made. It can help you develop a plan and roadmap to grow your business and identify opportunities you may not have thought of beforehand.
You can learn more about how to get started with the ecommerce view on Google Analytics here.