When running any kind of online business, it's important to understand how your business is performing, what's working and where you can make improvements.
That's where Google Analytics comes in. As one of Google's most used tools by businesses, Google Analytics can give you insights that can help you grow your business.
We're going to be talking through the basics of Google Analytics including its importance, how to get set up for your ecommerce business and understanding key metrics so you can create meaningful impact through reporting.
The importance of analytics
First, let's talk about the importance of using analytics on your ecommerce shop and how data and insights can help you improve your business.
Data can be a strong driving force when it comes to making business decisions.
Data can help you determine what actions and activity to pursue to increase traffic, attract customers and grow your business.
The data you get from Google Analytics isn't just a bunch of numbers, but in fact tells a story of how your website or online shop is being interacted with by your visitors and customers – but we'll look into that in more detail later on.
The data you get from your analytics can help you with a whole host of things as well as help you identify areas of improvement you weren't aware of.
Getting ecommerce analytics set up
Your first step is to get Google Analytics set up. You need to start with making a Google account. Navigate to Google Analytics and click 'start for free' in the top right hand corner or sign into your account.

Once you're signed in, click 'create new account' which will set up a new profile to track your ecommerce shop's analytics.
On the next step, make sure you choose 'Website' and complete the required fields. You'll then want to scroll to the bottom of the page to where it says 'Get Tracking ID'.
This tracking code is what you're going to inject into your website or online shop so that Google can begin tracking your site's analytics.
Once you have the tracking code, how to inject it to your site will change depending on who your provider is.
However if you're an EKM customer, we have this handy guide on linking your Google Analytics to your EKM shop here.
Once you have your shop connected to your Google Analytics account, you'll want to look at configuring your settings. This includes setting up the optional but important ecommerce tracking feature.
Click 'Admin' form the menu within your Google Analytics account
Select your account
Within the third column, select 'View Settings'
Scroll to the 'Ecommerce Settings' section and click the toggle 'on'
Click 'Save' and you're done
This enables you to see ecommerce data in your analytics reports. Remember it can take up to 24 hours for Google Analytics to begin showing data.
You can also learn about Google Analytics in more depth at their Analytics Academy.
Basic reports
If you've never used Google Analytics for your ecommerce business before then we're going to go over a few of the basic but important reports to understand.
The basic reports on Google Analytics (the tab's on the left hand side) can be sliced and cross-referenced in a lot of ways.
But the reports Google shows you already have a whole host of information so don't feel overwhelmed at first.
Real-Time report shows you what's happening on your website or online shop in real-time.
It can show you who is on your site, where they came from, where they are located and what pages they're looking at.
Navigate to 'Real-Time' and select 'Overview' which will give you most of the information you'll need. However, this can be drilled down further into traffic source, content, events and conversions.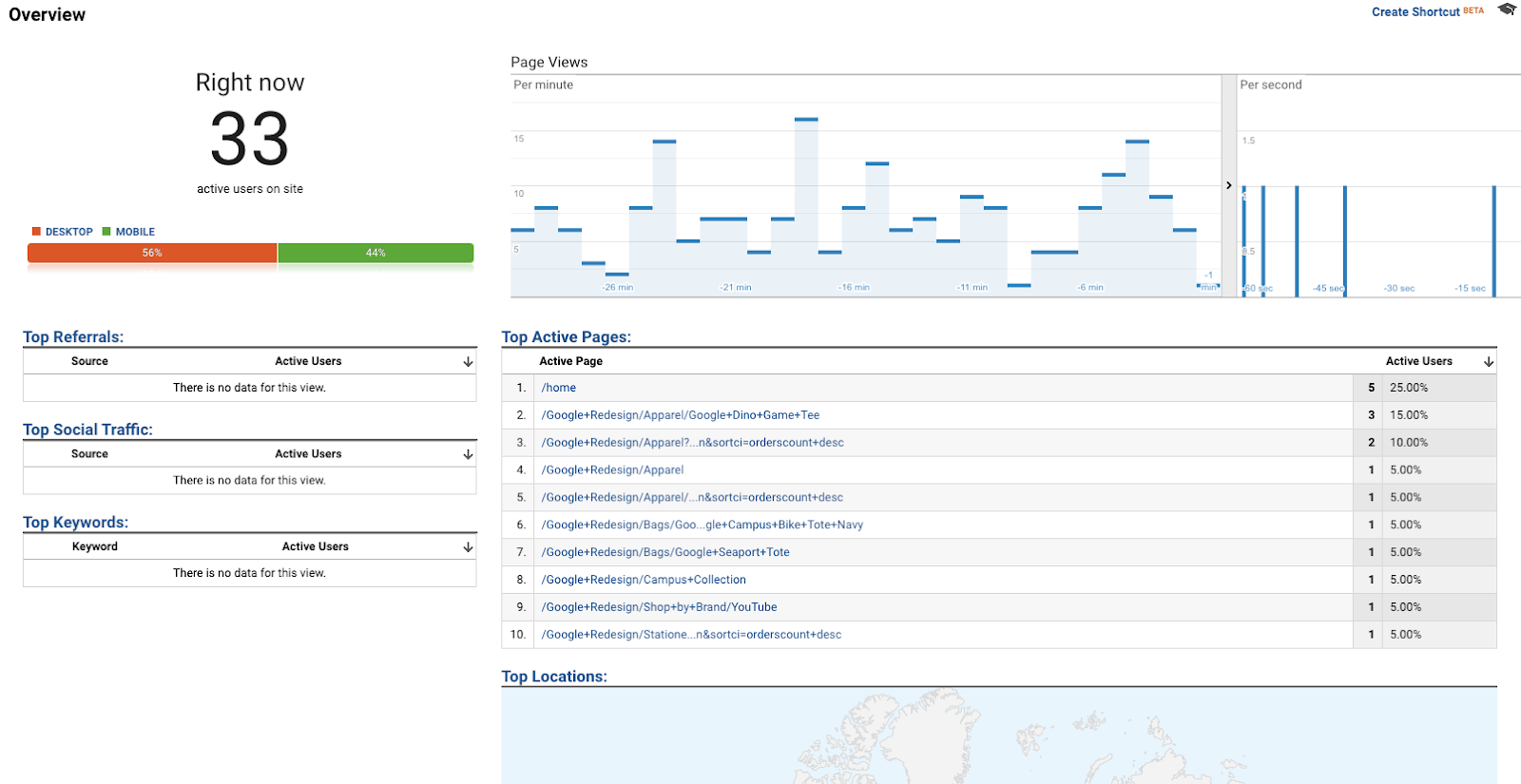 The Audience report shows you information on your visitors.
This report can provide you with in-depth insights into the demographics of your visitors, their location, language as well as what device they're using to browse your website or online shop. Here's a breakdown of what each metric on this report means.
Sessions – The total number of visitor "sessions" to your site
Users – The total number of unique visitors to your site
Pageviews – The total number of pages viewed on your site
Pages per Session – The average number of pages viewed per session (visit)
Average Session Duration – The average amount of time visitors stay on your
Bounce Rate – Percent of visitors that leave your site after viewing only one page
New Users – Percent of total visitors who arrived at your site for the first time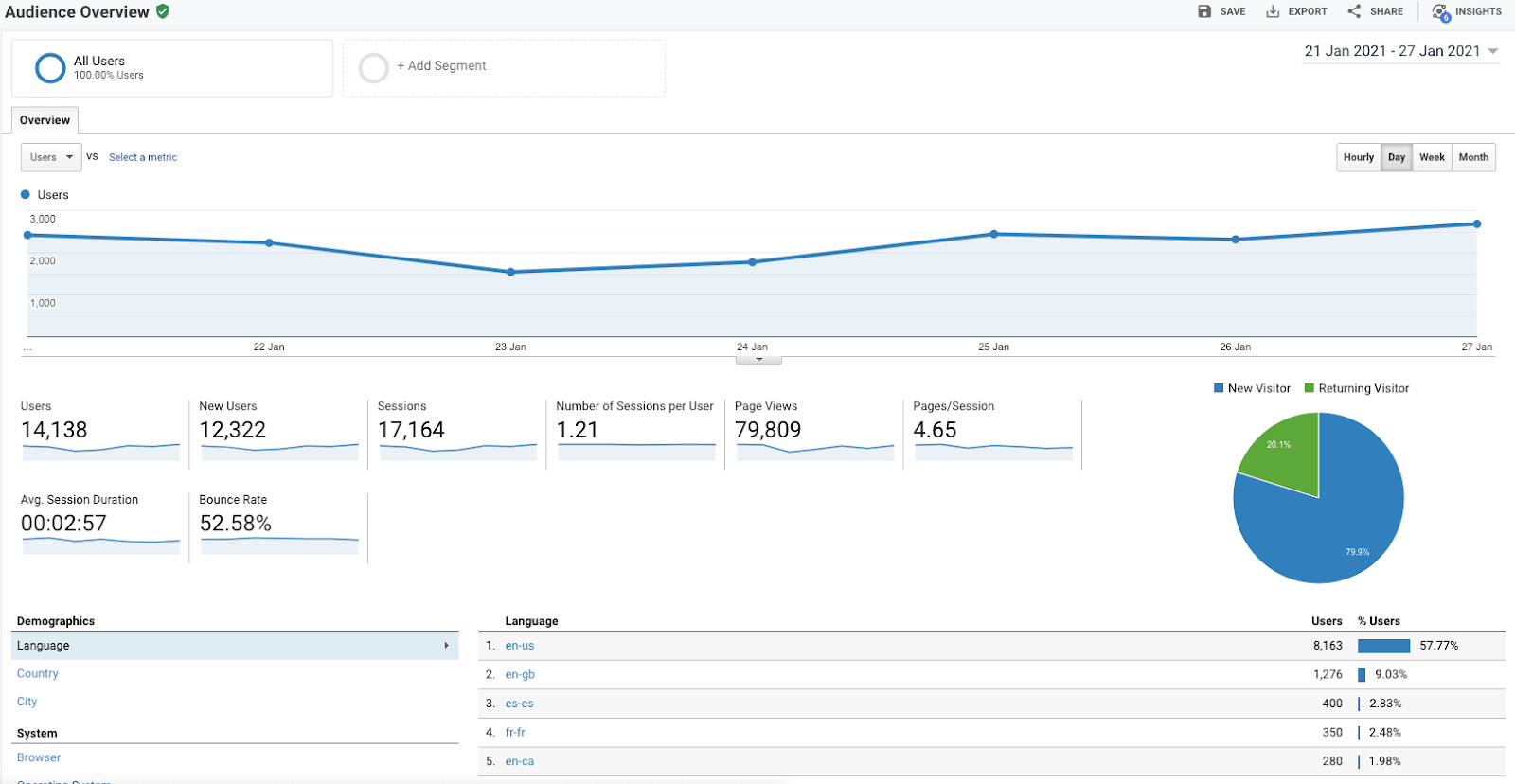 The Acquisition report displays data on how you acquired your website visitors, which channels they used to find you including search engine results and social media referrals.
It will help you understand what channels drive the most traffic, the visitors who engage with your site most and the channels that drive the most sales.
This report can help you determine which channels to focus on with your marketing and advertising efforts.
Channels that are already driving good traffic are usually the likely choice but remember that quantity over quality isn't always best as you may end up with a high churn rate or a lot of abandoned carts.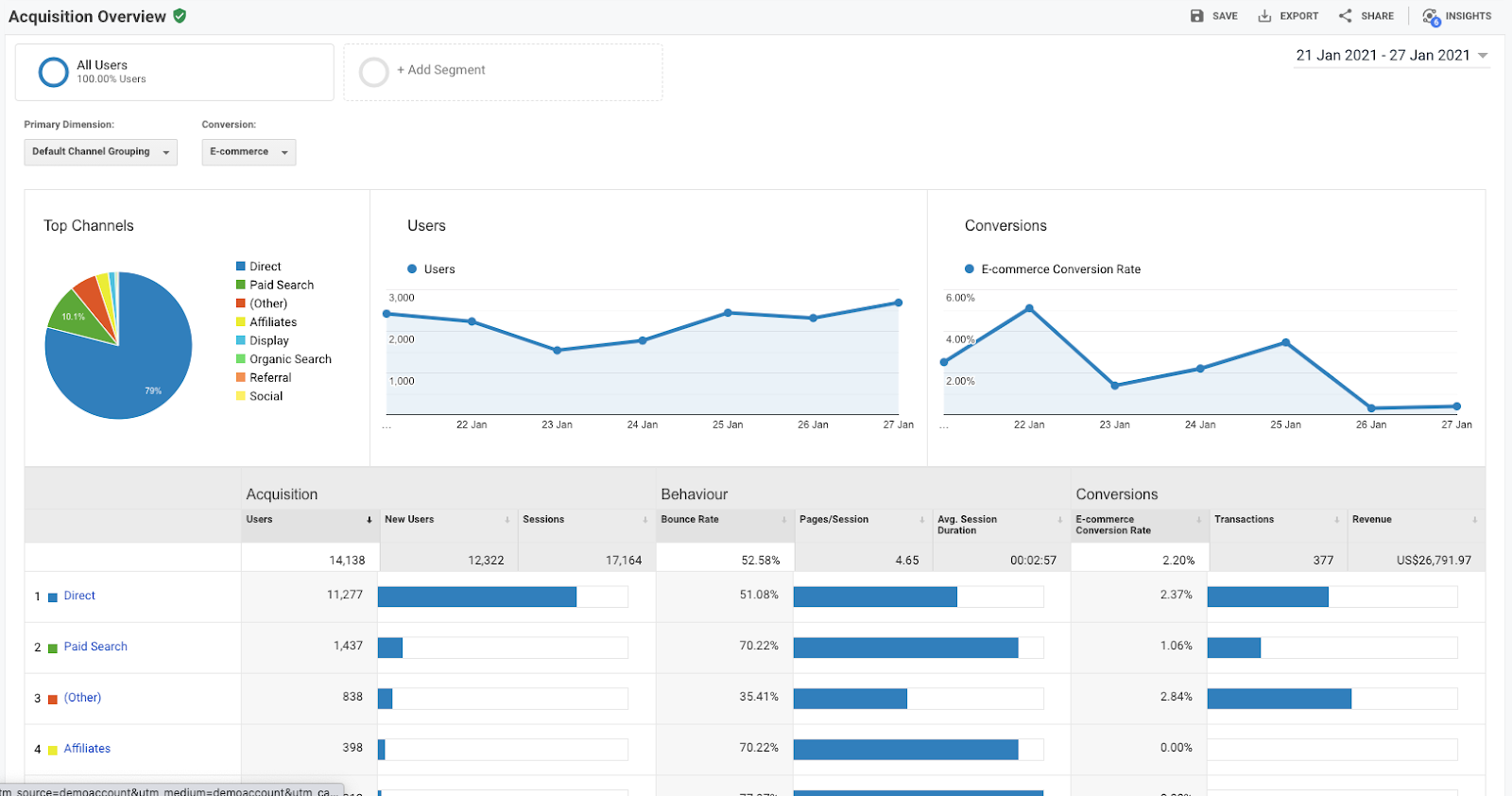 The Behaviour report looks at what pages your visitors are looking at, how long for, and the behaviour flow on your website i.e. at what point they are leaving and more.
This section can help you identify areas of improvement to your website.
Things such as bounce rates, page load speed can have an effect on your SEO so here you can identify which pages perhaps need optimising.
If a page has a really high bounce rate, that indicates that while people are clicking through to your page, when they arrive they're not finding what they're looking for and are going back to their search results.
What could this page be missing that is making people bounce off straight away? Is there some missing information? Is the appearance of your site easily digestible and user friendly?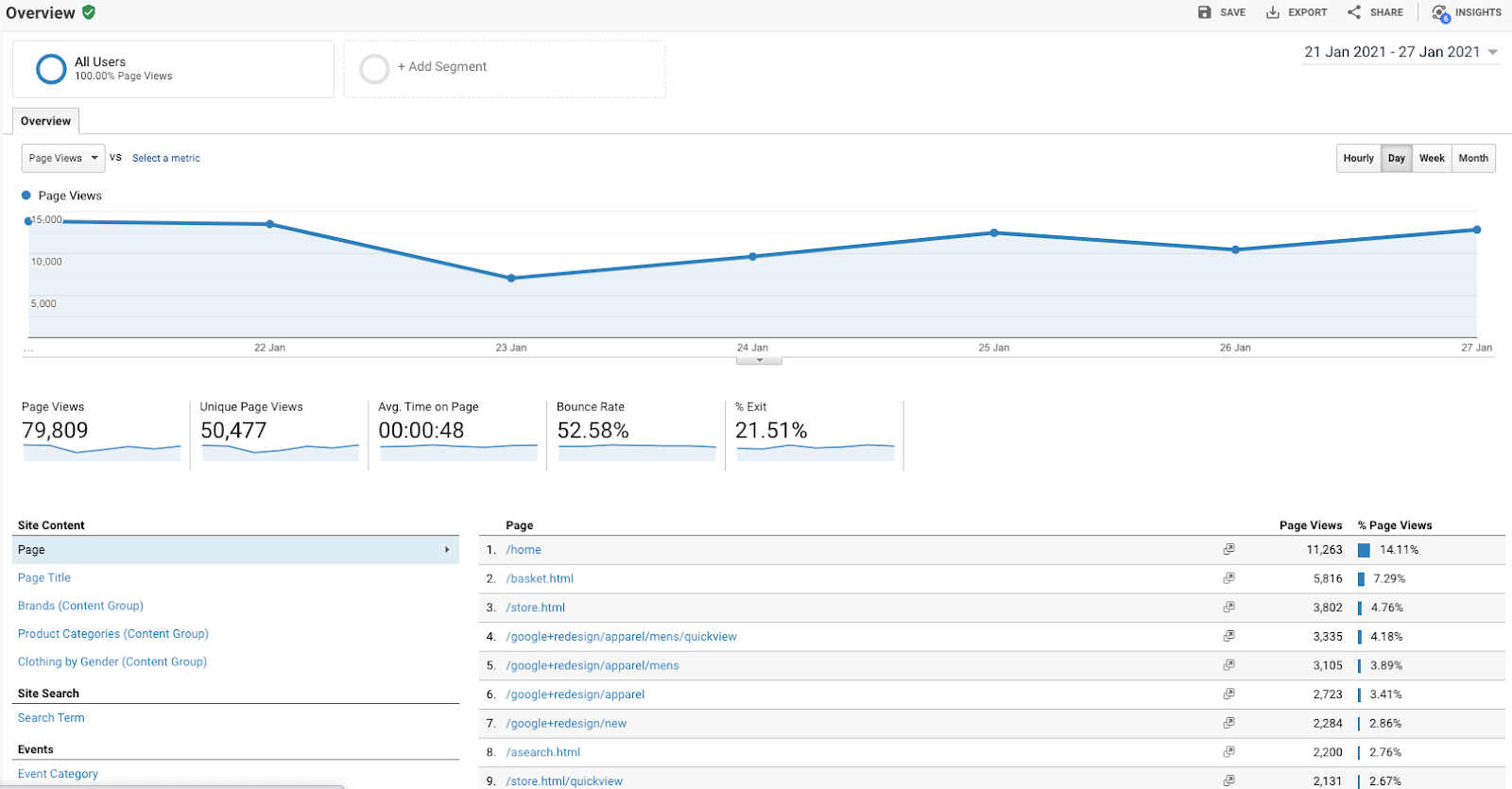 The Conversions report which displays how many sales or sign ups you've had.
The Ecommerce report within the Conversions report can help you learn more about what your customers are buying from you including, which products they're buying, what quantity and the revenue generated. It can also show you the number of days and sessions it took for you to get a conversion.
As you get more and more sales on your ecommerce site, you'll be able to better understand which products are best suited for your customers and therefore which you should focus your marketing efforts on.
It can also help you to identify any products that might be priced too high so running a promotion or sale can help increase your conversions for that product.
All of this data can give you a good idea of what your website visitors are doing on your website, what pages are performing well, and ultimately where you are making sales.
If you dive deep enough into your reporting you can begin to identify where improvements can be made on your website.
Google Analytics is a powerful tool for businesses and everyone should be making the most of it.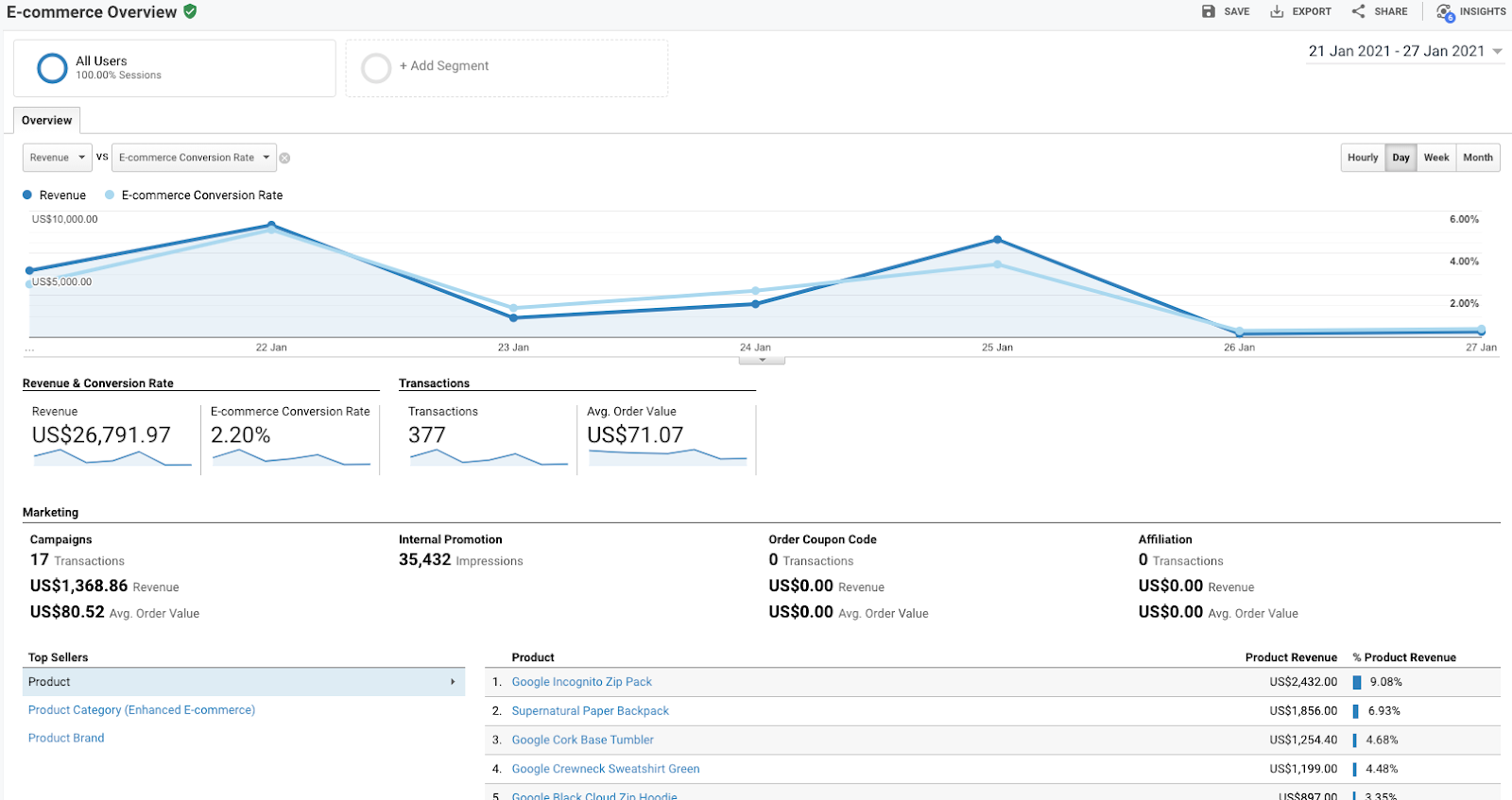 How to utilise your Google Analytics data
When you're first starting out with your ecommerce business, if you're not sure what reporting you should be looking at to improve your business.
Here's some basics that you should keep your eye on.
Acquisition may be one of the more important reports to focus on in the first few months. See where most of your website traffic is coming from over a few months.
For example, if your highest traffic referral is social media, dive a little deeper into which platform is bringing you that traffic.
Whichever your top referrer is, devise a plan to focus your marketing efforts.
This can include increasing the amount of content you're creating for that platform, running ads or remarketing to help increase traffic and conversion rates.
Ongoing evolution of your online shop is vital in your efforts to grow your business which is why, understanding and utilising the Behaviour report is important.
Using the site content section, you can see which of your online shop pages are most popular and those that aren't as popular.
This can tell you which sections or pages of your site are serving their purpose, by bringing in traffic and converting customers and pages that aren't.
Pages such as the about us page or returns policy isn't going to be doing either of these things. But pages such as landing pages, product and category pages should be.
Keep an eye on them and if necessary, improve them in any way you can. From on-page SEO to load speed, content and much more.
Have a good look around each section of Google Analytics and get as familiar with it as you can. You can always take one of Google's courses on their Analytics tool for free here.
Google Analytics Definitions
User – a person who visits your website or online shop, sometimes referred to as a visitor
New user – a new person or visitor that has visited your website or online shop
Returning user – a person or visitor who has visited your website or online shop before
Session – a visit from a user to your website or online shop
Pageview – a page on your website or online shop that successfully loaded for a user so they could view the page
Dimension – an attribute of a user or session i.e. region, landing page or location
Bounce rate – the percentage of sessions in which the user doesn't interact with your page after arriving and leaving the site
Pages per session – the average number of pages viewed per session from a user
Average session duration – the average amount of time a user is on your online shop
Conversion rate – the ratio of conversions to user visits
Traffic source – The specific place or platform where the user originated from before they came to your online shop
Keyword – the specific search term a user searched for before they reached your online shop
Campaign – the marketing effort that drove users to your online shop
Landing page – the first page that a user viewed when reaching your online shop
Exit page – the last page a user viewed before leaving your site
---
If you'd like to learn more about setting up your own online shop, read on for more insights into running your own online business here.