Search engine optimisation, or SEO as it's more commonly known can seem like a terrifying topic when starting your online shop. However, SEO is a critical step to be considered to increase the organic growth of your business. Taking your organic performance into account can have a large impact on your long term business growth.
When trying to rank your ecommerce website, you should take a different approach than regular websites. This is because although the factors that influence your ranking remain the same there are various factors you should prioritise in terms of trying to get a product to rank rather than getting a landing page to rank.
In order to make it as easy as possible for search engines to identify your site and rank you as high as possible for your desired search terms, we're going to walk you through what EKM do to give you the best possible chance to start ranking high on search engines as well as covering some key points which any ecommerce shop can do to increase their chances of ranking on Google.
EKM SEO features checklist
Feature
What is it?
Meta title

EKM will always generate a title for you, this is the product name by default; however, this is entirely customisable, if you want to edit your title to match a more relevant search term, you have this option. The title is what will be displayed on the SERP (Search Engine Results Page), and with the right keyword research, this could be one of the most important factors to drive more traffic to your pages. One other way you can utilise this feature is by adding actionable keywords, for example, Buy [product name] this can help you rank for more purchase based searches and stand out from potential competitors.

Meta description/viewport

Another significant factor is to have your meta data set correctly, there's a small list of

meta tags google reads

that have an impact on the ranking of your page. Some of the main tags include the title and description which is easily customisable on every EKM shop using the free custom metadata feature provided in the features section of your EKM shop. You are automatically provided with a meta description which is the first 250 characters of the product description by default, although this is not a direct ranking factor for Google, optimising this can help increase your visibility and increase your CTR (click-through-rate) and gives you another edge over your competitors. Another vital meta tag which is automatically added is the "viewport" tag, and this tells the browser how to render a page so that the virtual viewport matches the device dimensions and this is a tag you should use to keep your site as mobile-friendly as possible. Note: Ensure you're using a modern EKM theme, our unique Evolution Mode can make sure your online shop never goes out of date and stays up to date with the latest practices.
Heading Tag Structure

It's essential to have a good page structure, and this allows bots crawling your site to distinguish the context of each section. Having your product title as your only h1 is common practice within the ecommerce world, and this is something EKM automatically provide; however, this is not a necessity, having multiple H1 tags does not negatively impact your SEO efforts, the more critical tag you should be focusing on is your meta title tag which should correspond with the search term you are trying to rank for.

URL Structure

EKM provides a flat URL structure as we believe this is the cleanest and most straightforward way to organise your site structure and align your URL's. Having a simple website structure can also be a massive benefit when analysing your website performance through third-party software such as Google Analytics as you have a much more unobstructed view of your content drilldown and you can categorise your content much easier. EKM gives you a flat URL structure to improve the relevance of your web pages to the users search terms as the URL structure is taken from the product, category or webpage name. One thing to always keep in mind is Google want human-readable URL's above all, hence why EKM include the product name to avoid a random ID being placed instead.

Mobile-Friendly

As mentioned above, mobile-friendliness is becoming increasingly important, especially now that Google uses a mobile-first approach when indexing content; this means it's becoming fundamental to improve site-wide mobile performance. EKM can ensure you have great mobile performance by providing you with new mobile optimised themes that are fully responsive and built to sell more.

Performance/Speed

EKM is statistically proven to be the fastest platform on the market, and with speed becoming increasingly important to search engines, the EKM platform gives you a massive edge over other ecommerce platforms. EKM uses Pingdom to monitor platform performance, and this includes looking at response times, the server uptimes, as well as real user monitoring and this is all measured against other providers. There are always steps shop owners could implement to keep the performance optimal which is discussed in more detail below.

Security

A study carried out by SEMrush found 65% of domains ranking for high-volume keywords are HTTPS (Hypertext Transfer Protocol Secure), Google themselves have said your SSL (Secure Sockets Layer) Certificate is a ranking signal. This is essential for any ecommerce website as you would be taking payments and storing sensitive information. SSL Certificates are installed automatically on all EKM shops.

Sitemaps

Sitemaps are files that make it easier for search engines to crawl your site, it allows them to get an understanding of the structure of your website and the content hosted on it. Although a sitemap isn't necessary for search engines to be able to crawl your pages, it allows them to crawl through it more intelligently. Every EKM site comes with two sitemaps in different formats, one being an XML file providing machine-readable code great for Google Search Console and the other being an HTML webpage linked in the footer of your online shop which helps the intelligent crawling mentioned previously.

Google Tools

One of the most critical steps to take when looking at creating an SEO strategy for your business is to analyse the current performance of your website. You should always have an eye on what's working for you and what could be improved. With EKM, you can integrate your online shop with Google Analytics and Google Search Console, both of these platforms give you great insight into where you're performing well and what you can do better. Find out how you can use

Google Analytics to increase your overall online shop performance.

Blog

Every EKM shop has the ability to start their blog on WordPress, the great benefit of this is you can increase your SEO efforts by creating a content marketing strategy and give yourself another channel to bring in inbound leads from. Being able to introduce your website to a new audience via informative content can be extremely beneficial to bringing in new customers.

Schema Markup/Rich Snippets

Schema markup is another excellent way to increase your visibility to search engines and is another way of communicating to them, giving them more information. With EKM you are automatically provided with product schema, however, you can also apply your own product schema markup if you require. Some great applications for schema markup include adding it to products, reviews, events and more. Search engines like Google can then use this to enhance your snippet displayed on the search engine results page. For those wanting to take their SEO efforts even further with some advanced techniques, we also offer the ability to add organizational/local schema to your online shop which can massively enhance your listings, this can be added to your

'Contact Us' page or other geographic specific pages, it's important to remember you don't want to add the same schema markup to every single page on your website.

Your products SERP snippet could look like the below with schema markup including reviews and pricing:

Product Feed

A considerable advantage you get from joining EKM is an automatic Google Product Feed. A product feed is essential if you want to be competitive in your market, and now with Google Product Feeds displaying in the organic results, this can be a massive benefit for any business, not just startups. Your product feed updates every 24 hours with any product updates.
Successful SEO friendly EKM shops
At EKM our goal is to help you create your a successful online shop, this is a core part of our value as a business, one way in which online shops can accomplish this is through organic growth, and there are many shops on the EKM platform which rank very well for highly sought after search terms. You can see a few examples below. Always keep in mind search results can display differently for different users. Factors such as device, browsing history, repeat visits to a website, location and many more can contribute to what the SERP's look like for a user.

Dannells
Dannells is a British manufacturer passionate about lampshade making. One of the terms Dannells ranks for is lampshade kits, at the time of writing this the term has an average monthly search volume of 1900 and Dannells are in the first position for organic listings.

Other online shops on the EKM platform that do really well can be seen below.
Mrsflatpack
Mrsflatpack Is a small company that was started in October 1990 specialising in the furniture trade.
Search term: high sleeper cabin beds
Volume: 1600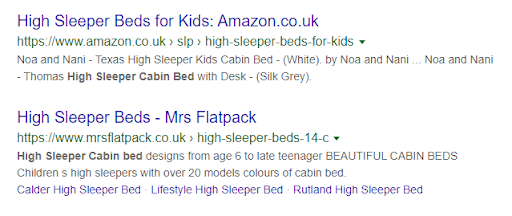 Model Hobbies Limited
Model Hobbies Limited is a family company based in Stoke on Trent specialising in model kits and aftermarket parts for model kits.
Search term: plastic toy soldiers
Volume: 590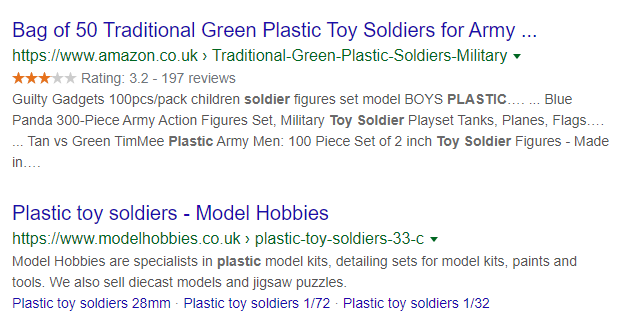 5 top tips to make your EKM shop more SEO friendly
Although EKM gives users a great start to their search engine optimisation straight out of the box, every EKM customer can go further and increase their SEO efforts to try and gain more traction to their ecommerce website.
There are some general tips our ecommerce experts regularly provide which, when applied, can give you a much better chance of increasing your SERP ranking.
These tips include the following:
Keyword research is a vital step to carry out when trying to optimise any content or product listings, having an insight into what could bring in more traffic to your website seems like an obvious step. However, you would be surprised how often this step gets glanced over. Using tools such as the 'Google Keyword Planner' or 'Keywords Everywhere' could help you accomplish this.
Another vital step which has been discussed briefly above is custom metadata, having custom metadata which goes hand in hand with the keyword research you have carried out can give you a massive boost in ranking for terms that are highly sought after. As mentioned earlier, Google can only read certain metadata you provide them with, one common misconception is adding the meta keyword tag can help you rank for the keyword you're targeting, however, this is not true and adding meta keywords can be avoided without any consequences.
Link building is another primary SEO practice. With link building, you are letting search engines know you have a site which is reliable and trustworthy. The better the quality of the links you can direct to your website, the better it is for your website, essentially you are telling search engines a trustworthy site is recommending your site for content, and this helps build up your link profile.
Although this is a very commonly used phrase, content remains king when it comes to SEO. Having a wide range of content extensively covering the terms you want to rank for only benefits your organic performance. Combining this with the keyword research you've carried out could go a very long way in bringing more traffic to your website for no cost at all. Another way to utilise this tip is by enhancing the content you are including within your product descriptions. Adding high-quality descriptions that highlight product benefits, as well as features, and the problems the product can help the user solve will not only improve the user experience and help drive more sales but can have a massive benefit to your SEO. Note: Be sure to avoid copy and pasting content straight from the manufacturer of the product or other websites.
Another factor which is becoming increasingly important is mobile optimisation. With Google now using a mobile-first approach when crawling, you have to make sure your site functions and performs as well as it can on mobile. Some things you can do to accomplish this include optimising any imagery you have on your website, so it's well compressed and sized correctly to avoid loading speeds being sluggish for your users and overall enhancing the user's experience. Note: Always be sure to test your online shop with the mobile preview provided within the dashboard and on an actual smartphone device.
How EKM's unique Evolution Mode can help your SEO efforts
Another advantage EKM can offer you that other ecommerce providers cannot is our unique Evolution Mode. With Evolution Mode, your site will continuously evolve and never go out of date, and this can be a massive boost to your SEO. The job of a search engine is to provide the best possible result for a search term, and one of the most significant factors that influence this is good user experience. Having an out of date site, which is hard to navigate with poor functionality will massively impact your ranking. The study mentioned previously by SEMrush also found that one of the most critical ranking factors that should be considered include the 'time spent on-page' as well as the 'average session duration'. Having a website which has good user experience and can hold a customers attention could play a massive part in increasing these metrics and helping you rank better.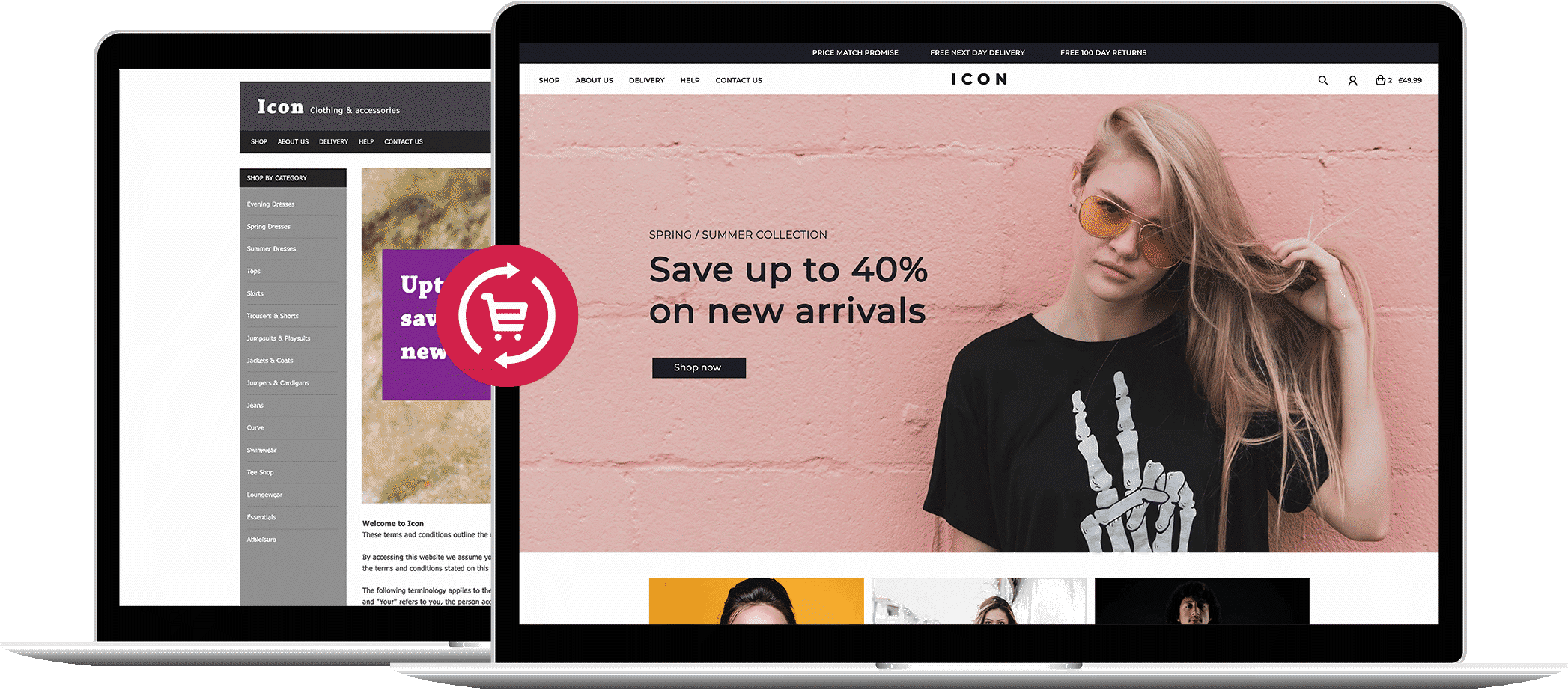 ---
If you'd like to learn more about setting up your own online shop, read on for more insights into running your own online business here.