Wix ecommerce vs Squarespace for ecommerce are both among the biggest website builders out there and are popular amongst ecommerce shop owners. It can be hard to determine which option is best for your business.
There are a lot of differences between them. Differences that as a business owner looking to set up an online shop, you should consider. We're going to look in-depth at the differences between Wix ecommerce and Squarespace ecommerce, to help you determine which is best for you.
What to look for in an ecommerce platform
When looking for an ecommerce solution, before you choose and invest time and money with any provider – figure out what your ecommerce needs are. Different business models will need different features and services.
From things like a trade discounts system for wholesale and trade businesses to subscriptions for monthly recurring products. You need to know exactly what you need in order to find the perfect ecommerce platform for you.
You'll also need to consider what integrations you'll need if any. As this may affect what platform you choose if they do or don't have that integration. Other things to consider are:
Your budget
Your expectations
Features
Marketing
Advertising
Payment gateways
Let's now get onto the comparison between Wix and Squarespace, to help you decide if they're right for you.
The editors
First of all, let's take a look at the editors. Probably one of the biggest differences between the two. With the Wix editor, you can move any element, anywhere on your page. A pretty versatile editor, where you can drag any element you want, anywhere on the page. There isn't a steep learning curve with this editor either.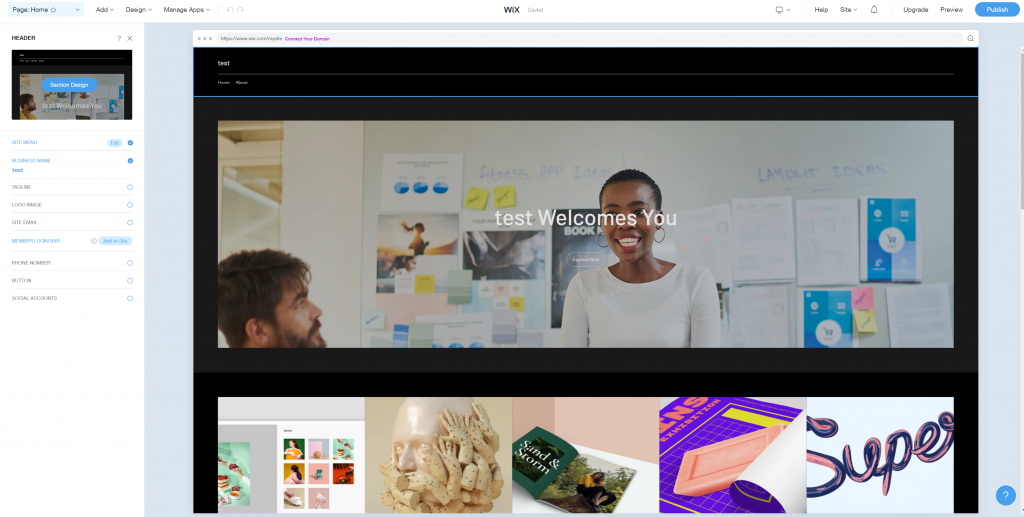 However, changing an element on the desktop version of the editor may not translate to the mobile view. So changes may need to be made twice which can be frustrating for users and should be something that is automatically done. This is because Wix has an unstructured editor.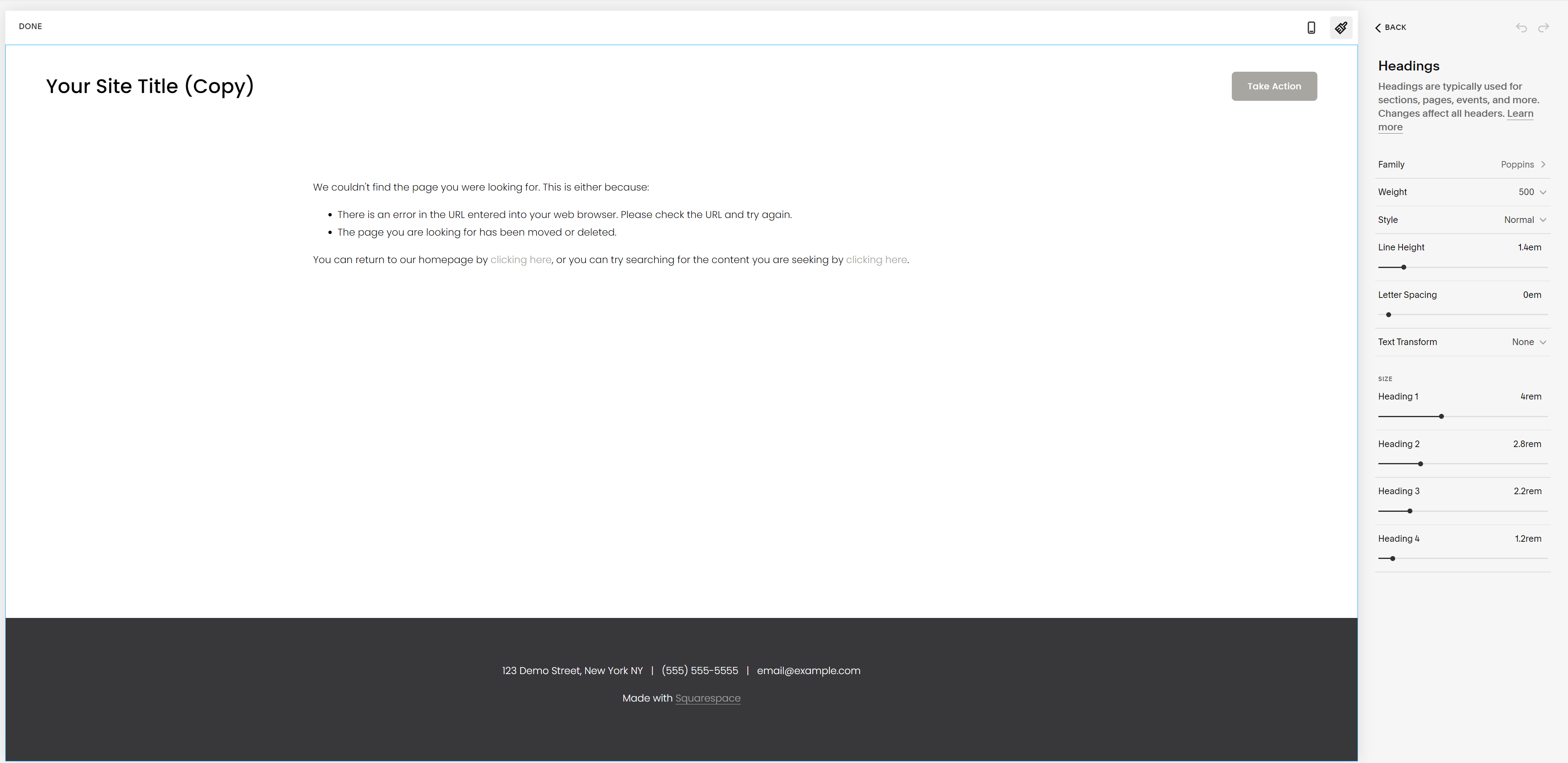 The Squarespace editor however, is a structured one. This means that you can't move an element anywhere on your page but allows you to drag these elements (also known as blocks) into rows and columns. This can help you stick to a sensible structure for your website. Squarespace was designed to help anyone create a website no matter their technical ability.
With this editor, what you see is what you get. So whatever changes you make will be directly translated into your live page. It can sometimes take a few clicks to find exactly what you're looking for when creating a website. And sometimes it isn't obvious where to find certain information and features.
| | |
| --- | --- |
| Wix Editor Pros | Squarespace Editor Pros |
| – Lots of flexibility with structure with their drag and drop unstructured editor | – More structured editor using element blocks in rows and columns |
| – Great for beginners who have no website building knowledge | – Less time consuming due to ease of use |
| – Autosave feature | – Great for designers, photographers etc |
Wix Editor Cons
Squarespace Editor Cons
– Any changes made need to also be made on
the mobile view
– Needs a bit more knowledge on its use
– Custom functionality can be limited
– No autosave feature
Features
Moving on to their features. While every ecommerce provider needs basic features to support its customers, both Wix and Squarespace have all the necessary features when it comes to selling online. In recent years they have developed other features such as online booking, ecommerce and email marketing.
It's noted that Wix has more features than Squarespace, but Squarespace features are done better. Some features that you can get with Wix straight out the box, you would need third-party integrations for with Squarespace.
Wix features
Features such as their membership site, forum, live chat, takeout orders and ticketing and RSVP are all features Wix has out the box that Squarespace doesn't. Some of these features also come at an additional cost. Wix's live chat for example starts at $10.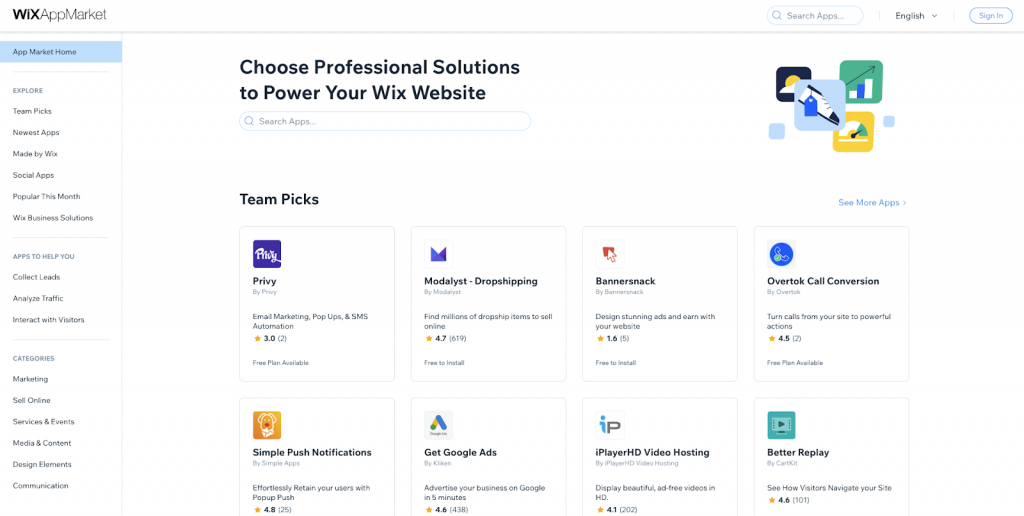 Among some of Wix's most important features their App Market contains hundreds of third-party features that help make their customers website's better. This includes features and tools that Wix doesn't provide as part of it's core service.
Other features include their built-in SEO tool. You do have the ability to edit meta titles and descriptions, customise URLs and tweak header code. They also have a few SEO apps on their App Market.
Their Marketing feature, known as Wix Ascend, is an all-in-one solution that lets you connect with customers, automate workflows all to help grow and promote your business. The free version of Wix Ascend comes with all Wix plans and it also has premium plans available as a separate subscription.
From contributor roles, to lead capture forms, email marketing campaigns, limit on emails per month and social media campaigns per month. The plan levels will determine how much of each you have access too. This of course may be an additional cost to you so keep that in mind.
Squarespace features
Squarespace on the other hand, whilst it has mostly everything you need – some of it isn't as user friendly as it could be. When it comes to SEO on Squarespace, it's not too beginner friendly. Most would need to adopt a more hands on approach with SEO which may be time consuming.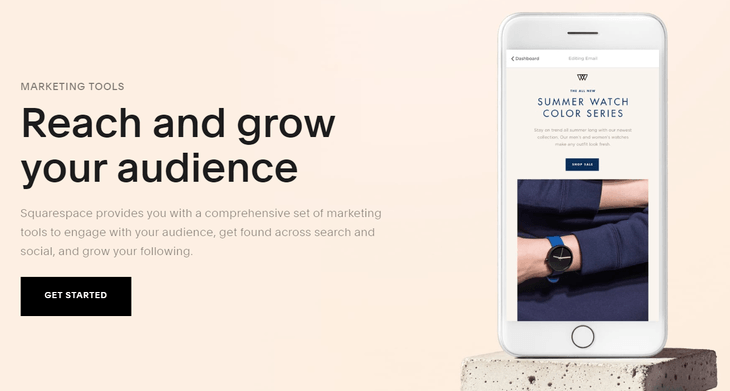 Other Marketing tools include their own email marketing platform or you can integrate with Mailchimp. Their social media integration makes it easy to share updates by linking your accounts form over 20 social media platforms.
Squarespace also has an app store with lots of third-party extensions – known as Squarespace Extensions. It features a mix of paid and free apps such as Quickbooks, Printful and ShipStation. Their apps are split into 4 categories: Shipping and Fulfillment, Finance, Inventory and Products and Sales and Marketing.
Squarespace bought an online booking platform, Acuity Scheduling. This new scheduling feature was launched in early 2020 and is great for businesses looking to be able to book appointments.
Ultimately when it comes to features, you can only base your decision on whether their features are right for your business and also keep in mind any additional costs for features not included in your core plan.
Domains & security
Online security is a really important thing for both online shop owners and customers. Having a secure online shop not only helps show both search engines and customers that it's safe to shop with you, but it also supports your trust signals which are an important factor on your website.
Domains are a part of that as well as supporting your businesses brand identity. Wix's premium plans come with a free custom domain for the first year. After which the renewal price is around $16.89 annually. You are also able to transfer any existing domain you own.

All Wix websites also come with a built in SSL (Secure Sockets Layer) certificate which helps your customers know that it's safe to shop on your website and hand over their card and personal information. This is indicated by a padlock by the side of your URL.
Squarespace also offers a free domain for the first year when you sign up to an annual paid plan. Afterwhich your domain will renew at the standard rate. The price of a domain can vary from around $20 to around $70 per year. This however is more expensive than sourcing a domain from a third party, but it's more convenient.
All Squarespace and third party domains come with an SSL certificate. Squarespace also has built-in security to protect from any malware, unwanted bugs and DDos (Distributed Denial of Service) Protection helps protect your website from any malicious traffic.
Templates
Perhaps one of the most important aspects of any website or online shop is the template or theme used. This is because how you display your website will give your visitors an immediate impression of your business. If the design or template is bad, outdated or hard to use, then it won't reflect well on your business and may end up losing your customers.
You want to ensure that whatever template or theme you choose for your online business, it works for your needs, is fully optimised and can be customised to suit your branding.
Wix templates
Wix has hundreds of templates to choose from and all have a stylish, professional look to them. They categorise their templates into types of websites. From business to blogging, photography, ecommerce and more. All Wix templates are completely responsive.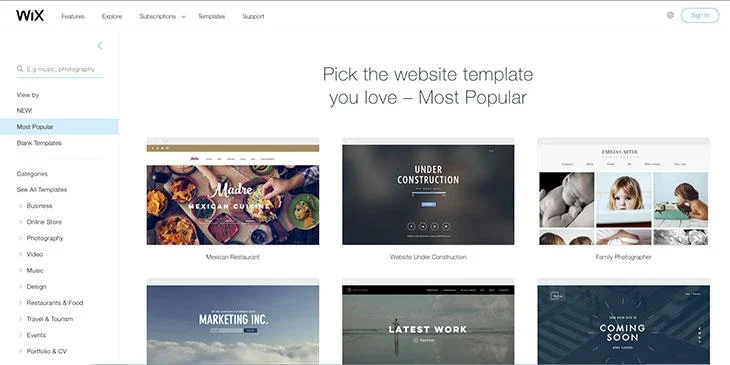 However, once you've selected a template from Wix, if you wish to change this at a later date, after publication of your website – you will lose all your content and customisations. You'll basically have to start from scratch.
All of their templates are editable and you will need to make any edits to put your own branding, content, images etc on the template. The editable elements of the template are easy to use and Wix even has an animation button to help bring elements of your website to life.
Squarespace templates
Squarespace compared to Wix and other ecommerce websites only has 113 templates to choose from. But they tend to go for quality over quantity. They aim to make their templates sleek with a modern design with great useability and performance. All of Squarespace's templates are free to preview, edit and are included in your monthly plan.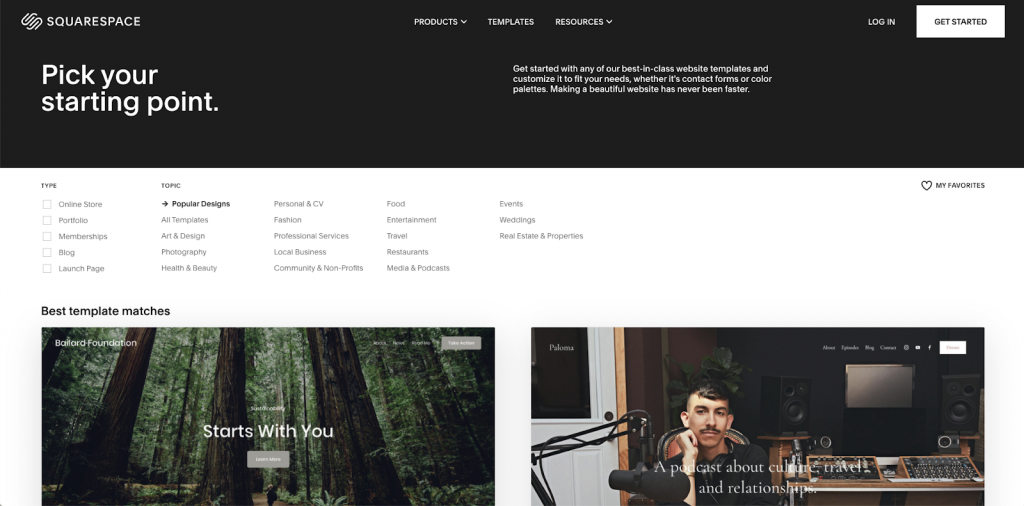 Their templates are again split into categories by industry. They are all fully responsive and highly flexible when it comes to customisation. Whilst it's not a pure drag and drop editor, you can move elements around as you wish, whilst maintaining the integrity of the theme and its structure.
If you do have a bit of coding experience you can go in to tailor fonts colours and backgrounds, to make your website feel even more unique. You can also do this without having any coding knowledge. You can add pages, manage your menu structure and much more – giving you the best of both worlds when it comes to customisation and a professional look.
Support
With most ecommerce platforms support is a really important aspect for users. Something that here at EKM, we're really proud of. See what our customers have to say about us. Particularly if you're new to selling online and aren't familiar with how to get started – support is always on the top of your priority list.
Wix support
Wix support question mark buttons are dotted around the editor – small and mighty. They offer a whole host of information that is guided via suggestions. These answers are drawn from Wix's Help Center and some even have a video to guide you through.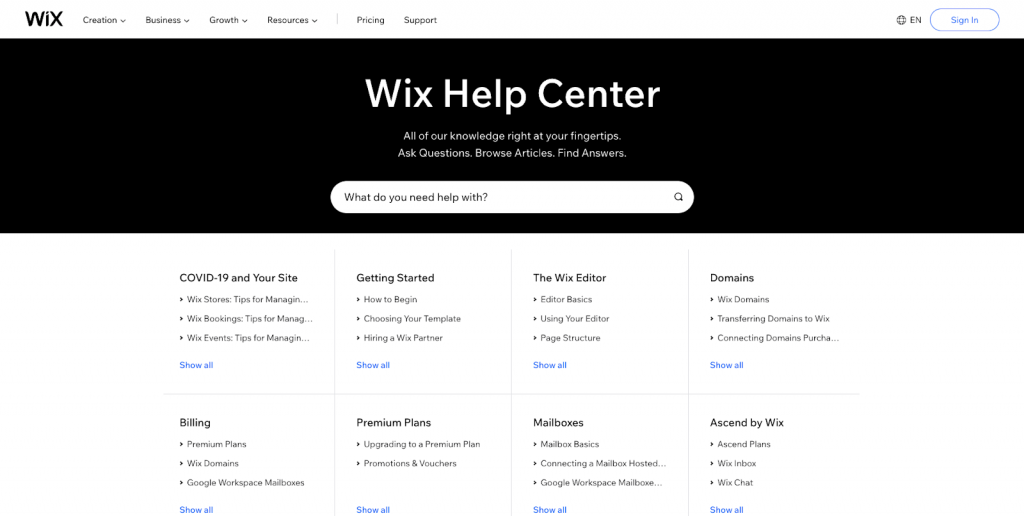 You can also get in touch with Wix via phone or email from Monday to Thursday 5am-5pm EST. They currently don't offer any live chat support at the time of writing, but you can reach them on social media or find peer support on their official forum.
Squarespace support
Squarespace's support is notably better than Wix. They have live chat Monday through Friday, 24/7 social media support on Twitter, 24/7 email support, knowledge base, community forum and video tutorials. However, where it lacks is phone support.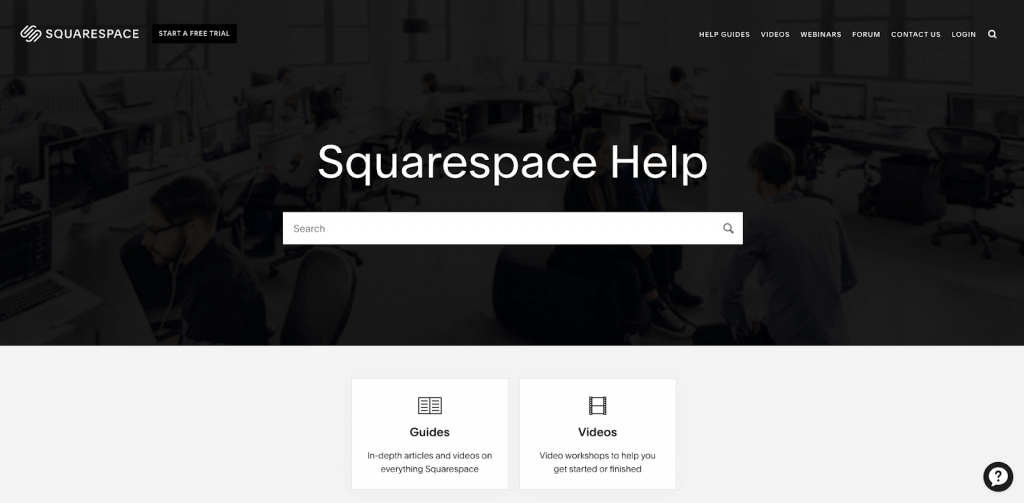 Their knowledge base is full of helpful articles, advice, guides and tutorials. They sometimes offer webinars and you can always join in on the discussions on the community forum.
Overall the level of support you need will depend on your own confidence, skills and knowledge but it's worth keeping in mind.
Blogging
Blogging can be a very powerful tool for business. Your blog content is much more than just that. It can help you drive brand awareness, drive traffic, generate leads and even help you make sales. All of this comes with a long term SEO strategy for your blog.
Remember that websites with blogs produce an average of 67% more leads monthly than competitors who don't.
Wix blogging
Wix blogging provides you with everything you need for a great blog. But it's noted that if you're looking for a website solely for blogging, then there are better options out there.
Wix allows you to create blog posts, create categories, has a comments section and search bar for your readers. Everything you'd expect for a blog that supports a business website selling a product or service.
Squarespace blogging
Blogging on Squarespace however, may be better than Wix. It has a lot of built-in tools to support blogging. With Squarespace blogging you can support multiple contributors, sync and share on social media and they have a Blog App to have you manage content on the go.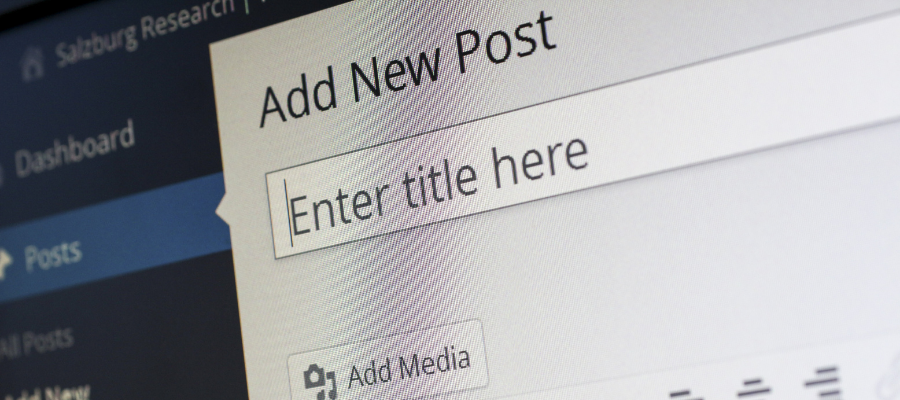 Pricing
One of the biggest questions for most looking to set up their own online business is how much does it cost?
The price you're willing to pay vs what's actually realistic will heavily depend on what features, functionality and support you need when you're first starting out. Most of the time, a basic plan will cover most of your needs until you begin growing.
Wix pricing
Wix has a free plan if you want to give it a go with no commitment, as well as a two-week money-back guarantee on all of its paid plans. Like many of its competitors, Wix has an enterprise solution called 'Wix Enterprise' which is a custom price depending on your business needs.
| | | |
| --- | --- | --- |
| Plan | Paid Monthly ($ per month) | Paid Annually ($ per month) |
| Combo | $18 | $14 |
| Unlimited | $23 | $18 |
| Pro | $28 | $23 |
| VIP | $47 | $39 |
| Business Basic | $28 | $23 |
| Business Unlimited | $33 | $27 |
| Business VIP | $56 | $49 |
This pricing isn't the steepest out there but note that it is billed in dollars so the actual amount will differ on your statement.
Squarespace pricing
Squarespace pricing is a little simpler. They have four price plans starting from $12 to $40 per month – but billed annually.
All annual plans come with unlimited storage, bandwidth, a free custom domain and SSL security. This, however, is pretty standard for most ecommerce providers.
| | | |
| --- | --- | --- |
| Plans | Monthly Plan ($ per month) | Annual Plan ($ per month) |
| Personal Plan | $16 | $12 |
| Business Plan | $26 | $18 |
| Ecommerce Basic Plan | $30 | $26 |
| Ecommerce Advanced Plan | $46 | $40 |
There are some cheap options with Squarespace for both ecommerce businesses and websites, but features such as the abandoned cart recovery, subscriptions and advanced shipping are only available in the Advanced Plan.
How does EKM compare?
EKM is the UK's highest rated ecommerce platform and that's all thanks to our amazing customers. With over 2,000 5-star reviews, our UK support is one of the main benefits of being an EKM customer.
Features
EKM comes with all the features you'll need to start an ecommerce business straight out of the box. With 500 products, a 30 minute welcome call, UK based support, Evolution Mode and shop health reports – and that's just on our basic plan; we believe our plans are the best value for money.
We continually develop new features to help improve the platform for customers. Why not take a look at some of our most recent updates here. This is driven by customer feedback and suggestions so our customers are able to shape and influence the features they need.
View the full list of EKM features here.
Domains & Security
All EKM shop owners have 24/7 server monitoring and unlimited bandwidth. So no matter how much traffic is coming to your site, you'll never lose a sale opportunity. We also have a 99% uptime guarantee so you can rest assured that your shop is always running smoothly.
All EKM shops come with an SSL certificate automatically, letting your customers and search engines know that your EKM shop is safe to take payments. EKM shops also come with a free domain for a year or you can transfer your current domain over.
Templates
EKM has a large library of fully optimised themes to choose from. They are really customisable to help showcase your products in the best way possible, surrounded by an online shop that is consistent with all your other branding.
Take a look at a few of our customer shop examples here.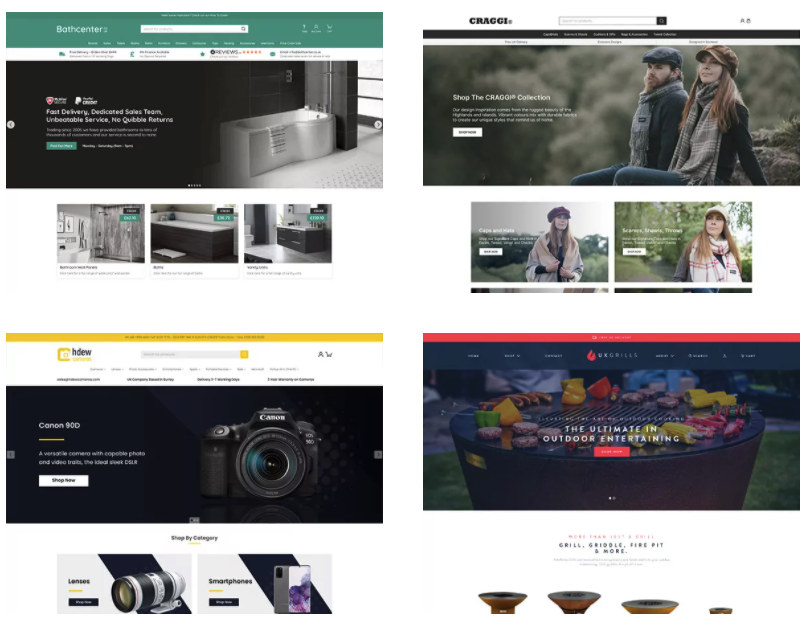 Support
EKM's support is UK based and available 7 days a week. EKM shop owners can call or email and chat with us live through their shop dashboard at a time that's most convenient for them.
Some of our plans also include Account Manager Support to help your shop have the best start. Our higher plans have a dedicated Account Manager who you have a direct line of contact with to help support you and your business whenever you need.
If that support isn't great enough, we also have the EKM Support Centre which has a whole host of support materials to help with your EKM online shop – supported by video guides. And lastly, our shop owners have access to our exclusive Facebook group, EKM Community. A group where EKM shop owners can seek advice and chat about anything business related.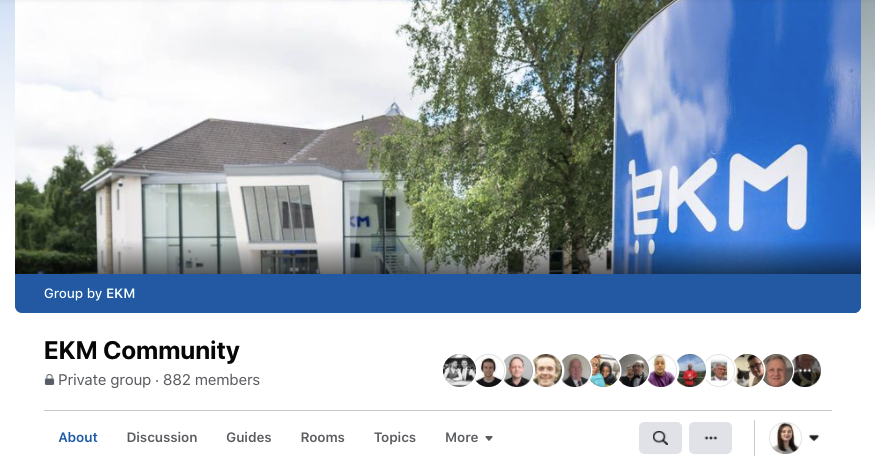 Blogging
You can also have a blog on EKM via a Blogger Blog, which is Google's easy to use blogging platform. A perfect way for any beginner to start blogging. With a simple drag and drop functionality that makes it super easy to add content, images, links and more.
There are many benefits of blogging and using SEO techniques to help search engines like Google see that your content is relevant to particular search queries – that will help your content climb the SERP rankings and generate traffic to your blog.
You can see how SEO friendly EKM is here.
Pricing
EKM's pricing is set up in a way that helps your business grow and includes the necessary support and features as it grows. It is based on 4 plans.
| | | | | |
| --- | --- | --- | --- | --- |
| Plan | Basic | Standard | Advanced | Pro |
| Monthly Cost | £32.49 | £64.99 | £194.99 | £549.99 |
And the best part is that there is no contract, you can cancel any time and we have a 14 day free trial! Before any decisions are made, make sure to have a look at all the benefits and features you can get on an EKM plan here. We're sure there's a plan that's just right for you. And if you have any questions, get in touch with our Ecommerce Experts using live chat or give us a call on 0333 004 0333.
---
Learn more about our ecommerce plans and get started with a free 14-day trial here.