Instagram has recently rolled out a new update for its app. The update includes a change to some of the most important features in favour of its newer features 'Reels' and 'Shop' to compete with other social media platforms.
The well known 'notifications' and 'new post' features that have been front and centre bottom of the app's homepage have now been moved to the top right-hand corner. This change means it is generally harder for users to reach and somewhat inconvenient.
They have been replaced by Instagram's new 'Reels' a short-form video similar to TikTok and 'Shop' feature which are now prominently featured.
This also means that users who were previously able to easily access their notifications and post creation tool while looking at other posts on someone's profile, now need to return to the home screen to access them.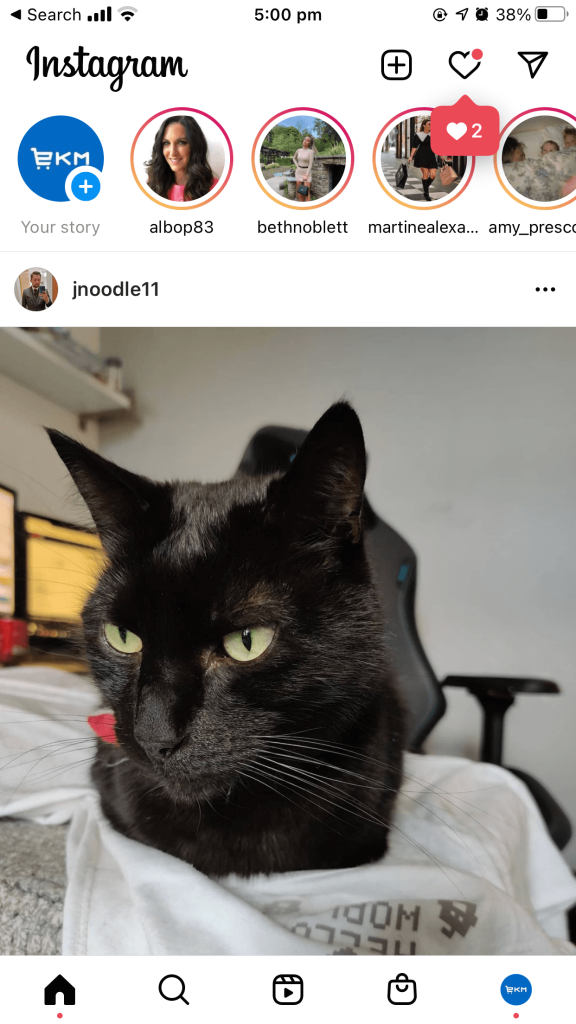 This change, however, hasn't been well received by users. Some of the larger platform users have called out Instagram on their lack of interest for creators and focus on the money-making side of the app.
We spoke to Lead UX Designer from EKM, Michael and got his thoughts.
"Some of the changes they've made recently have been great and really impactful for their customers such as stories. Stories are great as people are trying to share their lives through social media and everyone is interested in what others are doing. It makes them actively want to be doing stuff as a sense to belong. That's not to say stories are good for everywhere, they are only suitable for certain social platforms where the customers focus is to share their lives.

While I think the new shop tab was more of a business decision than a customer requirement, every company has to evolve, and Instagram is evolving with the times. Instagram has always been a form of gaining customers, but now you have direct access to sales without the need to go anywhere else."
This also comes along with more criticism from the platform's users stating that their content isn't being seen, their notifications aren't being pushed out and people aren't seeing posts on their own timeline from friends and family that they follow.
One Social Media Specialist wrote "You're all so busy racing to the next 'change' you forget the reason so many of us visit your app. To use it for the core functions." And while this may be true for content creators across the world, the new update is giving business owners another route to market for their products on a platform with unbelievable reach.
"We don't take these changes lightly – we haven't updated Instagram's home screen in a big way for quite a while," head of Instagram Adam Mosseri wrote in a blog post.
The Shop tab will surface personalized recommendations, editors' picks curated by the @shop channel, shoppable videos, and new product collections. This will help business owners get their products in front of more eyes and the new feature makes it easier to checkout within the app by opening the website for that product rather than taking the user to another website to finish the transaction.
Despite the uproar from large creators, we feel that the new features are a great asset to any online business and they should be utilising every opportunity they can, particularly with the countdown to the holiday season.
If you'd like to learn more about setting up your own online shop, you can speak to our ecommerce experts on 0333 004 0333 or
request a callback here.