After realising he wanted to work for himself, London based careers advisor turned entrepreneur, Allan Treadwell was presented with an opportunity at a networking event where he came across a health and beauty company which energised his passion to work for himself.
"I knew giving myself some of that advice, I knew I never truly wanted to continue in the employed life and had a calling and passion to work for myself and have my own business."
From selling on eBay to starting his own EKM shop in 2011, his first business Optimum Beauty Shop has grown into a business selling over 1000 products and continues to grow. Having had a taste of what entrepreneur life was like, Allan opened his second EKM shop Haven Bound in 2017 selling a variety of cleaning products and homewares on an online shop.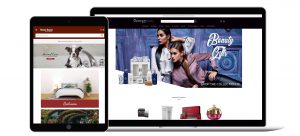 Introduce yourself and your businesses, what was your motivation behind starting them and what do you sell?
My name is Allan Treadwell and I am the owner of Optimum Beauty Shop. I am 41 and originally from a small countryside village in Warwickshire, but for the last 10 years, I've been living in London.
After having moved to London, I started to work as a Careers Advisor but, giving myself some of that advice, I knew I never truly wanted to continue in the employed life and had a calling and passion to work for myself and have my own business. I love IT and learning new skills.
Not long after moving to London I was invited to a networking event for a Health and Beauty company and I was instantly hooked. For me, it was a continually growing sector of business that had products that no matter what, people would use on a daily basis. This motivated me first to start my own eBay shop to sell these products, and then I started to find other suppliers and it has grown from there. As it grew I decided to open my own website and I chose to open my site with EKM in 2011.
I then decided to open a second site with EKM called Haven Bound. My motivation behind starting a second shop was that I was offering so many different products within the homeware industry, I decided rather than add this range to my existing site, it would be better off having a website of its own. Haven Bound was born.
Did you have any experience in selling online before starting your businesses?
My only experience selling online before opening my website with EKM was like most, with eBay. I continue to this day to still sell on eBay as Optimum Beauty Shop, to help grow my brand and bring more customers over to my EKM site.
How did you earn your first sale?
My first sale came in March 2011. If I can remember correctly it was with the help of Google Shopping, it was for a specialist supplement brand which I still sell today.
How do you balance your workload?
Balancing my workload has probably been the biggest challenge in all the years I have run my online shops. Unfortunately, when you have daily bills to pay, having your own business can be a momentous challenge. For the first 5 years or so I worked full time and ran my online business in my spare time and on quite a few occasions when I could, I'd try and do some whilst also at my full-time job.
Since then, in the last 2 years, I've concentrated a lot more on my business and now only work part-time. It allowed me to do so much more and has really propelled my business forward. I have done everything on my online shop by myself and the only help I've had recently was with an international intern who helps from time to time with my social media marketing. I am the true definition of a one-man band when it comes to running both my EKM shops.
What's the biggest challenge you've faced since starting your businesses?
My biggest challenges for sure have been time and money. Time is so precious and management of it even more difficult at times, especially since becoming a father. Being self-employed or running a business, so much of what you earn goes back into marketing and other costs of running your business and what you do. Small businesses work and operate very differently to bigger companies, so a lot of money can vanish trying things that might not necessarily work for you.
What do you love most about running your own businesses?
I love the sense of satisfaction when I get things done – adding a new product range or re-designing my site or categories for a better impact really give me a buzz and providing a quality service for my customers, and of course, the best bit is receiving those EKM emails for an order. I've worked in customer service for over 20 years and I pride myself on giving excellent service and customer experience for anyone buying from my shops.
What advice would you give to new shop owners just starting out?
Research is definitely the key, look at what your competitors are doing but also make sure you find your niche and really promote what it is about you that makes you different or stand out from the crowds. Also really watch your expenditure and what your outgoings are, marketing etc, Google Ads aren't cheap so really work out a good budget for yourself from day one.
What are your plans for the future?
My ultimate goal for Optimum Beauty Shop is to continue to grow, I'd love to have my own retail shop or office/warehouse environment and to build a small team of staff. I know with hard work I can achieve this and I will get there in the future. I want to be fully self-employed and to be able to support my family financially, all from my online business.
---
A little bit about Haven Bound and Optimum Beauty Shop
Haven Bound offers a huge range of cleaning products and homewares such as bedding and bathroom décor, kitchen tools and utensils and even has a garden and outdoor range. These products come from a company with nearly 100 years selling experience in the UK – your good old-fashioned door to door salesmen, but with Allan's love of being online, he decided to bring this into the 21st century and with an online shop.
Optimum Beauty Shop specialises in Natural Skincare, products that are good for your skin – never tested on animals and products that really They have a huge selection of perfumes, skincare, makeup, bath and body, health and wellbeing and much more. And have a range of over 1000 products, not sold on the high street so some amazing niche products for sure.
---
If you'd like to speak to one of our experts about setting up your own online shop, simply fill out our call back request form here, or call us on 0333 004 0333.