'Is a blog necessary for the success of my business?' is a question many business owners find themselves asking. Well, it may not make you millions overnight, but it may be something you want to consider. Research shows that companies that blog generate 67% more leads than those that don't…
A well written blog on topics that are relevant to your audience will help your website perform better in search engine results, and therefore make it easier for your customers to find you.
Here's how…
1. A blog can help people become invested in your brand
Posting content that your potential customers are searching for will peak their interest and help them to notice your brand amongst the sea of others.
Relevant and regularly updated content will ensure your website is looking fresh and will keep your customers feeling 'in the know' regarding the industry, trends or products they are interested in.
2. Blogging can target SEO optimised Long-Tail keywords
The SEO game is very competitive, and while it's great having generic keywords that best summarise your business for example 'winter coats', chances are your competitors are using the same. This makes your chances of landing on page 1 of search engine results fairly slim, therefore making it harder for your customer to find you.
Long-tail keywords can be used within your blog and is your best bet at standing out. While the number of customers searching for these specific words will be less, they will more than likely be exactly who you are looking to target. An example of this would be 'Winter Coats for tall women' or 'What to pack for cold climates'. We've written a blog dedicated to SEO tips for boosting traffic if you're interested in learning more.
3. Blogging offers you a chance for internal links and enticing Call To Action buttons
A blog topic that is relevant to your target audience is simply reeling in potential customers. Once the reader is engaged you have the opportunity to direct them to the product or service you are providing.
Using the example above, you can link back to your best selling Winter Coats, any special offers, or even another blog post you have written relating to the subject.
You can also add Call To Action buttons such as 'find out more' and 'subscribe'.
4. Blogs last!
Alongside hot topics and current trends in your industry, make sure you are including blog posts that are 'evergreen'. This is content that remains fresh and relevant over time, that your audience will find appealing today, tomorrow, next month or next year.
Using our previous examples, content that is 'hot' or trending may be 'Ethical Winter Coats you must own for 2022' vs evergreen content that may look something like 'Top 5 benefits of Vegan Leather Coats'.
5. Blogging gives your company personality and a voice!
Blogs allow you to share your knowledge and express opinions on interesting topics for your customers. It shows your audience that you have a passion for the industry and the expertise to support your business.
And don't forget, this is all content to be shared! Once the post is written, don't stop there! Share these on social media, add them to email campaigns and give yourself the opportunity for audiences across various platforms to see the personality behind the brand!
So, now you know the benefits of writing a blog, how do you go about actually writing one?
Top Tips for Writing a Blog
Identify your target audience
Who is your blog post aimed at? Is there a particular goal you may be trying to achieve? Is there a particular reaction you are hoping for?
Pick a topic that will peak their interest
Are there any current trends that your audience is talking about? Is there an industry event that may be about to take place? Who or what is your audience already following/reading?
Do your research!
Research keywords to make sure you are optimising your content. Are there any other posts similar to yours? Are there any facts and statistics you can include to help support your writing?
Write a title not to be missed!
Pick a catchy title that your reader absolutely must know more about. 'How to…' 'Top Tips…' 'Reasons why…'
Include internal links and engagement
Include links that will convert from reader to customer. Make it easy for them to navigate their way back to the core of what you do. Also encourage readers to share your blog post and expand your reach.
Shout about your blog!
Share everywhere! Update your audiences that a new post has been added or create social posts leading with the catchy title. This will encourage readers to click on your latest blog and make their way to your website.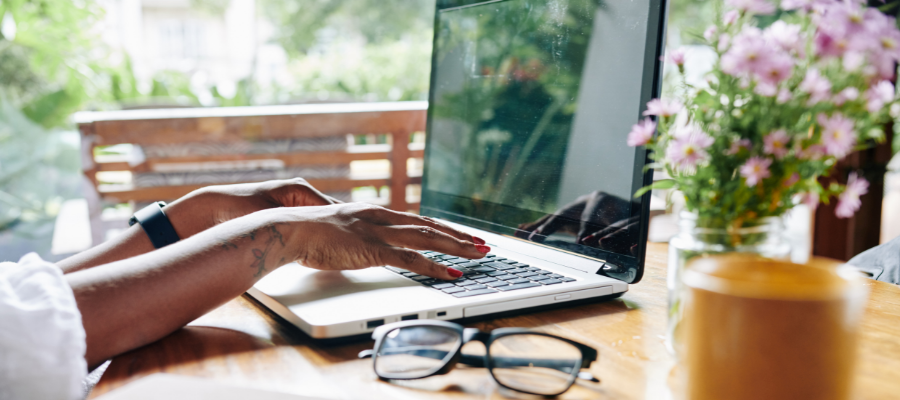 EKM has made it even easier to create blog posts and add them to your online shop through our redesigned Blogs Feature. For support on how to get started and add this important feature to your website, head over to our EKM Blogs Support Guide.
Struggling to think about what to write? We have put together a list of ideas to help you get started with some quality content intended to encourage sales and increase brand awareness. Have a read through our 50 Ideas for your EKM Online Shop Blog Support Guide to get inspired and get posting!
For more useful support on how to run your successful online business, have a read of our Ultimate Guide to Everything Ecommerce.