Branding can sometimes be misunderstood if you aren't familiar with what branding is exactly. We're going to explore what branding is and why small businesses need to start embracing it to grow.
What is branding?
When you think of branding, you may think of large conglomerates that have nailed their branding such as Coca-Cola, Apple or Nike. But you're not sure how to achieve something similar but on a smaller scale for your small business.
Branding can be defined as the process of creating a strong, positive perception of a business, it's products or services in their customers' minds through the businesses logo, design, mission statement and consistent theme throughout all marketing activities.
When it comes to selling online, having an established brand can help distinguish your business from competitors, particularly as many new ones pop-up.
Why is branding important?
Branding can be a complex process which is why there are many professionals out there who specialise in branding alone. In a perfect world you would have your branding strategy mapped out before you launched your business, but this isn't the case most of the time.
A strong brand can support a business in many different ways. But if done incorrectly, can damage the brand's reputation.
In 2010 after sales had slumped following the financial crisis of 2008, Gap the well-known clothing retailer decided to redesign its 20-year long-standing logo.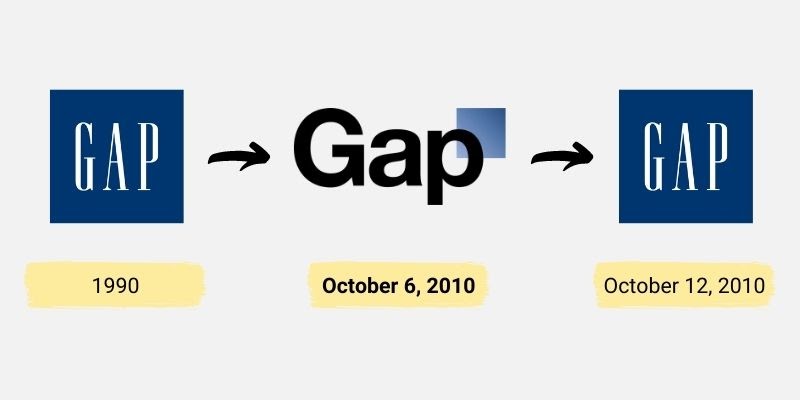 Gap has a highly recognisable logo and brand, featuring a dark blue square and the 'GAP' name in white serif writing. Their logo redesign launched on October 6th 2010, with a heavy black Helvetica font and the blue square now much smaller.
Brand redesigns are usually conducted alongside a businesses change in direction and strategy. This signifies a new approach for the business and therefore a new visual is required to mark it. However in Gap's experience, the new logo redesign shocked their consumers and professional branding communities alike.
But why did their logo redesign face backlash?
A brand's logo is a key signifier of a brand, it's what most consumers look for or think of. When this changes overnight, this can cause confusion amongst consumers and reduce the level of brand awareness the company has.
The emotional connection that consumers had with the original branding and logo was also grossly underestimated. Loyal customers had a strong connection with the original branding and what that represented, i.e. familiarity and safety. Customers know what they're getting behind the logo so when they're unable to recognise it, this creates distrust with the brand.
Gap faced pretty much immediate backlash from consumers. Most took to social media to express their concerns over the new logo redesign, and one website went viral for promoting a 'make your own Gap logo' site with 14,000 parody logo designs.
The logo was reverted back to the original within a week.
Gap learned that their logo played a central role in their branding strategy, connecting their customers with their products. They also learnt that their customers cared more than they thought about their brand as well as what it represented.
This case study shows you that even large corporations sometimes get their branding wrong, but it also shows the importance and power of the right branding.
Why do small businesses need branding?
Now you've looked at what branding is, and its importance. Let's look at the reasons why small businesses, like yours, need branding.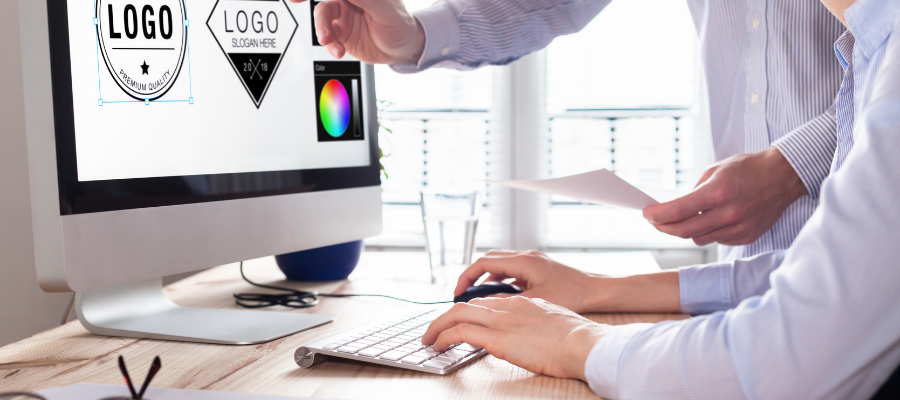 1. Stand out from competitors
No matter what product or service you sell, you most definitely won't be the only business in town, so to speak. Having a strong brand can help differentiate your business from your competitors, from establishing what makes your business or product different to demonstrating to customers why they should shop with you instead of your competitors.
Pro Tip: A USP (Unique Selling Point) comes in handy here.
2. Creates brand awareness & recognition
Branding helps your business develop recognisable visual and intangible identity traits in the form of brand guidelines. From your business personality to your brand colours, font, language, logo and so on. Being recognisable helps you create a distinctive style and increases your brand recognition within the market.
3. Creates a consistent brand experience
Your customer's experience should be a top priority, both in-store and online. Branding can help you develop a much-improved brand experience for your customers, which in turn can help your business succeed. Branding allows you to control the way your business is perceived and experienced, no matter the medium. Consistency is key when it comes to branding and your customers' experience.
4. Builds trust
Branding is one of the most important tools in a businesses toolbox for building trust and loyalty. The most successful businesses are ones that adopt emotional connections with customers which can be done through branding. The emotional connection is what turns them from a one time customer, into a loyal returning customer who recommends your products or services to others.
5. Increases business value
Branding isn't just important when generating business but it's also a future proof way to increase the businesses value. With a very well established brand, a business can leverage more within its industry. This in turn makes the business more appealing to investors because of it's established position within the market. This can also open up other additional opportunities such as partnerships.
Brands are something that can live forever and once finalised makes marketing your business and its products much easier. Your brand guidelines coupled with market research, and analysis should help you determine what the best way to market your business is.
Why not take a look at what marketing is and how it can help your business.
Whilst marketing is the activities you conduct to attract customers through leads and sales, branding is ultimately the foundation that your business is built on, it's reputation and how it is perceived in the marketplace.