If you're new to the world of marketing and looking to learn more about it and how it can help your business – you're in the right place. We're going to be looking into what marketing is, what it entails and how it can be used to promote your business.
What is marketing?
Marketing is the activities a business undertakes to promote and sell their products or services. Marketing includes many different forms from advertising, to social media, content marketing and more.
History of marketing
Marketing isn't exactly a new concept. The Industrial Revolution came as a rapid period of change, which was motivated by innovations in technology. This meant that purchasing goods became easier for consumers and mass production created a growing consumer market.
In the early 20th Century to the late 1940's there was an increase in competition within the business world. This meant there was a higher need to increase sales by using marketing techniques. These techniques became an essential part of business.
Marketing began to emphasise consumer communication in effort to persuade them to buy goods and services over another competitor. In the 1960's markets became saturated with competition and they needed to obtain and retain customers now requiring specialists known as Marketers.
Around this time, Marketers developed strategic planning to help determine costs, methods used to communicate information about products or services to customers and more. Marketing began to evolve again around the 90's as branding was more prominent for businesses as they looked to sell more high quality products and develop a brand identity. Branding resulted in an improvement in margins but also an uptake in awareness of their brand and what they do.
Marketing evolved again with the introduction of the internet and websites becoming an essential tool for commercialisation. In the early 90's, simple text based websites began to flourish.
Fun fact: the first company to have an online marketing campaign was Bristol-Myers Squibb to promote their Excedrin product. They were able to add thousands of customers to their customer list.
Case study: Tesco PLC
Jack Cohen returned from the war in 1919 and began selling groceries in the East End of London. He believed that putting affordable food within reach of everyone and at the end of his first day, he had made a profit of £1 on £4 worth of sales.
In 1924 the first own-brand product was sold, which was Tesco Tea – before the company was called Tesco. The name comes from TE Stockwell who is a partner at the firm of tea suppliers and CO from Jack's surname.
They were able to open the first Tesco shop in 1929 in Burnt Oak, Edgware, North London. And in 1934 Jack Cohan bought a plot of land to build new headquarters and a warehouse. It was the first modern warehouse in the country which brought new ideas for stock control which meant greater savings for customers.
This along with the introduction of self-service in the 40's, their rapid expansion in the 50's with 19 stores nationwide, and the first supermarket in 1958 in Maldon Essex, changed the face of brick and mortar shopping forever.
Their innovations in the way people shop with everything they need under one roof, hadn't been done before. As with traditional shopping you'd visit your butchers, then fishmongers and grocer and so on.
Their marketing has also been at the forefront of their strategy, from Tesco Clubcard to their brand guarantee and strong word of mouth in the early days. Tesco were one of the first and largest businesses in the UK to not only transform the way people shopped but also innovate on how they competed and attracted customers via their marketing strategies.
What is the purpose of marketing?
So now we've covered a bit of the history of marketing as well as had a look at how Tesco transformed the world of grocery shopping through marketing, let's look into the purpose of marketing.
The purpose of marketing is getting people interested in your business's product or service and this happens through market research, analysis, identifying your target market and their interests.
This also involves activities across both above the line and below the line marketing. Such as:
Social media
Content marketing
Email marketing
Video marketing
SEO (Search Engine Optimisation)
Paid advertising
Print marketing
Using these activities, businesses can spread the word about who they are and what they do in order to attract a customer base and act to attract and retain customers through various marketing activities and strategies. In turn these activities can generate traffic, leads, revenue and profit for the business.
Types of marketing
We mentioned earlier that marketing comes in many different forms. So let's explore the types of marketing you can do for your business. Remember you don't need to do all of them to be successful, and it may take some trial and error to find the right places where your target market is.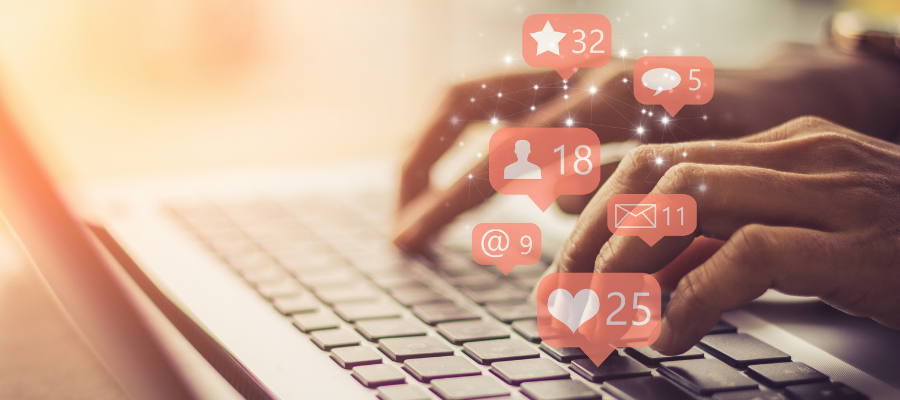 Social media marketing
When social media platforms began popping up in the early 2000's with platforms like Myspace and Facebook, whose intention was to have somewhere for people to socialise online.
Fast forward quite a few years and Facebook, as an example, are one of the largest corporations in the business world. Social media is now a core part in a businesses marketing strategy as it can have quite a substantial impact and ROI (Return On Investment).
Social media marketing is creating content in order to promote your brand and products across various platforms. Social media marketing isn't about the hard sell, as these platforms are where people come to socialise with friends. So you need to think about the type of content you create for your social media channels.
Content that engages your audience should be informative, entertaining and or compelling. Most marketers create their social media content around a content pillar strategy. This strategy makes it easier to plan enough content to publish, all while creating content that an audience will engage with.
Content marketing
Content marketing is also another integral part of a businesses marketing strategy. The content you create on your website from your product pages to your blog, help attract audiences via search engines to find the information they're looking for.
This type of content can take the form of a blog, downloadable content like guides and PDF's or even webinars and lives on social media platforms. The goal of content marketing is to educate and help your audience along their buyer journey.
SEO
Content marketing works hand in hand with SEO (Search Engine Optimisation). The content you create for your website, particularly your product pages and blog, can help increase your organic rankings on search engines like Google.
This is a free way to be on the first page of results for your chosen keywords. By creating SEO driven blog content that search engines can see answers to a query to the keyword the content is targeting, it will show your content higher up the SERP (Search Engine Results Page) ranking.
This can also tie neatly in with SEM (Search Engine Marketing) which includes activities both paid (PPC) Pay Per Click and organic (SEO) that work to ensure your business is visible on SERPs. SEM enables you to appear as a top result for your chosen query.
Video marketing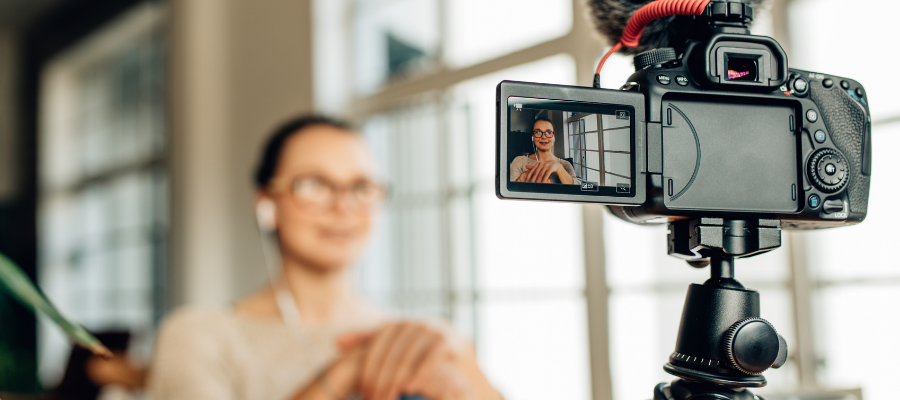 Video is quickly becoming the preferred medium to consume content these days. Creating both short and long form video content from repurposed blogs and or other information is a great way to boost brand awareness and generate leads.
For example, turning a blog post into a long form YouTube video, a 30 second video for Instagram Reels and 60 second TikTok to doing a live Q&A on your social media feeds to answer any questions your customers may have then and there.
Email marketing
Email marketing is still one of the highest ROIs for businesses and if done correctly can help earn you leads, nurture potential customers as well as your existing customer base. Email marketing is all about connecting with an audience using educational or entertaining content.
Building your email marketing list is the first step in creating your email marketing strategy – all within the guidelines of GDPR (General Data Protection Regulation). The most common way of generating an email list is through lead capture forms on your website. From downloading a guide to signing up to receive newsletters from you.
This is where you'll need an email marketing software and a CRM (Customer Relationship Management) system to manage, track and monitor the effectiveness of your email marketing campaigns.
From here you can develop a multitude of email marketing campaigns from lead nurture campaigns to post-sales promotions, offers and generic customer retention campaigns. All whilst being able to monitor, track and report on them.
Digital advertising
Digital advertising or digital marketing as it's also known as, is the act of using technology to reach audiences in new ways. It encompasses all different types of marketing but the key here is the digital element.
Digital marketing channels such as search engines, social media, email marketing all work towards attracting current and potential customers including SEO, SEM, PPC, Google Shopping, Retargeting and more.
Print advertising
Print advertising also comes under traditional outbound marketing efforts and is still used to this day. Print shouldn't be forgotten about as it can help increase brand awareness and engagement with your brand. Print advertising can take many forms, just like every other aspect of marketing. From print magazines to billboards, flyers, events and so much more.
Influencer marketing
Influencer marketing came about as a result of social media being used more and more by businesses. Influencer marketing is designed to tap into an existing community on social media.
In order to do this and ensure its effectiveness you'll need to define what type of influencers you're targeting, for example an influencer whose audience is the same as your target audience.
Most influencers want any paid sponsorships to be products or services that they would use or are comfortable recommending to their followers. This is because with influencer marketing it's all about trust that has been built between the influencer and their audience.
Here are a couple of examples when influencer marketing hasn't exactly gone to plan.
And there are also many more. You can view a more extensive list of the types of marketing in Hubspot's ultimate list of types of marketing.
What's the difference between advertising and marketing?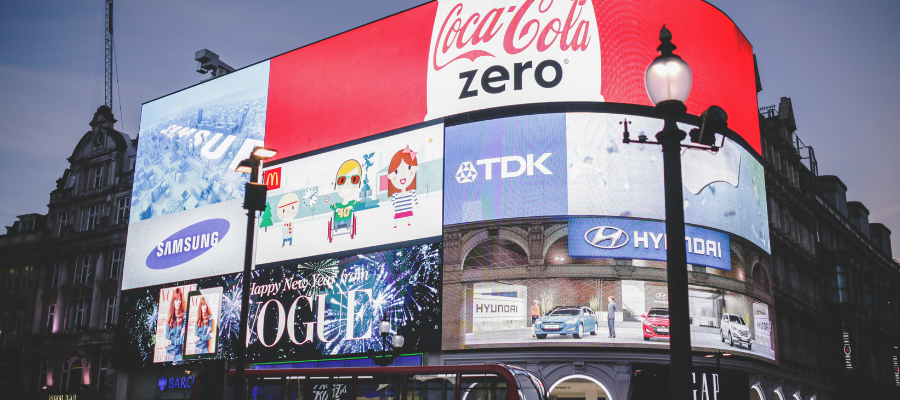 Now we have an understanding of the different types of marketing, what's the difference between marketing and advertising?
Marketing is the process of identifying customer needs and determining how best to meet those needs. Advertising is the act of promoting a company and its products or services through paid channels. Advertising in itself is also a component of marketing.
The 7 P's of marketing
You may have heard of the 4 P's of marketing before but there are actually 7 P's of marketing. We're going to look at how they can be applied to anything within your marketing mix.
1. Product
Your product should be at the centre of every activity you do. Your product should be helping to solve a problem that your target audience experiences and thus your product allows you to address questions to key sales points for your product.
2. Price
Your pricing strategy for your product should be based on market research from your ideal customers and what they are willing to pay for your product. This also includes costs such as manufacturing, source materials, delivery as well as profit margins.
3. Promotion
The best marketing strategy for your product should include all activities across the marketing mix from advertising, direct marketing as well as any in-shop promotions and digital marketing too.
How you choose to use marketing to promote your product and your business is up to you, as well as what works the most effectively for generating a good ROI.
4. Place
Where and how your product or service is sold should be informed by your customers. There is no point promoting a product in the wrong place, where your target market isn't going to see it. Understanding your customers purchasing patterns and targeting them at the right point in their customer journey is key to knowing when and where to sell to them.
5. People
Your customers will be the best low cost sales channel you could ask for and this is why their experience and the level of service you provide them can make or break your business. Customers who have a highly positive experience with both your business and your product are far more likely to recommend it to a friend.
Getting referrals from your customers can also be integrated into your marketing strategy using offers and incentives. Not just your customers but your team are also an important part of the process. Ensuring that they are properly trained to know everything about your products and services and what problems it solves will help improve your customers' experience.
6. Process
The process from getting your product manufactured all the way through to arriving at your customers doorstep to being purchased in-store is integral to your business for maximum efficiency and reliability.
7. Physical evidence
Everything you do with marketing must take the physical evidence into consideration. From what your customers see, hear and even smell in relation to your product. Feedback from customers is an important part of evolving and growing your business.
This could be anything from your packaging to your delivery method to even your shop window display. From where they are placed, the context as well as digital placement on your website and social media channels.
How do you market a business?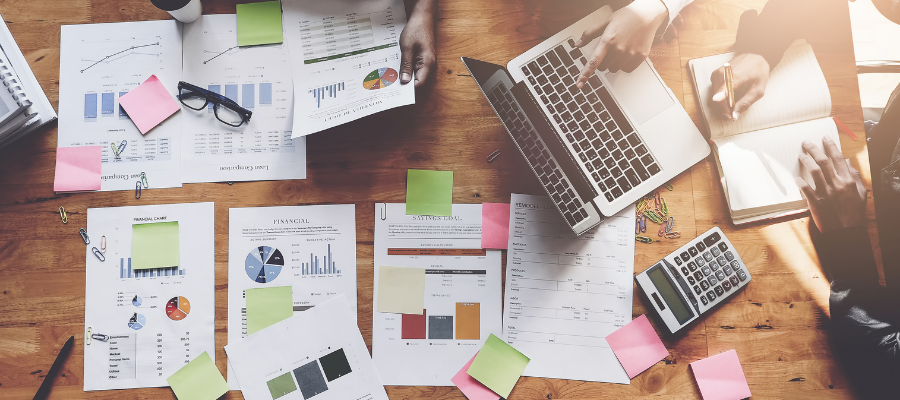 The 7 P's of marketing play an important role in the development of your business strategy. You need to consider all aspects of them to fully understand how to market your business properly.
A half baked strategy won't work forever and especially if you're new to the business world or have little experience in marketing, getting the fundamentals right will help you to create a solid foundation for your marketing strategy.
Here are 8 steps to marketing a business:
Market research
Before you even get started, conducting market research is the first step to creating a marketing strategy. At this stage you're looking to collate information that provides you with insights into what your customers are thinking, buying patterns and more. This initial research stage can also help you with market trends, competitors and your sales forecast.
Profile your target audience
Defining your ideal customer is the first step to profiling your target audience. Segmenting your potential customers based on particular characteristics such as their location, age, gender, education level, income, occupation, as well as their behaviour and lifestyle.
Your product should be solving a problem for your target market as we mentioned earlier. This will make it much easier to sell going forward.
Identify your USP
A USP or Unique Selling Point is something that every product needs in order to differentiate between itself and its competitors. Your USP should be the reason customers buy your product over your competitors.
Develop your brand
Branding is such an important part of developing and growing a business. Branding can make or break a business and a good solid brand is best to be left to a professional. Branding is more than just a logo and a colour scheme. It's what connects your customers to your business on an emotional level, that communicates who you are and what you stand for.
Select your channels
We spoke about quite a few different marketing channels earlier and while these are good to include in your marketing strategy, you need to determine which to use to best reach your target audience.
Determine goals and budget
Any goal for your business should be SMART; specific, measurable, attainable, relevant and time-based. This framework can help you layout your goals for the business with objectives in mind.
Once you've got your goals for your business you need to work out your budgets. Include everything and anything from:
Website development
Marketing
SEO
Branding
Advertising
Hiring team members
Sourcing materials / products
Creative development
And more!
Nurture your customer base
Once you have earned customers, nurturing them becomes the most important aspect to turning them into a returning customer and advocate for your products and brand. Providing outstanding customer service can help keep them coming back as well as strategies such as loyalty programmes, keeping in regular contact with them, providing them with exclusive offers and early access to new products and so much more.
Monitor and review
And lastly, but most importantly, monitoring and reviewing all your activities to ensure that they are as effective as you'd hoped, but if not, making adjustments to improve them. Reviewing your activities regularly is necessary to keep everything on track but you should look to review activities on a deeper level every quarter or so.