We've done a lot of work to improve the overall checkout experience for both customers and you, the shop owner. There are however still things that each shop owner can do to improve the checkout themselves.
In this post I want to highlight a new feature that is available as part of the new checkout that allows you to add credit card, debit card and payment wallet logos to payment methods.
We spent a lot of time implementing payment logos and as a shop owner you can benefit by spending some time with the feature.
For the purpose of this article I'll now assume the role of John Slater, shop owner at 'Doug's Pugs'- a pet shop powered by EKM…
I've just received the new checkout on my online shop. Previously, I had a few payment gateways available for customers to choose from. These payment gateways are automatically available on my new checkout and in the payment section on my order summary page- they look like the screenshot below.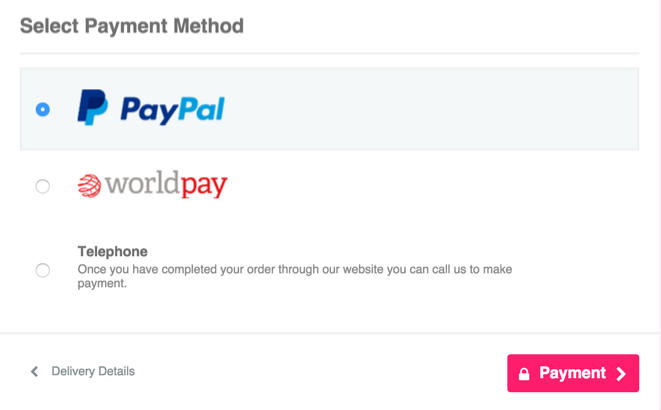 (Order summary page)
At first glance it all looks great because I am accepting the same payment gateways as before, the buttons look nice and clean with big, clickable areas.
It all seems great at first because I have exactly what I had before. So, what's the problem here?
Well as a shop owner I dealt with both PayPal and WorldPay quite a lot during the creation of my shop. I understand exactly what they do, what cards they accept and how trustworthy they are. But, the majority of my dog loving customers probably haven't heard of WorldPay- and some may not have even heard of PayPal. This is a problem because when it comes to selecting a payment method on my checkout, with their brand new contactless Visa Debit card in hand- they simply won't know whether I accept Visa.
PayPal, WorldPay and even my Barclaycard virtual terminal can accept Visa Debit but I haven't made that clear to my customer. Bad times.
In the new checkout settings pages it's really easy to change how payment gateways appear. In the settings section of your shop go to Checkout and click on the Order Summary and then click edit to see Payment Buttons.
The preview below shows roughly how my payment gateways appear in the checkout flow.
Editing PayPal will give me some customisation options. Here I can choose to display all the credit cards I accept with this gateway, and any payment wallets available too.
Tip: You can also drag and drop the rearrange the card logos.
As you can see, all of the credit and debit cards that PayPal accept are selected and ready to show on my checkout flow. I have also added card logos for the other gateways too.
With the card logos displayed, my customers can make a quick choice during the checkout flow. It even shows the "Powered By" logo at the bottom to enforce brand security for those customers who know about WorldPay or PayPal.
My pet shop is a great illustration of how important it is to select your payment gateways carefully. If all of your gateways accept the same credit cards then you should probably reevaluate which gateways you accept. I offer a payment wallet (PayPal), card processor (WorldPay) and an offline method (Telephone) which gives customers enough choice without being too much choice.
So as you can see, the improvement is a simple one to make and for most customers will remove the thought process involved in picking a payment gateway.