Meet Kate, the Director or Resin8 which was originally founded in 2006 by Clare John and formally known as CJ Resins. Kate joined the Resin8 team in 2011 and helped to take the business online, managing the website, marketing, managing stock and book-keeping.
She also helped to grow the team over the years which is now 9 strong in the Cotswold based workshop, where orders are fulfilled, packaged and sent out – there are even a few classes run by team member Lou.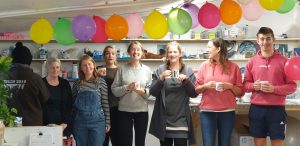 ---
Introduce yourself and your business, what was your motivation behind starting them and what do you sell?
Resin8 is a small ecommerce business based in the heart of the Cotswolds and over the last few years, we've gradually become a respected and sought-after online supplier of crystal clear epoxy resin, colour pigments, mica powders, silicone moulds, tools and accessories. In other words, we sell everything you could possibly want and need to make jewellery, artwork and stand-alone pieces from resin!
The company has been in business since 2006. It was originally the brainchild of Clare John, a qualified silversmith of many years standing, who started running small workshops for interested people to learn how to create simple pieces of jewellery with resin. Clare started selling small quantities of resin and pigments to the workshop attendees and the business grew – slowly – from there. I joined Resin8 in 2011 and initially was just responsible for the bookkeeping but the business slowly got under my skin and I gradually took over more and more of the operational side; expanding the resin range, upgrading the website, taking on more staff to accommodate the growing demand and creating our social media presence.

Did you have any experience in selling online before starting your businesses?
At the time I joined Resin8 several years ago I didn't really have any experience in selling online, but then that wasn't my main focus as I was there first and foremost as a part-time bookkeeper. As I became more involved operationally, I was thrown in the deep end with ecommerce and discovering what would work best for the business. Around the same time, I also worked as a freelance marketing consultant and I was lucky enough to gain a huge amount of experience from other small businesses. I was even an EKM re-seller (albeit for a very short period of time before I became so focused on Resin8 that I didn't have time for any other clients!).
How do you balance your workload?
Now, this is a tricky one!  As a director in the business, the buck stops with me and I am known to eat, sleep and breathe Resin8. (The sofa in our staff area is actually a sofa bed. No joke. Just wait till the Black Friday weekend!). We've experienced a huge amount of growth over the last couple of years, and as I have taken on more staff this inevitably has meant that work has been more and more of a priority for me.  I do try and have one whole day off a week where the computer is shut down and I'm completely offline with no phone or social media, however, my husband might think otherwise!

What's the biggest challenge you've faced since starting your business?
The biggest challenges I've faced mainly centre around continuing to provide great service for our customers whilst managing the ever-expanding number of staff, growth of our inventory stock, the pressures of finding the right packaging for an increasingly eco-conscious public, and not forgetting keeping on top of the myriad technological changes that mean our website has to be quick and easy-to-use at all times.
Having the right staff on board has meant that we have been able to adapt to and harness these market changes with strength and resilience. I have been extremely lucky to find the perfect team of 12 ladies (and one brave man!) from a wide background of experiences but all dedicated to the wonderful, and sometimes wacky, world of resin craft.

What do you love most about running your own business?
No day is ever the same! It can be tiring, sometimes stressful and the hours are long, but the knowledge that a new day brings something different each time is what keeps me and the rest of the team at Resin8 going. We're a sparky, get-up-and-go bunch of people who are friendly and approachable and we're also just a little bit nuts about resin and what you can do with it. If you follow us on social media (@resin8uk), you'll see we're regularly posting how-to guides, tips and tricks on what to do with resin – and we're also really keen to share what our customers do, however out-there it is. This is what I love about the business.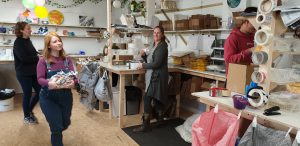 What advice would you give to new shop owners just starting out?
Don't think you can do everything all at once. The world of selling online is really really tough and you have to find your own little niche somewhere in the vast internet ether. Although it's great to learn about how other businesses similar to yours have set up, you have to work out what your own USP is, what it is that makes your products or services stand out from the crowd.
With us it wasn't an overnight success story, we plugged away for a couple of years just about keeping our head above water. It was when we harnessed the power of social media that the business really took off; we know that the reason people come back to us is for our one-stop-resin-shop facilities and outstanding customer service (by far the most important thing!), but they wouldn't have found us in the first place if we weren't out there, on Facebook, Instagram, Pinterest and Youtube, showing them quirky, fun ways of what to do with resin.
What are your plans for the future?
My team and I want to keep customer satisfaction at the heart of our business focus so the plans we have for the future are based on making sure we're delivering what they want to buy. This means we have to keep on top of what the ecommerce world throws at us technologically, we have to ensure we remain environmentally vigilant about what we're selling and sending out, and we have to keep our products relevant and our social media content fresh and fun.
What are your favourite things about EKM?
There are 2 things I love about EKM.
Firstly, the ease of use. For someone with only a little coding experience, it is great to be able to drag and drop, move things around, change the look and feel of my site relatively easily and add products in a jiffy. All of the extra features (such as discount management, advanced inventory manager, etc) add to the slick feel of the system and EKM are always open to adding new features that don't already exist.
Secondly, my e-commerce expert Dominic. Now I realise that not everyone will have a dedicated EKM expert, and I'm sure Dominic has many businesses that he looks after, but he is always available to take my call (without me having to listen to the hold music), he calls on a regular basis with suggested improvements (although he always says we are at the top of our game!) and he listens to our queries and always provides a quick and easy solution. Dominic is patient, skilled at what he does and makes me feel that he has the best interests of my business at the forefront of what he does.  What more could I want?
If you'd like to learn more about setting up your own online shop, you can speak to our ecommerce experts on 0333 004 0333 or
request a callback here.