As a new start-up it is tempting to sign up to every social media platform without actually putting any thought into what you are going to use each platform for. That doesn't go to say however that you shouldn't utilise every communication channel with your customers. Here we will discuss the benefits of each platform and what you should be using each for to maximise your business growth.
Facebook
If you're talking social media you're talking Facebook. With an active base upwards of 1.49 billion monthly users Facebook still reigns as the most popular social network.
With this in mind, Facebook should be used for brand awareness, not for sales. Let me explain. Facebook is an excellent platform for engaging with your target market and spreading word of the service that you provide. Facebook's mission statement is "to give people the power to share and make the world more open and connected". It's best used to keep your customer base updated and to supply them with fresh content that they can then share with their own followers. The larger your Facebook network, the higher your brand awareness. Don't get me wrong, there are plenty of ways to turn your Facebook following into paying customers, however there is a lot of friction between a Facebook advertisement and the actual purchase of a product which can make Facebook a difficult platform to sell through.
Top Tips
Keep your followers updated with relevant, quality content.
Posts videos and photos. According to Wishpond, Facebook posts with a photo generate 120% more engagement than those that are just plain text.
Use the Facebook advertising tool to boost your important posts such as product launches.
Use Facebook scheduled posts if you are unavailable to distribute content at certain times.
Try to interact with your followers as much as possible by replying to and liking their comments on your posts. If they feel there is a person behind the logo they will be more willing to interact with you.

For advice on social media and building valuable relationships with your social media following, I would recommend checking out
Gary Vaynerchuck's page
. (NSFW)
Instagram
When Instagram first started it was almost anti-establishment in the way it directly opposed marketeers from exploiting the platform to reach potential customers. It used to be the case that you had to manually type in a URL shared by the advertiser to reach the product. However, in June Instagram released the 'Shop Now' buttons on sponsored posts that allow customers to go directly to the product itself making the platform much more valuable to marketers.
Being the very visual platform that it is, Instagram tends to have the most interaction with posts. This doesn't go to say however that it is easier to get your customers to interact. Direct advertisements on Instagram tend to be skipped past as people have a natural inclination to avoid adverts. Instead you need to create posts that are exciting and give your following a return on their time they have invested into your story.
Top Tips
Follow your competitors followers and comment on their personal posts to get them to follow back.
Post photos of other customers happy with your product.
Use 15 second video posts.
Create a professional 150×150 Px logo for brand recognition.
Use industry specific hashtags.
Examples of well known brands Starbucks and Coca-Cola posting images of happy customers with their product.
Click here to see how you can create a perfect hashtag competition on Instagram to increase engagement with your customers.
LinkedIn
LinkedIn is unique from the other platforms in that it is specifically geared towards professional networking. Whereas you would usually use social media platforms to communicate directly with your customers, LinkedIn would be used to connect with a wider audience. Although LinkedIn can be used for brand awareness and social media marketing, for SMEs investing in your professional network would be time best spent on this platform.
Top tips
Follow industry experts to gain valuable insight.
Don't be afraid to ask others to 'Endorse' you.
Create a personal image for the cover photo on your profile.
Complete your profile 100%. According to LinkedIn statistics profiles that are completed 100% get 46% more profile views than those who don't.
Use your LinkedIn homepage to share valuable content with your connections.
Pinterest
Pinterest is different from other social networking sites in that one of the main agendas for logging onto the site is to view products that you may not have otherwise found. This is an excellent tool for 'B2C' businesses as not only does it give a platform for you to sell your products, it greets you with a hungry demographic of buyers.
Studies show that Pinterest is popular with a younger demographic (18-29) which is something to keep in mind when considering your target audience.
Top tips
Use engaging cover photos on your pins.
Make your profile icon stand out and consistent with your brand.
Find influencers in your industry and like and comment on their posts. Building relationships with influencers may pay dividends to your business in the future.
Follow market leaders in your industry as they may release content that would add value to your following.
Make your boards easy to find by including descriptive keywords in the titles.
Click on image above for 10 examples of amazing Pinterest boards with best practices for businesses.
Twitter
Although Twitter may have lost its stripes as one of the fastest growing networks, it still boasts one of the most avid followings with 46% of users logging in on a daily basis.
The platform tends not to be as visually appealing as Instagram as it is more text based. Twitter does however boast many of its own benefits that business owners should be taking advantage of. One of the main benefits is that it is easy to communicate directly with your customers and followers. This makes brand awareness, customer support and overall experience easy to manage.
Top tips
Interact with similar brands.
Do not try too hard to sell.
Join in with trending hashtags and regular business hashtag hours.
Include a link to your website in your profile description.
Engage with your customers on a regular basis.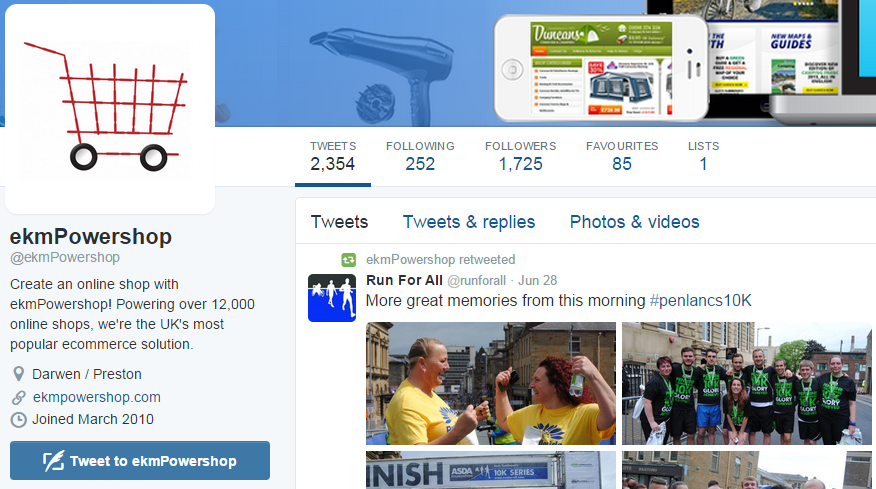 Google+
Of all of the platforms on the list, the least frequently used is Google+ with an active monthly base of 4-6 million users. Whether justified or not, Google+ holds some native benefits of it's own that cannot be found on the other platforms. With a more professional undertone than the likes of Facebook, Google+ makes it seamlessly easy to distribute content to your followers and access insights into engagement on your posts. This will help you gain a deeper understanding of what content works and what doesn't work with your followers. Having a more professional user-base makes Google+ a perfect place to distribute industry related content that can be shared helping you increase your brand awareness.
Top Tips
Schedule your posts for maximum impact. Releasing your content at the right time can vastly increase your reach and engagement.
Post valuable content on relevant communities in your industry. This way people that are interested in your field will likely see it and then will look to you in future for content. If you just post your content 'Public' you will not get much engagement unless you already have a large following.
Use Google+ Events for your new product launches.
Use Google Hangouts. Having face to face interactions with your customers is great for building relationships and repeat customers. Be sure to take full advantage of this tool.
Personalize your profile. Ensure that your 'About us' page speaks to your brand narrative. If your brand is informal and fun, ensure your profile carries this message.
Do you have any tips for fellow entrepreneurs on social media? Leave them in the comment section below.