What is SEO and what does it do
SEO, which stands for 'Search Engine Optimisation', is the process of continuously improving the quantity and quality of traffic to your website or online shop.
This is done through a range of strategies and following best practices that will help you achieve more traffic.
Improving your SEO on your website or online shop is essential in increasing your traffic and growing your business.
In this blog, we will give an introduction to SEO for ecommerce and cover all the basics you'll need to know to get started with your own SEO.
Why is SEO important for ecommerce?
Everyone's goal is to be the first result on the 'Search Engine Results Page' (SERP).
Why? Because this is how you will receive the most organic traffic.
A lot of shoppers are impatient and will naturally click on the first, second or third result that the search engine gives them. This is why SEO is extremely important for ecommerce.
Having your website located near the top of the SERP results will improve the traffic to your website and can substantially help increase the chances of you receiving an order on your online shop.

SEO is extremely important to get to grips with, especially within the ecommerce sector, considering that 92% of clicks on google are made on the first results page.
But what exactly impacts SEO? In essence, all the content on your ecommerce website does.
However it can also go beyond just content. Below are some of the most important SEO factors that you should consider for your website or online shop.
Influencing SEO factors to consider
It's important to understand what influences your ranking on search engines.
Here are some of the factors to consider when working on your website or online shops SEO.
Domain authority
Domain authority (DA) can be used to track the ranking strength of a website or online shop over time. This is done by ranking URLs from 0-100.
You can find your domain authority score by heading to link explorer.
NOTE: DA is not a metric used by Google however it gives a good indication of your current SEO efforts.
Allow Google to crawl your webpages
Google regularly crawls your website to determine if there has been any updates to the content.
Crawling refers to Google's bots that scan your site and catalogues them. Therefore your website must be easily accessible for them.
This will extremely affect your ranking results if search engines cannot read or crawl your site easily.
Deemed as not being user friendly will impact your SEO efforts. Therefore you must make sure:
The website has been coded correctly
robots.txt file that tells Google where to look on your site for information
A sitemap that lists all your pages. (usually found in the footer of your site)
Majority of ecommerce platforms already do all this for you. However if you are building your website from scratch you must consider these.
Ensure that your website is secure
Google's John Mueller tweeted out that ''having HTTPS is great for users'' and labeled it as a ''light-weight ranking factor''.
A HTTPS simply shows to customers visiting your site that it is secure. You can tell if you have one by checking the URL of your online shop. Also you can click the padlock icon too as shown below.


All EKM plans come with a free certificate that ensures your shops are recognised as being safe and secure.
This will instil trust in visitors and can impact other factors such as whether they will buy from you or not. So despite this being a lightweight SEO factor, it is still very much important.
Page speed
Page speeds have played a big factor in SEO. However since the update back in July 2018 mobile page speeds are now crucially important. Slow loading times can see websites be penalised.
It is recommended to use Google Search Console alongside their mobile speed testing tool to ensure there is nothing causing long load times.
Improve SEO with 'Link Building'
Link building is essentially a process of getting other websites to recommend you and link to your website.
This is done by them providing a link on their own site for users to navigate to your website or online shop.
Despite search engines' algorithms continuously changing, link building has remained as one of the most important aspects to impact SEO. It is an important topic to understand if you wish to improve your current SEO strategies.
What are backlinks in SEO
Backlinks have a big impact on your SEO. It tells search engines such as Google that other websites are referring users to your website or online shop.
This shows Google that another website trusts yours enough to refer traffic to you, therefore your website or online shop is more trusted in the eyes of Google.
In other words, backlinks are essentially entrances into your ecommerce website that other website owners have provided on their page to yours.
An easy way to think of backlinks is by comparing it to word of mouth. If person A, B and C all recommended somewhere to go eat for lunch, chances are you take their advice and try it out. In this case if websites A, B and C all link to a particular ecommerce shop then Google sees this as a way to know it is a recommended source.
Therefore getting backlinks to your site is an invaluable way to improve your ecommerce SEO.
TIP: Focus on high quality backlinks rather than the quantity. You'll want to target websites with a high domain authority, a good backlink profile and of course ones that are relevant to your business.
What are internal links in SEO
Internal links are similar and still very important to your SEO efforts. These are links that you will place within your own content to navigate users to another part of your website or online shop.
Not only will this add value for visitors on your site but it also allows search engines to better understand the structure of your online shop.
Having various pages with a strong relationship with each other informs search engines that your site has a lot of relevant content. This will benefit your SEO rank.
Optimising your site with on-page SEO
Any ecommerce business must understand the importance of SEO on their product pages. There are a lot of areas to consider when developing the hierarchy of a product page and optimising them for search engines.
Let's look a little deeper into each section of a product page and how you can optimise it for SEO.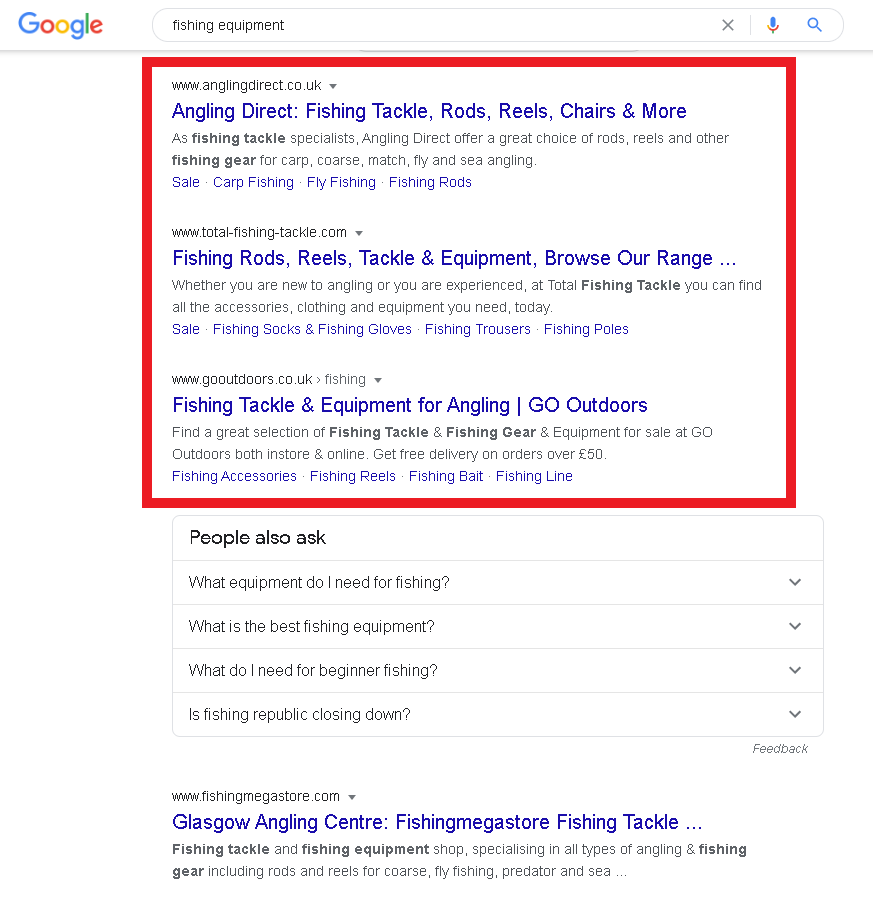 Category headings
Having your products appropriately categorised is very important for SEO. Your category headings act as H1 (Heading 1) tags on your ecommerce website.
This means you want to be including descriptive keywords that are associated with the products inside the category.
Example:
An ecommerce clothing website with two categories labelled 'Men', 'Women'.
A more SEO friendly category title would be 'Men's Clothing' 'Women's Clothing'. Acting as H1 tags this will better inform the search engine.
Product titles
Product titles are extremely important. Ensuring you follow good SEO practices is key if you want to increase conversions on your ecommerce site.
Many customers know the brand they are wanting to buy from. So if you sell branded products, including this as a primary keyword early on in your product titles will benefit your SEO.
A good SEO template to follow for product titles are as follows:
Branded: Brand name + Demographic + Product name
Unbranded: Color + Size + Product Type + Quantity
Product images and alt tags
When you upload your product images it's good to get into the habit of attaching alt tags.
These tags allow Google to better understand what your image is showing. This is not only useful for SEO but also visually impaired customers too.
Alts tags help describe the images appearance and function on a webpage.Imagine your image doesn't display for whatever reason. Would users on your website still be able to gauge what the image would have looked like, or it's purpose for being placed there?
Typically these tags are added within the HTML code. However most ecommerce platforms will give you a simple box to input these keywords when uploading your images.
This keeps things simple, without you needing to know any coding.
Product description
The product description is a great place to include different types of keywords. We will discuss 5 types of keywords to improve your ecommerce SEO more in depth later.
However, you should always be writing your own product descriptions. Copying competitors or your suppliers descriptions will result in duplicate content on the Google SERP that will negatively affect your SEO efforts.
You'll simply be competing with them and if they are able to undercut you in price you may lose out on sales.
Always be original with your product descriptions and include as much information as possible that will aid in the consumer's decision-making process.
Remember when a customer is looking to buy something online, they can't pick the product up to have a look at it and see if it's something they're interested in. So you have to do that for them in the description.
Describe everything about the product from its appearance to the materials used and so on. Give enough of a description that they can imagine the product in their hands.
Social proof
Linking your social media business accounts to your ecommerce shop is a great way to create social proof and also direct your social media audience to your main ecommerce site.
In part 2 of EKM's Ecommerce Success Show's first episode, Eve discusses the importance of social proof and how it can increase traffic to your online shop for free.
Linking your social media accounts provides fast access for users to connect with you in more ways.
Communicating with your customers over social media is great. It allows you to dive deeper into understanding your target audience. What other interests do they have or what do they interact with the most? After a while you'll pick up on trends.
From this you can build and improve your SEO to be tailored to your customers.
Therefore ensure you have not only created social accounts for your ecommerce business but also linked and embedded them onto your online shop.
Where to start with your SEO
If you're a bit unsure where to start with your SEO efforts you can use a range of websites that will test basic parameters that have the biggest influence on your SERP ranking.
Neil Patel's SEO analyser is a great place to start if you have limited knowledge on this. You simply put in your online shop URL and then you will be greeted with a report telling you what needs to be fixed.

If you are unsure how to resolve these issues they provide guidance and more information on each SEO subject.
Another great tool for starting with SEO is optimising all your ecommerce online shops images.
It is more than likely you have never done this before. Some images may be larger files than others which adds to the page load speed of your ecommerce shop, directly impacting SEO.
You can use tools such as TinyJPG to compress your images. But don't worry the image quality won't be affected, just the file size will be smaller.
Finally before using either of these helpful SEO tools, Google has two ecommerce website testers that you can use.
The first one Page Speed Insights will ultimately help you determine what is slowing down your website and having an impact on your SEO.
The next tool, Mobile Friendly Test, helps you figure out how optimised your ecommerce site is for mobile users.
With these tools you can instantly start working on improving your SEO with simply letting them know your ecommerce URL. Or mentioned earlier, you can work on the main factors that affect your SEO such as product titles, descriptions, website responsiveness and ensuring you have a mobile template.
This advice will help you start improving your SEO today.
More ways to improve your current SEO strategies
We will go over more ways to improve your current SEO strategies. These methods will require more effort and also take time to build up.
It will take time before you start to see results in regards to your SERP ranking.
Keyword research improves your SEO
Another important method to improve your current SEO strategies is to undertake keyword research prior to writing content.
Keywords are the words or phrases that you expect people to type into the search engines in order to find your content.
These will likely be the words you want to rank for on the SERP pages.
5 types of keywords to improve your ecommerce SEO
It is also important to note that there are different types of keywords that all have individual purposes.
It is recommended to use a variety of different keywords depending on the piece of content and where it will be placed on your ecommerce site.
Below are 5 commonly used types of keywords you should know when starting out in SEO.
Especially important for improving SEO on your ecommerce website. Product keywords should focus on defining the product and what features customers would want to know about.
Extremely important for smaller local ecommerce businesses to improve local SEO. These are keywords that refer to a specific location, neighborhood, city, or even country.
LSI (Latent Semantic Indexing)
Keywords that are closely related to your primary keyword. For example having a primary keyword of bike would result in LSI keywords such as mountain bike, road bike, bike shops etc.
Customer defining keyword
These keywords address your target audience. An example of this was discussed earlier e.g 'Men's Clothing'. 'Women's Clothing'
Intent targeting keywords
A typical search usually falls into one of three 'intent' categories. These are informational, commercial and transactional.
If you're still starting out your ecommerce business then the funds to pay for a powerful keyword searcher might not be an option.Below are some of our favourite free keyword research websites to help you improve your SEO.
You can even use the Google search page to find out which keywords people are including in their search queries. This will help you create a list of keywords to include when writing content for your online shop.
How blogs can improve your ecommerce SEO
Blogs are a great place to be able to fit in additional content on your ecommerce site that explains your products and industry business in greater detail.
You can write about relevant topics surrounding your product launches or give great value-adding advice within your industry.
If your blogs are created with an SEO strategy in mind and you focus on creating content around a set number of keywords relating to your industry, as well as work on the on-page SEO factors amongst other things to take into consideration.
Google may see your content as relevant for those search terms, and push your blogs up the SERP results.
SEO for blogs is a long term strategy and requires time, resource and continual improvement.
If you work at getting your blogs ranked highly on Google's SERP, this will increase your domain authority which is another important aspect to your SEO.
This is why it is important to keep up to date with SEO and learn how you are to continuously improve your online shop.
The best online resources to improve your SEO
Previously highlighted, there are many tools that can help you identify any SEO issues you have on your ecommerce site.
However, there are also some great online resources that will help to improve your SEO by tracking results.
This way you can see what is working and what is not achieving results for your ecommerce shop. Metrics such as organic traffic and
conversion rates are a good place to start.
Google Search Console
Some pros to using Google Search Console is its ability to highlight important information affecting your ecommerce site. These are also ways to improve your SEO:
Confirm that Google can find and crawl your site.
Fix indexing problems and request re-indexing of new or updated content.
View Google Search traffic data for your site: how often your site appears in Google Search, which search queries show your site, how often searchers click through for those queries, and more.
Receive alerts when Google encounters indexing, spam, or other issues on your site.
Show you which sites link to your website.
Troubleshoot issues for AMP, mobile usability, and other Search features.
Google Analytics
Google Analytics is one of the most powerful tools for measuring your website's performance.
It can be fairly complicated unless you have a basic understanding and know-how to navigate around.
If not we recommend getting familiar by reading our Introduction to Google Analytics for Ecommerce.
Ecommerce platform analytics dashboard
Depending on your ecommerce provider, you more than likely have an internal analytics section.
EKM plans on the standard and above plans get full access to their shop analytics tab.
From here you can see if any categories or products need attention as well as any images or pages are missing.
All of these factors affect your shops SEO, so making them stay green is a priority.

In addition to this, installing the Web analytics feature, EKM users can also see where their site traffic is coming from.
Also optimise your shop to drive conversions by seeing which pages your online shop is getting the most traffic and which are not.
Finally, the most powerful tool, being able to identify SEO opportunities with keyword reports.
You can find out more about how SEO friendly EKM is and the tools available to you.

Remember SEO is always going to be an ongoing process. You should regularly be reading and researching, as best practices and new tools are always being released.
Ultimately SEO is one of many powerful marketing tools that all ecommerce businesses should take full advantage of.
This blog should have given you a good introduction to SEO for ecommerce and help you understand the importance it has on your website's traffic and sales.
---
If you'd like to learn more about setting up your own online shop, read on for more insights into running your own online business here.