What is ecommerce marketing?
Ecommerce marketing is defined as the practice of using marketing strategies to drive traffic to an online shop, converting the traffic into paying customers and retaining those customers long term.
It's essentially what digital marketing strategies can you use to grow your online business.
And whilst there are many strategies you can implement, we first need to understand why you need ecommerce marketing to grow a successful online business and which types of ecommerce marketing you can include in your own ecommerce marketing strategy.
Why do you need ecommerce marketing?
The primary reason you need ecommerce marketing for your online business is that setting up an online shop and not marketing it in any way, simply will not generate you any traffic and your business will most likely fail.
Driving traffic to your online shop is the only way you're going to generate those all important sales for your new business.
Even so, traffic alone does not make a successful ecommerce business. And that's where ecommerce marketing comes in.
Ecommerce marketing is every online business's answer to driving traffic, sales and growing to become successful.
We're going to be focusing on the different types of ecommerce marketing you can use for your online business, whether you're new to ecommerce or are an already established online business.
Types of ecommerce marketing
When we look at the different types of ecommerce marketing we're simply looking at different types of digital marketing that is most commonly used by online ecommerce businesses.
Some of these you may already know or use them in your marketing already.
Social media marketing
Social media marketing comes in a few different forms. Organic and paid social media. Both have their benefits and online businesses should be utilising both to aid their growth.
However not every social media platform will be right for your business. Read on to find out how to choose which social media platform is right for you.
Organic social media
Organic social media is when you publish an update, new photo or video to a social media channel, without any paid promotion.
It is the organic activity that you post to your account that your followers would see.
It's important that you have some sort of organic social media planned into your calendar, perhaps using a social media scheduler.
Regular content posted to your social media channels lets your followers and potential customers know that you're still active.
Lots of businesses, brands, influencers have social media accounts as it helps them better connect with their target audience. From a customer perspective, it allows them to not only view your products, learn more about your business but also see others' experiences with your business and share their own.
They're able to directly connect and communicate with you on social media platforms by liking, commenting and sharing your content. Having an engaged audience is key to your organic social media performance and being able to grow your followers.
Paid social media
Paid social media is slightly different in that you are paying to advertise your products or brand to a particular audience.
While the upfront cost of paid social media may put some business owners off, it can reap great results if done correctly.
There are also a few different types of paid social media. Straight up advertising your products to a set audience, remarketing or retargeting as it's also known as and influencer advertising.
Advertising on social media platforms varies depending on the platform but you would usually create a post or advert for that platform, set a budget for the ad campaign (daily or total), define your target audience and set the campaign running. You can also create lookalike audiences based on your social media following.
Remarketing or retargeting is where you pay for a product to be remarketed to a customer who had already viewed the product on your online shop but didn't purchase it.
It takes roughly 7 touchpoints in a customer journey, so if you can show that potential customer a product they were interested in on their social media, it reminds them of it and helps encourage them to come back to purchase.
Content marketing
Content marketing is also another highly popular form of digital marketing. It has many benefits and can prove to be a lucrative long term strategy for your online business.
If you think that just because you sell products you don't need blogs and video content – you'd be wrong.
Developing blog and video content for your online business can help grow it in so many ways. From the SEO (Search Engine Optimisation) benefits to the value that your audience will get from your content – as long as it's relevant to your audience.
When it comes to writing blogs for your online shop, you don't want to write about anything and everything.
Your blog content needs to be relevant to your audience, your industry and of course be of interest to your ideal audience.
You'll need to do a bit of research first of all. Look at what type of content your competitors are creating. Can you see a pattern of topics they tend to write about? Which blogs are getting engagement?
This should give you an idea of what kind of blog content to create but you also need to do some SEO research.
A good tip is to Google your keywords in an incognito browser and see if the 'people also ask' section comes up on your search results.
These are commonly asked questions that you can write blogs about or answer in a section of your blogs and hopefully be featured in this section, which is usually pretty near the top of SERP (Search Engine Results Page) results.

Luckily, EKM's platform already has a lot of SEO features built in but you can read more on how SEO friendly EKM is here.
The importance of video
Video content will also help your SEO efforts, particularly if your videos support your blogs, are created to a high standard and most importantly are informative and relevant to your audience.
It's more than just your product videos you can feature both on a YouTube channel and your blogs / social media but you can get into the specifics of things within your industry.
Demonstrate your knowledge of what you do and this will help grow your business as an authoritative voice in your industry.
Paid advertising
Paid advertising is something that can help you grow your business whether you're brand new or have been operating for some time. It can help you put your products in front of your ideal audience.
Let's talk about a few different types of paid advertising with Google.
Pay per click (PPC)
PPC or Pay Per Click, is a system that allows you to advertise on paid advertising platforms to an audience who are searching for or have an interest in your products or services.
Whilst working on your organic content rankings is important, it can take time to get to the top or page 1 of a SERP but it's not guaranteed. Paid advertising allows you to pay to show your products or services to that audience much quicker.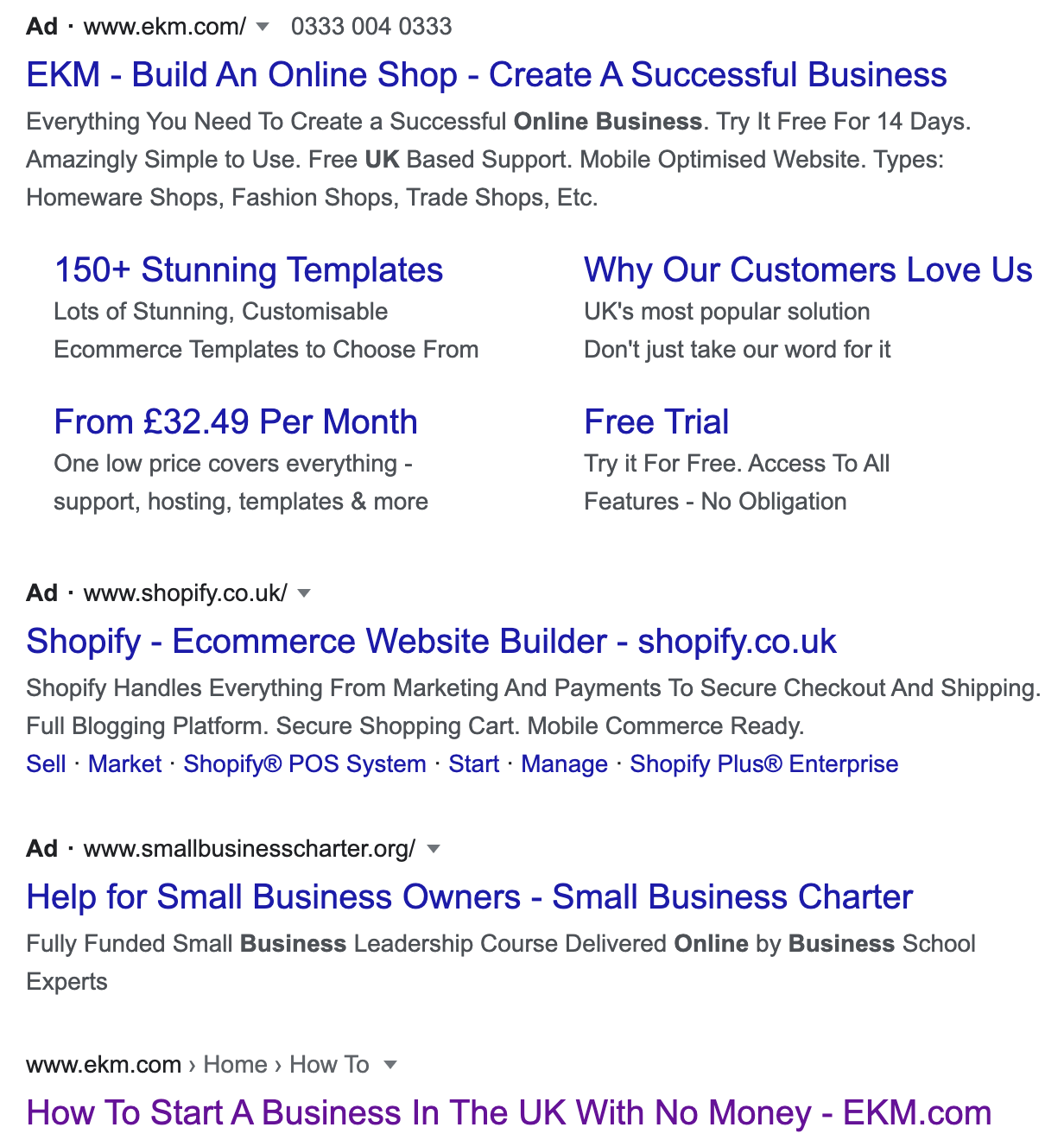 Google Shopping
Google Shopping is a great tool for online businesses but instead of a text based ad, it shows a product listing at the top of the search results.
So even if you're a small business, if you have the budget Google Shopping can help you better compete with your bigger competitors and get your products in front of the right customers.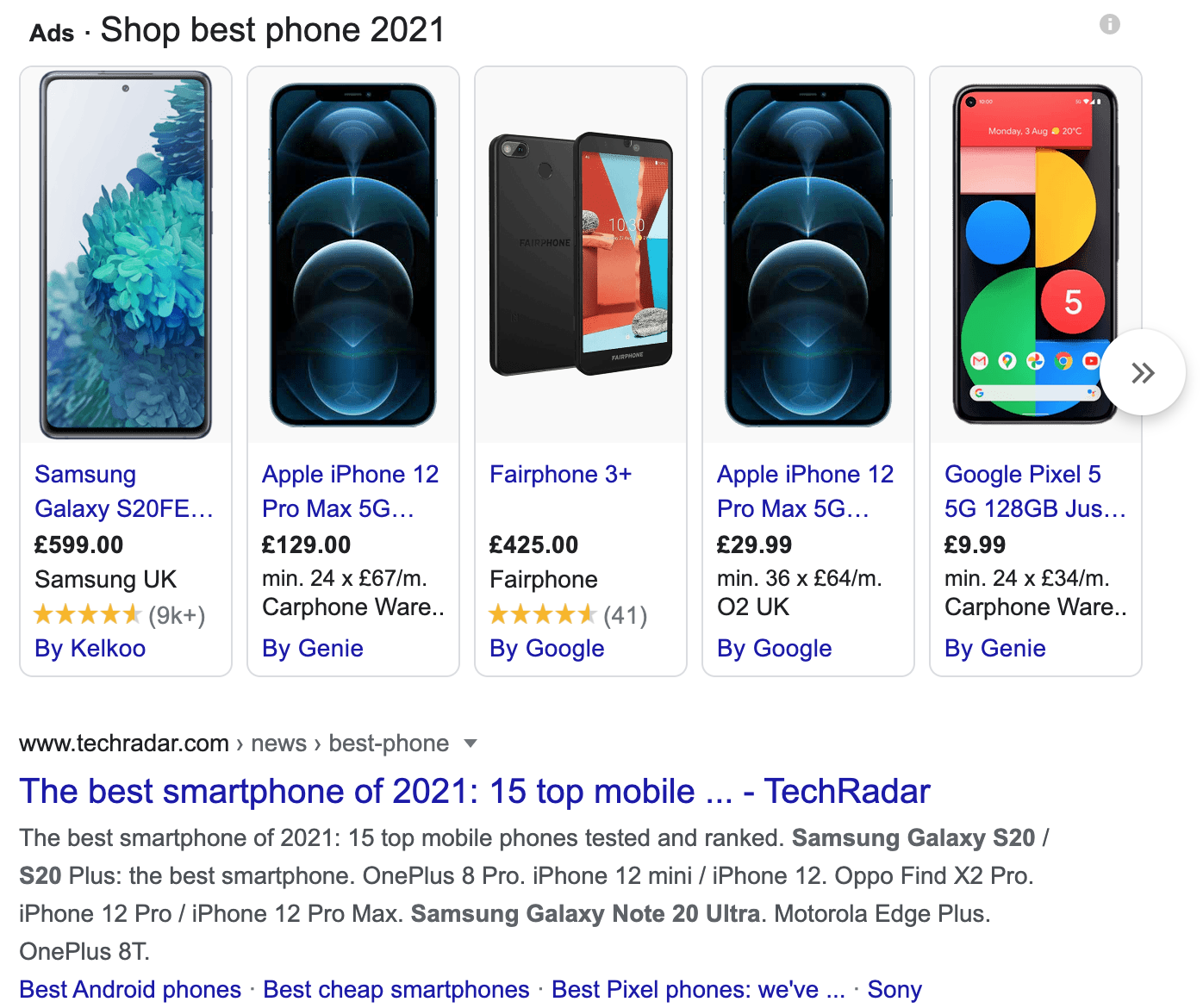 See how EKM's team of PPC and Google Shopping experts can help you grow your business.
Email marketing
Email marketing is still one of the highest ROI (Return on Investment) marketing strategies you can use for your business.
The best part about it is that it can be automated through sequenced campaigns or drip campaigns as they're also known.
Email marketing has many benefits and uses in an ecommerce business from keeping in regular contact with your customers to launching new products and growing your email marketing list.
Learn more about how you can sell more online with EKM's Email Marketing.
If you're just starting out you'll want to start by growing your email list. You will have a customer email list and a newsletter list to begin with. Some customers may also sign up for your newsletter list so keep that in mind when creating content for your emails.
A simple pop up on your online shop encouraging visitors to sign up for your newsletter to receive exclusive discounts and offers is a great way to start building up your email list and building a relationship with potential customers.
Once you're up and running here are a few different automated email campaigns that you can do.
After-purchase follow up
Once you've made your first sale, you might want to start thinking about your 'after-marketing' to your customers.
A follow up campaign that can be set up to automatically send after the customer receives their order and has had a chance to try it – perhaps a week or so depending on your delivery; can be sent to see if the customer is happy with the product and service they received.
This email campaign helps keep the conversation going between your business and the customer.
Ask them how their experience with you was and perhaps ask them to leave a review on your preferred review platform or on the product listing itself.
It will also help identify if there has been an issue of any kind and you can quickly address it, reducing the amount of friction and potential dissatisfaction the customer has.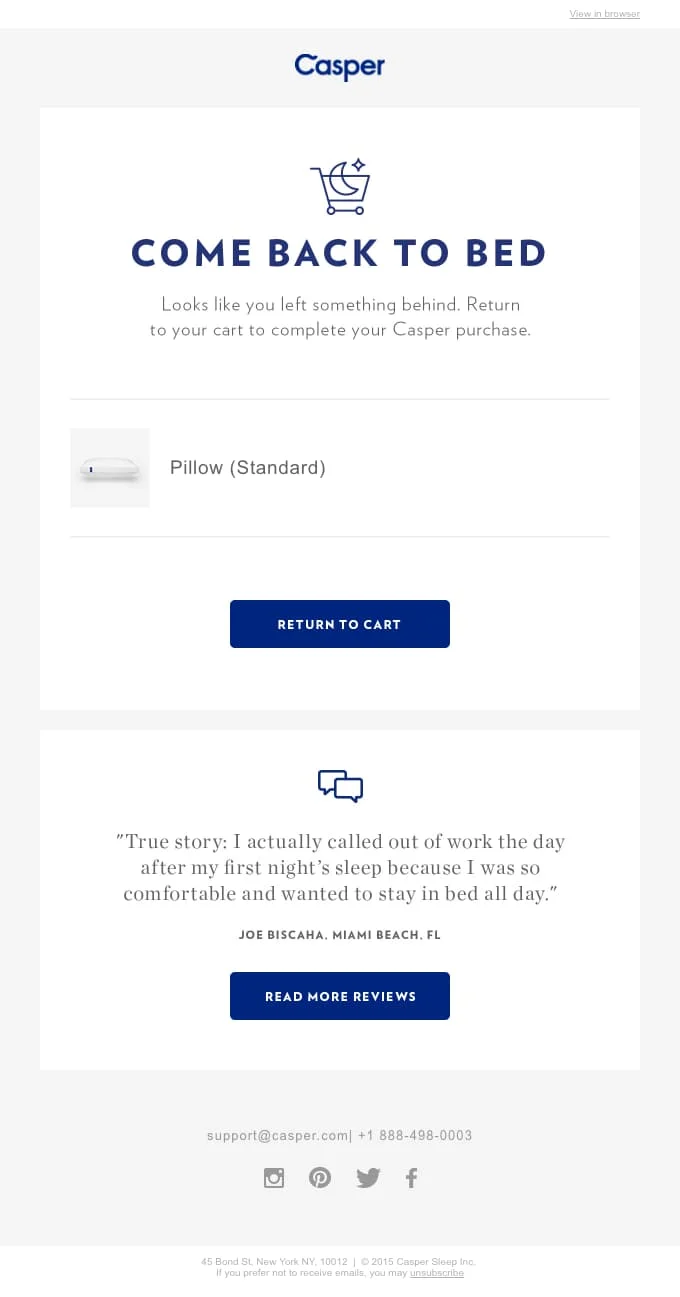 Abandoned cart
Most of the time, customers browse through your products and may even put a few in their cart. However, not all of them will complete the transaction and many end up abandoning the cart. This isn't great for your business.
The fact that they added items into their cart shows genuine interest in your products, so there must have been something that influenced them to not complete the purchase. But you're not psychic so here's what to do.
Set up a sequenced email campaign that triggers when someone (who has opted in to receive emails from you) has abandoned their shopping cart with a day delay or so to, first of all, remind them that they have items still in their cart. Have a link in your email that takes them back to finish their purchase.
If that email doesn't work you can send a second email a few days later offering an exclusive but time-sensitive discount on the products in their cart.
Everyone loves saving money so if they were on the fence about it before, offering a discount will help push them to purchase.
Influencer marketing
Influencer marketing is something that has grown in popularity as the power of social media has grown.
Businesses have realised that by working with social media influencers (people with a large and engaged following on a given platform) hold a powerful voice with their followers.
If they recommend a product, their followers will most likely be influenced to purchase the product. So they put a value on doing paid promotions on their social media channels.
If you have the budget and have done the research to find a few influencers who have similar followers to your ideal audience, then you can pitch a paid promotion of your product to them.
This can include a post, story or update depending on what the influencer is willing to offer and what fits your budget.
Affiliate marketing
Affiliate marketing is a little different but can also be a good source of referrals for your business.
You would need to set up an affiliate's page on your website, and explain how your affiliate programme works.
It usually involves people or businesses who help sell your product or service online for a commission.
How to create an ecommerce marketing strategy
Now you have a better understanding of what types of ecommerce marketing are available.
Let's look at how you would put together a marketing strategy for your online business.
Set goals
First of all, you'll want to define some goals for your ecommerce marketing strategy.
What is it that you want to achieve with your ecommerce marketing?
Are you looking to increase traffic to your online shop?
Do you want to increase your social media followers?
Is it an increase in the conversion rate on your online shop you're looking for?
All of these things need to be factored into your thinking, particularly about what you want to achieve for your business for the year.
Plan activities to support your goals
Once you have set out your goals for your ecommerce marketing plan you need to outline the different digital marketing strategies you're going to use to achieve them.
For example, if your goal for the year is to increase your site traffic, then some of your marketing strategies include building up your organic traffic through SEO heavy blog content and paid advertising such as Google Shopping.
Remember to keep track of your efforts so you can collate all the information and data at a later date to analyse.
Measure and assess
Finally, once you've implemented your ecommerce marketing strategy, at the end of the set period (12 months is typical) you need to measure and assess if your chosen strategies have helped you reach your goal.
If your goal was to increase your traffic levels, how much have they increased by over the period.
How much have your chosen strategies influenced that increase?
If it didn't work, find out why and see if there's a different way to achieve your goal. And lastly, lather, rinse and repeat for the next 12 months or so.
Remember your goals may change over time so take this into account and be flexible when possible.
---
If you'd like to learn more about setting up your own online shop, read on for more insights into running your own online business here.