What is ecommerce marketing?
Ecommerce marketing is using digital marketing strategies to drive traffic to an online shop or ecommerce website and converting that traffic into sales and return customers. A fully omnichannel experience would incorporate both digital and traditional marketing strategies. But today we're focusing on ecommerce marketing, exploring all the different ways to market your ecommerce business online.
Let's first look at the different types of marketing that you can do to increase traffic to your ecommerce business and what each of them entails.
Types of ecommerce marketing
When it comes to different types of ecommerce marketing, there are a few that you can either handpick or work on all of them, but this will largely depend on the amount of time, resource and money you can dedicate. We'll start with something that is free but is probably more of a long term strategy for your business.
Content marketing
Content marketing isn't just about blogging, but in fact, goes into much more detail when you're running an ecommerce business. Whilst you still need to create strong SEO driven blog and video content for your business to help your SERP (Search Engine Results Page) rankings, there are also other aspects of your content that you can continually improve.
Optimise your product page content
The content that you include on your product pages has a significant impact on your product rankings in search engines like Google. There are things that you should do and many that you shouldn't but the basics are:
Write original product descriptions for each product on your ecommerce site. Don't copy and paste a description form your supplier as this not only doesn't show the personality behind your brand but it will mean that your product will be in direct competition with your supplier on Google. And they're going to beat you on price alone so avoid writing duplicate product descriptions.
Include long-tail keywords from your research in your product descriptions, as well as internal links and headers where appropriate to make points stand out.
Image alt attributions are also an important indicator for Google to describe your images.
Provide as much relevant information and detail as possible about your product. Remember the person browsing, can't hold, touch or see the product in their hands so providing as much detail as possible helps them to imagine the product.
Write relevant blog content
Writing relevant blog content is really valuable in bringing organic traffic to your ecommerce site. To get the best results, you should research your core keywords and work with the cluster content method which has proven to be the most effective content marketing method for organic blogs.
It comprises a single 'pillar' page on one topic (the topic most relevant to your business – EKM's is 'ecommerce') that acts as the main hub for this topic and lots of content pages that are linked back to the pillar page and each other.
The idea is that the linking between the pages, signals to search engines that the pillar page is an authority on the topic and therefore may be ranked highly in SERP results. This method is a great way to organise your blog content using a clean and deliberate structure.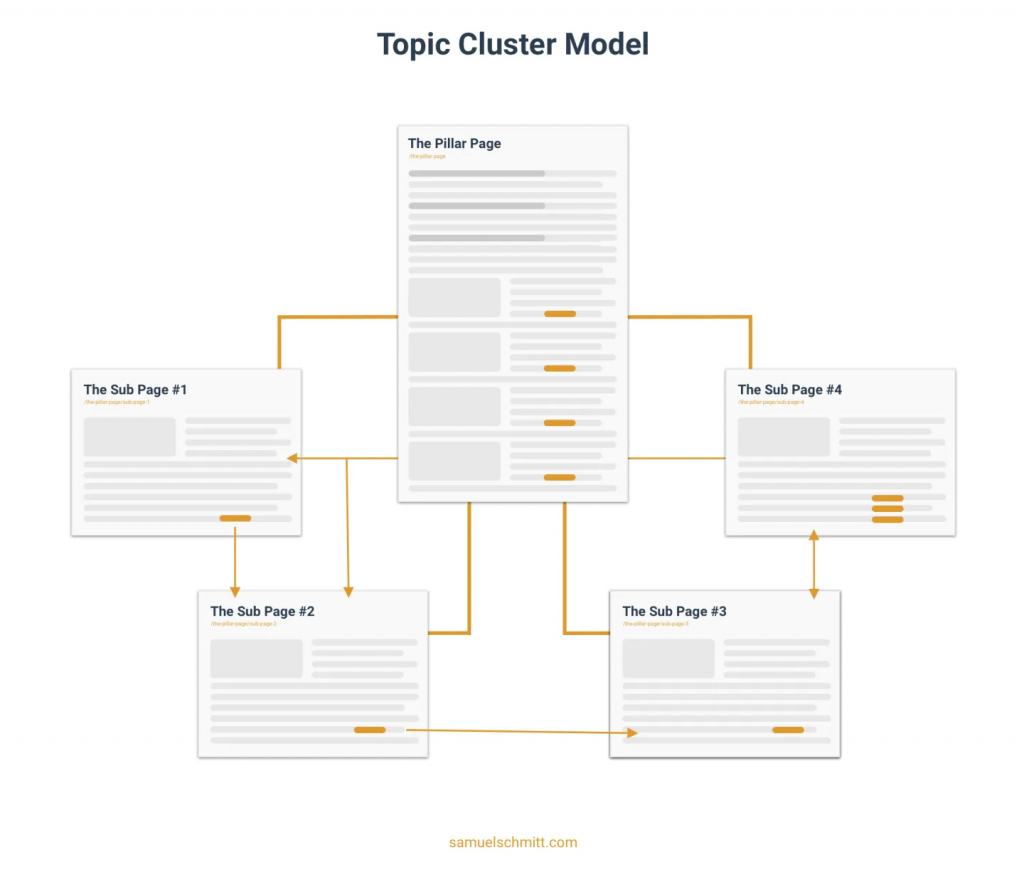 Improve your backlink profile
Something that is perhaps overlooked in your backlink profile – the links that you include on your website that point to another website or source.
Your backlink profile can demonstrate to search engines that your content is relevant and a reliable source of information for its search results. This is only achieved through linking to and receiving a link from high domain authority websites, in other words, reputable sites that Google trusts as a source of information.
You can improve your backlink profile but write relevant blog posts for other websites that are relevant to your target audience and try to get a backlink to your homepage where possible. This sometimes is done vice versa also, where you publish a guest post on your own blog with a link back to the author's website.
There is a lot of collaboration, outreach and building relationships when it comes to link building, which can be time consuming and low reward for high investment – but if you build up your profile enough you will start to see your own domain authority and rankings improve.
Ahrefs has a great backlink tool which will show you what is currently linking to your website and where your site currently stands.
Social media marketing
Social media is now one of the biggest online drivers of new business for ecommerce businesses. And there's a very good reason for that. Social media can reach and grow your audience more quickly and easily than other methods. We're going to cover a few paid methods of utilising social media to grow your business.
Facebook pixel
The Facebook Pixel is a powerful tool that all ecommerce business owners should be using to drive traffic to their website. Even if you're not planning to run paid ads straight away installing the Facebook Pixel is a must. 
Once installed on your ecommerce site, it can start gathering data about the people that visit your site, so that when the time comes, you already have a bank of data to be targeting potential customers with your ads.
Remarketing or retargeting as it's also known are very powerful ways to encourage conversion. You need around 5 to 20 touchpoints in a customer journey before they will convert so the Facebook Pixel helps remind them of the great product they viewed earlier and encourage them to come back to complete the purchase.
If you're an EKM customer you can read our handy guide on getting the Facebook Pixel installed on your EKM shop here.
Instagram shopping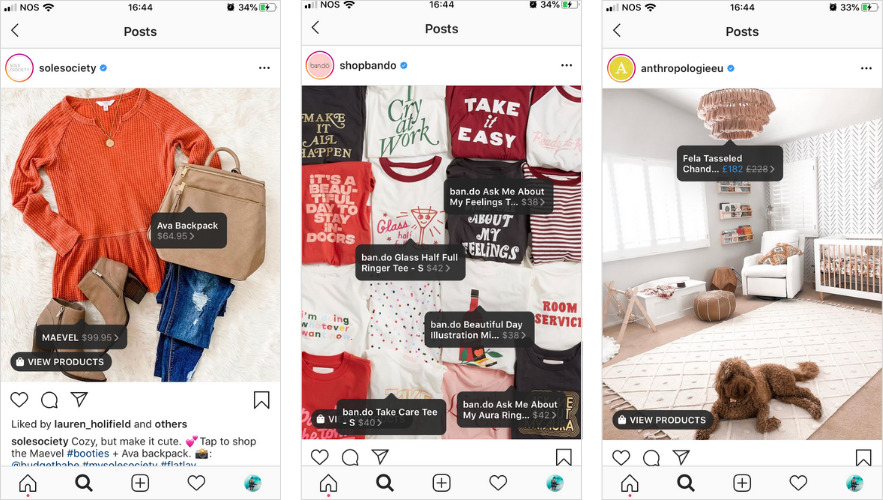 Instagram shopping is another great way to attract customers and make conversion even easier, it's a great platform to showcase your products and drive sales and if done correctly can support your growth goals.
Not only can you create shoppable posts, shoppable stories, shopping carousel posts, but your customer can check out straight from Instagram with their checkout feature. This helps to reduce friction within the process by keeping the transaction all in one place. If you can grow an engaged audience on this platform using Instagram's shopping feature may help you gain additional revenues to your business.
SEO
SEO (Search Engine Optimisation) is also an important part of your marketing strategy. It can be used as a powerful tool that can help your products reach the top of the search results without paying a penny. However, this isn't as easy as you might think. Having a solid SEO strategy in place will take time to yield results but can be the best way to earn organic traffic to your ecommerce website.
It's vital to try to earn your way to the top of the results page for your chosen keyword as 92% of clicks on Google are made on the first page of search results. Your homepage and product pages need to be optimised to have the best chance possible of ranking highly for your chosen keyword. But they're not the only way to bring in organic traffic to your website. As mentioned earlier, highly relevant and strong blog content can help you gain organic traffic through related search queries.
If you want to know more about SEO and how it can help your ecommerce business rank on search results, take a look at our introduction to SEO for ecommerce.
Advertising
A more costly way of attracting new business, advertising is still a powerful tool for online businesses if done correctly. There are several ways you can choose to advertise your products from Google ads, to Facebook, Instagram and Google Shopping.
There are many factors to consider when looking into paid advertising for your business. Which channels will be most effective? What kind of advertising do you want to do? What platforms and keywords are your target audience using and searching for?
Sometimes it's best to speak to an expert about the best route for your business. Why not speak to our Paid Advertising team and see how they can help you grow your business.
One of the most common forms of advertising for ecommerce businesses is Google Shopping. Google Shopping can have a great ROI (Return on Investment) for your money.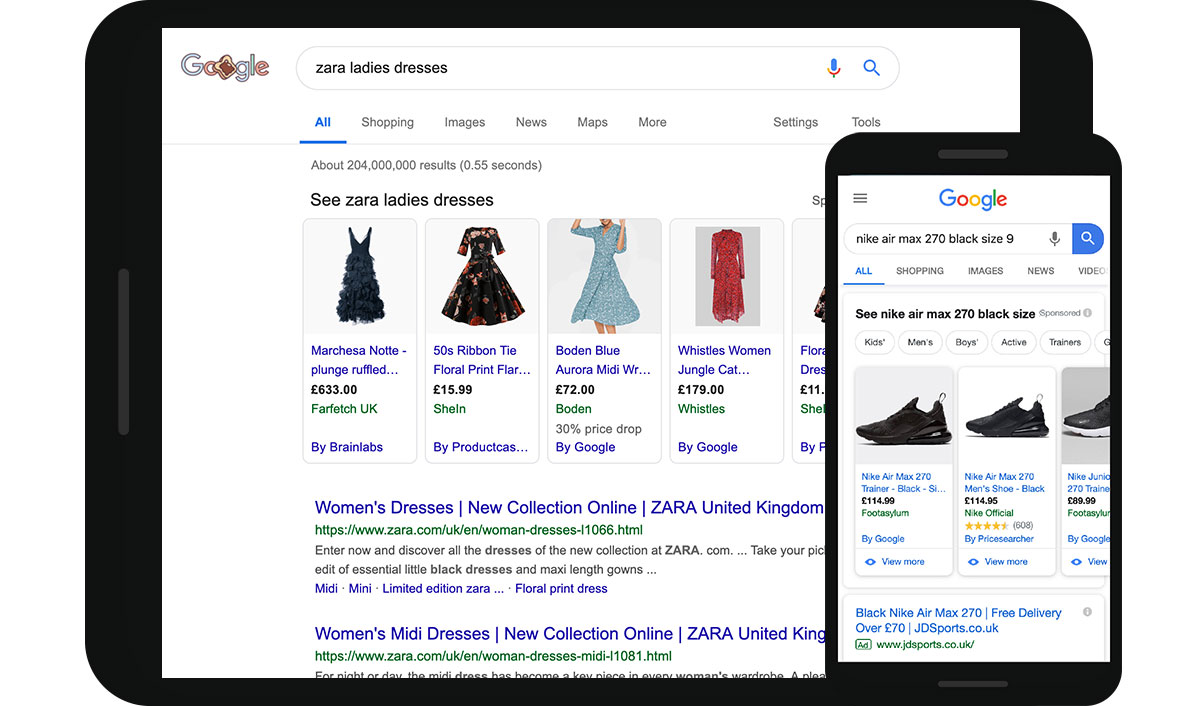 Google Shopping has many benefits from generating more qualified traffic to your website, a better user experience which results in a higher conversion rate, clear customer intent and a better reach. One of the main benefits is being at the top of your search results for your product keyword and Google Shopping ads actually perform better than text ads.
Retargeting is another powerful way to connect with your potential customers and drive brand awareness. Once you've managed to get a potential customer to visit your website if they don't purchase from you straight away, retargeting them, as we mentioned earlier, is one of the best ways of maximising your traffic.
Google also has its own tracking pixel much like the Facebook Pixel we mentioned above. And the best part is that you can get really specific with your audiences and what advert you serve them via retargeting.
Email marketing
Definitely, not one to overlook is email marketing. Email marketing has one of the highest ROI for very little effort. It isn't' just about updating your customers on their orders but so much more than that,
Email marketing can help you curate strong relationships with customers and build brand awareness and engagement. It can also be a great sales tool too, and while there are many different ways you can use email marketing here are a few ways to increase your subscriber list and engage with your audience.
Newsletter sign ups
Perhaps one of the more common ways businesses use email marketing is to build an email subscriber list. You can do this by encouraging your website visitors to subscribe to a regular newsletter full of information, news and the latest product updates about your business.
It might not be super easy to get them to part with their email address simply for updates about your business / products but you can encourage this by offering a 10% discount on their purchase as a 'thanks' for signing up. Not only does this encourage them to give you their email, but they believe they're saving money on their next purchase, when in fact, this may encourage them to buy from you when they might not have been thinking to.
Email is also another great way to stay in touch with your subscribers and create a more personal connection. Remember that you will need your subscribers to opt in and consent to receive emails from you and your business in order to abide GDPR rules.

Sequenced campaigns
Once you've managed to build a healthy email marketing list you can begin to develop highly targeted sequenced email campaigns. The purpose of these campaigns is to keep the conversation going with your audience and keep them engaged with your brand.
These are campaigns that you create once and are sent once a particular action has been taken. For example, once a customer has made a purchase, you would follow that up with order confirmation emails, tracking details as well as emails asking them to review the product. You would set this up as a sequenced campaign so that after you've created it and determined the time between each email, it runs automatically and is one less thing for you to think about.
You can also set up sequenced campaigns based on actions such as downloading a piece of content from your website like a free guide and set up a sequence of emails to follow their download confirmation with some more relevant content. This is also known as a 'lead magnet' and can help you attract new customers.
Exclusivity and FOMO
Lastly, you can create email campaigns that are designed to encourage sales through exclusivity and FOMO (Fear Of Missing Out).
These emails may take on the form of sales and promotions, new product launches that you can give your newsletter subscribers early access to (another reason for people to subscribe) as well as 'last minute' or 'soon to go' stock.
These types of emails can encourage impulse purchases or drive the engagement and desire for your products on social media and word of mouth.
Google tools
To help support your discoverability on Google search results using their suite of free resources for your ecommerce business has major benefits. Let's start with two of the most valuable that will not only give your business visibility but show you how your visitors are interacting with your website.
Google My Business
Whilst you may think that Google My Business is simply like an online Yellow Pages, it is so much more than that. Setting up a Google My Business account not only helps tell Google about your business, it's details like the URL, phone number, opening hours etc – but it also helps Google to know that you're a coffee shop in a particular area. So when people are searching for "Coffee shops in X area", it knows to serve your business as one of the top results.
Even if you don't have a brick and mortar shop but still sell coffee and coffee accessories online, this is still useful as someone may want to buy from a local business. But it means that your business is being served in SERP results to the right people at the right time and they can find out information about your business at the click of a button.
Google Analytics
Lastly, Google Analytics is probably one of the most important tools for your ecommerce website. Adding the Google Analytics tracking code to your website will give you a whole host of information and insight into how your visitors are interacting with your website.
This is important because you need to know what's working for you and what isn't. Identifying this can help you improve your ecommerce website from its useability, to your on page SEO. The insight that Google Analytics can give you can also show you which channels are bringing you the most traffic and which channels and pages are generating the most sales.
Once you know this information you can then market your business accordingly to help increase sales and conversion rates.
By using a combination of all these digital marketing strategies you should be able to generate traffic for your ecommerce shop, increase engagement and brand awareness as well as earn sales and build relationships with customers.
Let us know what strategies you implemented for your ecommerce business and what worked for you in the comments.