Choosing an ecommerce platform can be very challenging, your website is the central point for all of your prospects and customers making it vital to get right. Your website is likely to be the one constant touchpoint for your user's journeys and an essential if you're looking to create your own brand. We'll try and walk you through some of the best ecommerce platforms available for you to use.
---
It's also important to carry out some research before choosing an ecommerce platform, whether you're a startup, an established business looking to move platforms or a brick & mortar shop looking to build an online presence, your needs will vary and therefore the platform you choose should also cater to your demands and needs as a business.
If you're still in the process of considering whether you should move online or start an online business, let me share some data with you to try and convince you why it might be the right fit for you.
The number of purchases being made online year on year is consistently growing with an increase from 53% in 2008 to 82% of individuals in the UK making an online purchase in 2019.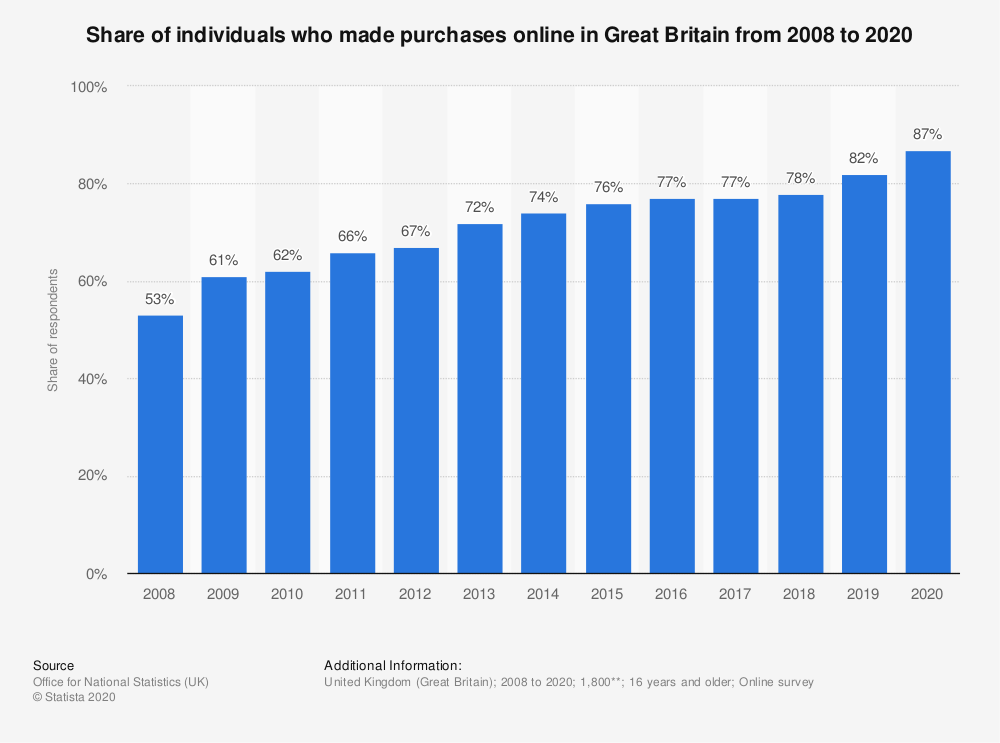 Find more statistics at Statista
Furthermore, as a more overall picture of the ecommerce market, growth in ecommerce sales in the UK has been very significant, growing by over £100 billion from 2017 to 2018, the figures are growing and will continue to with the importance of having an online presence in today day and age also becoming more of a demand from consumers.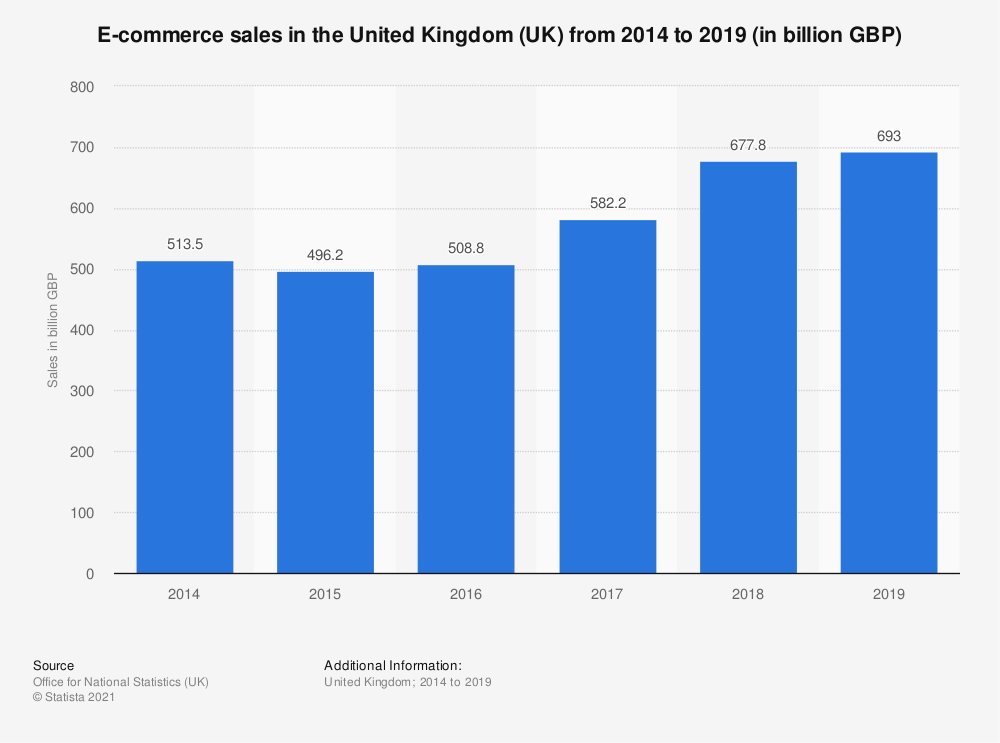 Find more statistics at Statista
Keep on reading if you would like to see:
What options do you have when building an ecommerce website?
Now more than ever, we have a range of different options to choose from when it comes to building our online shop. This can vary from having something completely custom built by a team of developers or setting up on your own through an ecommerce platform. Whatever option you choose, it's important to understand the positives of each as well as some of the drawbacks.
Custom builds vs ecommerce platforms
If you envision your future website to be state of the art with custom functionality that may be difficult to achieve from an ecommerce platform and you're an established business who can afford a custom website build, that may be the option for you, you can get a site exactly the way you want with the functionality you desire, this can give you a big advantage over smaller competitors who may not be able to afford to compete with you in that regard. The drawbacks for this often come with the time and cost this takes, not only to create but to maintain down the line when you need further development.
Often you'll be looking at teams or agencies to turn your vision into a reality. If you're with an external agency they have to manage their work balance between your business as well as all of their other clients, and having an in-house development team or individual is very costly. Not to mention having the burden only on one person can also mean a very slow launch. Further complications and costs also occur when it comes to maintaining your website, not only would you have further costs when it comes to hosting your online shop but many of the features that are often included within ecommerce platforms would have to be added manually including everything from security to discount management.
However, it's not all doom and gloom, having a fully customisable website gives you a level of flexibility you wouldn't be able to get from an ecommerce platform in terms of getting it the exact way you want, although ecommerce platforms are much easier to manage in most cases, they do have limitations no matter what platform you use.
Having said that whether you decide to go fully custom or choose an ecommerce platform will depend on your requirements, the level of functionality you require and how much devotion you have to bring your vision to life.
What to consider when choosing an ecommerce platform
1. What are you selling?
The first thing that will determine what platform you decide to choose will depend on what you're trying to sell. It's important to consider the feature-sets of all the platforms depending on this factor first and foremost. For example, if you're a wholesale business you may be looking for a platform that enables you to set up trade accounts, or if you're a freelancer looking to sell some of your digital products you may look at creating more of a portfolio type website which again will be a big factor in the platform you choose.
2. Functionality
Keeping the first point in mind, do you believe the ecommerce platform you are considering can fulfil your requirements from a functional point of view? Do they offer the features you'll require, the security you will need or even the type of payment gateways they accept, do they align with your business?
3. Design
It's important to get your website looking the way you want. Competing with such large businesses in the online field means you can no longer have a website that doesn't look good with people being able to find alternatives as quickly as they can. Having a website that looks more professional could be the difference between you making a sale and not. Having a look at the themes available for you to utilise on the platform, the image editing software available and the customisability of the site is another very important research step to take before making your final decision.
4. Pricing
This again could be crucial depending on where in your business journey you currently are. If you're a startup you may not have a large budget to spend often meaning you choose the cheapest option to save as much money as possible. Having this mindset however can be a hindrance and you can come to regret the decision you make if you solely base your decisions on this point, ignoring the above factors and just choosing based on price will often lead to you not being able to get what you require out of the platform you choose due to limitations resulting in wasted money and time into the platform, therefore, it's vital to consider this during the planning stage and setting out what you can afford then considering all the platforms that fit within that bracket and considering which gives you the most value for money.
5. Support
Often when starting a business or just moving over to somewhere new can be very daunting. Having to figure out how to use it and get it to work the way you want can be challenging without the right level of support, this is one factor often overlooked but also a crucial one to get right. Having a good level of support will save you time and money in the long run as well as helping you improve the performance of your online shop and overall business.
The Comparison
1. EKM

EKM is an ecommerce platform that has a core focus on support. EKM enables your ecommerce website to always evolve and get better to ensure you sell more. You are never on your own with EKM, the team is there to help you and you get your very own account manager who will work with you, and even manages the shop for you leaving you to process orders and spend more time doing something you love.
+ Positives
Support:

UK Based support teams and dedicated account managers means you'll always receive the support you require.

Evolution Mode:

A feature exclusive to the platform meaning your online shop is constantly kept up to date and always in optimum selling condition.

SEO: As an ecommerce platform EKM has a lot of flexibility in what you can do to optimise your search rankings on any major search engines.
Order Management:

Often credited for it's easy to use, simple and effortless order processing with access from any device.
– Negatives
Dropshipping:

As far as dropshipping is concerned although EKM does integrate with some dropshipping suppliers, the functionality and automation is currently limited. If you're looking to drop ship products find out if it's the right fit for your business.
Design
Currently, all 70 EKM themes are free, fully customisable and constantly evolving to add new features and functionality. All new EKM themes are fully responsive for mobile devices.
EKM also offers a logo builder and image editor to allow you to create your brand the way you want.
If you're confident in your ability to code you can also use 'custom mode' which allows you to fully customise your ecommerce website by editing the HTML & CSS and using EKM's easy to use tags system.
Reviews
EKM is the highest rated ecommerce platform in the world on Trustpilot with a rating of 4.8/5 with over 1900 reviews at the time of writing this.
Pricing
Pricing for EKM starts at £32.49 /Month – No Contract
Features
2. Shopify

Shopify is one of the largest ecommerce platforms in the world powering over a million businesses online. With an easy to use interface, Shopify makes it easy for you to start selling online quickly. Shopify is a particularly good platform for dropshipping with a well-built integration with Oberlo making it easy to automate certain processes.
+ Positives
Easy to use:

With a simple user interface the Shopify platform is easy to get used to and has a small learning curve.

Integrations:

Being such a large platform they have integrations with a lot of third-party tools and applications making it particularly useful for dropshipping.

Reporting:

Also providing a detailed dashboard means Shopify makes it easy for you to better understand your sales performance.
– Negatives
Support:

Naturally being as large as they are means the level of support individuals receive is no way near the level it should be meaning if you aren't very technical you may struggle to get the help you need.

Additional Costs:

Shopify often isn't very clear and transparent when it comes to the costs you may face, apart from the shop rental you're often forced into making additional purchases for domains, themes as well as certain features and integrations meaning it can become a lot more expensive than initially budgeted for and this is all on top of the high transaction fees they charge.
Design
Shopify currently has 72 themes at the time of writing this all with varied designs to help you find something to suit your site, however, 64 of the 72 themes are paid themes starting at $140 meaning if you're only looking at the free themes you'll be left with 8 themes to choose from. On the other hand, Shopify also offers a free logo builder which is open to all, not just Shopify customers as well as a lot of customisability with drag and drop functionality.
Reviews
Shopify doesn't have much of a focus on their Trustpilot reviews with a 1.8 rating, however, they do have more of a focus on the platform G2 on which they have a rating of 4.3 / 5
Pricing
Pricing for Shopify on its main plans starts from $29 /Month – No Contract
Features
3. BigCommerce

BigCommerce has 2 different sections to its platform, their main focus is for enterprise businesses however they also have an 'essentials' section dedicated to other businesses who require more of the basics. BigCommerce pride themselves on having the tools to take your brand further.
+ Positives
Easy to use:

Similar to Shopify, BigCommerce also has a very user-friendly interface meaning it's easy to navigate and get to what you want quickly.

WordPress Integration:

If you're accustomed to working within the WordPress environment, BigCommerce offers an integration to enable you to add the backend of the platform onto your WordPress site.

Marketplace Integration:

Bigcommerce also allows you to integrate with marketplaces like Amazon and eBay.
– Negatives
Limited Mobile Support:

BigCommerce doesn't offer a lot of support for store management through mobile meaning it can be difficult to run the shop on the go.

Focus on Enterprise:

As mentioned above, BigCommerce has more of a focus on trying to grow existing enterprise brands on their 'enterprise package'.
Design
Similar to Shopify, BigCommerce is very limited to the number of free themes you can utilise, with only 12 themes being free and the rest starting from $150 means you're limited to what you can do if you're not looking to pay for a theme, however, if you are accustomed to web development you can customise your online shop through HTML, CSS and Javascript and tweak it to the way you want.
Reviews
When it comes to Trustpilot which is the biggest review platform in the UK, BigCommerce is rated 3.2 / 5 and they do have a 4.2 rating on G2 based on 318 reviews at the time of writing this.
Pricing
BigCommerce pricing on it's 'essential' plans start from $29.95 /Month – No Contract
Features
4. Wix

Although Wix is on this list as they cater for ecommerce websites, Wix is in a much larger sector where they build all types of websites not just specific to ecommerce like the rest on this list. They are very well known for their drag and drop builder which makes customisation of websites very easy.
+ Positives
Drag and Drop:

The drag and drop functionality provided means it's very easy to customise your website to look the way you want, it's also very easy to use and the learning curve isn't very steep.

Range of Templates:

Due to the customisability available on the platform it means you also get a range of templates to choose from and be creative with making it even easier to get the look you desire along with some inspiration.

Blogging:

Wix allows you to add an easy to use custom blog which is fully integrated into your site which means you can create content as an additional method of bringing in traffic to your site.
– Negatives
Less Focus on Ecommerce:

Because they open themselves up to use by every kind of website it means the features available aren't as refined for ecommerce as they may be on platforms dedicated to ecommerce selling.

Functionality:

Even though the drag and drop feature they have available is a big asset for them if you're looking to add your own custom functionality within there and you aren't very tech-savvy you can often find yourself very limited to what you can do from a functionality point of view.

Customer Support:

Once again being as big as they are and catering for so many different types of websites means they can't provide support for individual needs as much as others may be able to and the expertise of support wouldn't necessarily lie within ecommerce.
Design
As mentioned above design is one of the strong suits for Wix as they have a range of free templates available for you to use as well as a free image editor, however, you do need to be on a certain level of their plans to get a free logo design.
Reviews
Wix has a rating of 1.5 / 5 on Trustpilot based on over 1500 reviews at the time of writing this.
Pricing
Wix 'business & ecommerce' packages start from £13 /month – No Contract
Features
5. WooCommerce

The final platform we will be discussing is WooCommerce, this is used by people who are looking to build an ecommerce website within the WordPress environment. It can be added as a free plugin from within the backend of the WordPress platform.
+ Positives
WordPress Integration:

Due to the popularity of WordPress WooCommerce makes selling straight from the platform very convenient. As it's also a free plugin to install it means WooCommerce is the biggest ecommerce plugin available on the platform and widely used.

Online Support:

Due to the platform being so commonly used and users having access to the server-side code signifies people can often find workarounds to overcome any difficult functionality they need to be added making almost anything possible at a price.
– Negatives
Additional Costs:

Although the plugin and initial functionality to turn your regular website into an ecommerce website is free, the costs often quickly add up when you factor in all of the additional costs they ask for if you're looking to go beyond the basics.

Technical Understanding:

In comparison to most of the other platforms mentioned above WooCommerce probably has the steepest learning curve. If you aren't used to the WordPress environment especially it can be like learning two completely different platforms in one go and this can become very frustrating.
Design
WooCommerce itself as a platform doesn't offer much customisation when it comes to the ecommerce side of thing, for example customising the checkout sections requires additional plugins, however, once again thanks to it being a plugin on WordPress means that the rest of the site is extremely customisable with thousands of themes to choose from and new themes constantly being added, unlike some of the other platforms WooCommerce doesn't have image editing or logo building features.
Reviews
WooCommerce doesn't have much of a presence on any review sites, however, on WordPress.org in the plugins section which is where they feature they are rated 4.6 / 5 based on over 3,500 reviews at the time of writing this.
Pricing
As mentioned above WooCommerce itself is a free plugin, however, as it's a part of WordPress you would have to pay routine costs of self-hosting there including any additional costs of domain names, SSL certificates etc meaning the costs can add up pretty quickly.
Features
Bonus: Obodo
We're listing this as a bonus as it doesn't directly compete with any of the other platforms mentioned throughout this article, Obodo is for people looking to restrict sales to their local communities.
Obodo is a local ecommerce platform, built to enable you to sell to your local community. Currently, the platform is free to use so you can serve local customers who would traditionally come into your brick and mortar store and enable them to purchase from you online.
+ Positives
Free to use: The Obodo platform is completely free to use at the current time of writing this. It's rare to find an ecommerce website building platform that's completely free where you're not charged for hosting or SSL certificates and the many other features the platform comes with.
The features: For a free platform you get a large list of features that not many local ecommerce platforms provide and definitely not for free, having functionality like click & collect as well as allowing you to have unlimited products and sales without increasing any kind of monthly bill.
Customisability: You can customise your site to your desire, many free platforms would limit you to what you're capable of executing, with Obodo you're encouraged to brand your new website to be the way you want.
Transaction fees: Unlike many local delivery platforms such as JustEat or Deliveroo who take high commission fees, Obodo has transaction fees under 4% making it ideal for local sellers.
– Negatives
Support: Due to the platform being free, Obodo is limited to the support it can provide, meaning you won't be allocated a dedicated support team or account manager that platforms like EKM can offer, however, you do get a range of support guides helping you if you ever do get stuck at any point through your journey as well as an email ticket system meaning you'll still have a point of contact if you require.
Delivery restrictions:

As mentioned previously, Obodo is a local platform meaning you can't use the free benefits to deliver anywhere in the UK, you're restricted to delivery within a 15-mile radius or click & collect.
Features
What is the best ecommerce platform?
So how do you make your choice now? I'd suggest looking at your business plan and if you don't have one yet create a business plan or at least consider the most important factors to you. What are you looking to achieve, what are your business goals, which features do you think would help you achieve your tasks and what platform do you think would give you the most value for money from support to features?
For example, if you're looking to make a website where you want to focus on content creation, Wix would be a good option for you, If you're looking to drop ship products, Shopify may be the one for you or if you're looking for a UK based platform with great support then maybe EKM is the choice for you.
This is where you need to weigh up your needs and requirements and compare them to each platform.
If you're still not completely comfortable with deciding on which platform to choose from, check out The Ecommerce Success Show Podcast, where we have an episode on who you should be choosing. We go into even more depth on how to make the correct decision and which factors you should be considering.
---
Learn more about our ecommerce plans and get started with a free 14-day trial here.