Start your FREE 14 days today!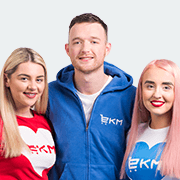 Request a Demo
Enter your number and one of our friendly ecommerce experts will be in touch. All fields are required.
A beautiful shop in minutes
Choose and customise a theme or build your own to achieve the perfect look for your shop.
Features menu
Perfect fit for your brand
With the choice of a huge range of eCommerce themes designed with your needs in mind, creating a beautiful shop couldn't be easier.
150+ themes
Choose from over 150 beautiful eCommerce themes and customise the colours to suit your brand. Your theme will update automatically to include new features, meaning you'll always have access to the latest trends in online shopping.
Mobile theme
Look great and work perfectly on all devices with a free, colour customisable mobile theme. Your customers will enjoy shopping with you, no matter what device they use.
Building your brand is easy, with tons of customisation options and features to help you take control of your design.
Professional Logo Builder
Create a unique logo for your shop with the EKM Logo Builder. Choose colours, shapes, symbols and tools to produce your very own company logo.
Themes for every industry
The perfect theme for your business is just a few clicks away with access to 150 colour customisable themes, designed for a range of different industries.
Take advantage of powerful design features that will provide you with a shop that is built to sell.
Product filters
Make it easy for your customers to see more of the products they want to buy with Product Filters, a feature that enables customers to filter down searches by attributes such as brand, size or colour.
Product viewing
Give your customers the ultimate product viewing experience with powerful EKM image editing tools and image viewing features such as Image Zoom and Image Lightbox.
Got something specific in mind? Anything is possible with a HTML/ CSS friendly shop.
Totally editable HTML/CSS
EKM is fully HTML/ CSS friendly, meaning that you can build your own theme - or hire a professional to build a theme for you and use it on your shop.
Easy to use tag system
Edit any existing themes without the need for any design skills using EKM tags. EKM tags allow you to customise the look and layout of your shop to suit your needs.
Product promo stickers
Enhance the look of your shop with access to a great range of design features. Product Promo Stickers give you the option to add promotional stickers to your product images.
Automatic Resizing
Your theme will automatically adjust to the sizes of the images you use, meaning that your theme will always look professional and you won't need to worry about the size of your images.
Drag & Drop Card Logos
Let customers know what payment types you accept with easy drag and drop card logos. Simply drag in the card logos that you want to display.
EKM Design Experts
Not sure what looks right? Call, live chat or email our team of experts that will be able to advise you what works best for your business.
Next

Learn about -

Marketing
Request a Demo
Enter your number and one of our friendly ecommerce experts will be in touch.