There are countless strategies that businesses use to increase their ecommerce SEO (Search Engine Optimisation) efforts. For the most part, businesses choose keywords and phrases that are related to their purposes and business goals.
However, there is more to ecommerce SEO than just writing relevant content with the odd keyword thrown in. This complete guide will cover a range of tactics for building and improving your ecommerce SEO.
What is ecommerce SEO?
Ecommerce SEO is the process of optimising a website's visibility in search engine results pages (SERPs). The goal of this optimisation is to bring qualified traffic to your site and, ultimately, increase sales through genuine searches for your products and services.
Why is SEO important for your ecommerce business?
SEO is more important for ecommerce than it is for any other type of business. When you market a product online, the first thing your visitors see is your website. SEO is all about getting your website in front of potential customers who would make purchases. SEO can help you get ranked in the top search results for relevant searches and helps improve your sales and visibility on the most popular search engines like Google.
This is why SEO is important for your ecommerce business as it is a free method in comparison to paid ads that contribute to your business's bottom line.
Where to start with ecommerce SEO
There are many places to start with SEO, which can seem daunting with the plethora of options and guides out there. This article will list off a few of the best resources so you can avoid costly mistakes and discover how to get started with SEO for your ecommerce business.
A great starting point for any ecommerce business is optimising your most important pages first. This means looking at the pages that contribute most to your bottom line. You can find this by going to Google Analytics and heading to:
Behaviour > Site Content > Landing Pages > sort by revenue (high to low)
How can you improve your ecommerce SEO
SEO can at times feel overwhelming. There are so many choices, plugins, and other pieces that need to fit together in order to make your website search engine friendly. We're going to talk about how to get started with optimising your ecommerce websites in order to drive traffic, sales, and revenue in 3 parts.
Part 3 – Technical SEO issues on ecommerce websites
Part 1
Keyword research to improve ecommerce SEO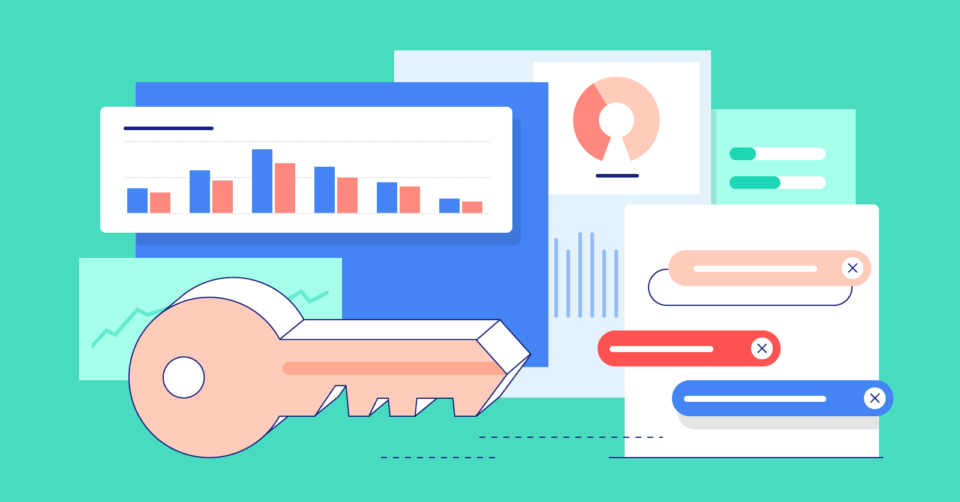 Choosing keywords for your ecommerce pages is essential to maximising the organic search potential of your site. Keywords are to be used across product pages, category headings, blogs and pages such as the 'about us' section.
The process of selecting, defining, and optimising keywords for an ecommerce site is called keyword research.
How to choose keywords
When you start an ecommerce business, it's important to optimise your shop to attract customers and increase sales. However, choosing the right keyword strategy can be challenging. It's not only about finding the most relevant and lucrative terms; you need to find keywords with high search volume also. That means using different tactics and strategies to enhance your overall SEO campaign.
When choosing a keyword you should consider the following:
Keyword relevance
Make sure the keywords you are trying to rank for actually reflect the content on the page. There is no reason for you to be including keywords that are irrelevant to what you sell. It will only damage your ecommerce SEO by increasing your bounce rate when users realise you are not offering what they are looking for.
Bounce rate is a key SEO metric and it informs search engines such as Google how many visitors left without clicking on any other page on your site.
Keyword search volume
If you create content around a topic that only receives 10 monthly searches, is it worth it? Make sure your keywords have a good search volume.
However, it is key to note that keywords with higher search volumes have increased difficulty to rank for. Especially for smaller ecommerce sites, to have the best chances at improving your ecommerce SEO you should be including a mixture of small medium and high-volume keywords.
Keyword competition
Unfortunately, you're not the only one trying to improve your SEO and get higher up the search engine. Have a look at competitors ranking for a particular keyword. Most tools will tell you the difficulty of ranking for them.
Keyword intent
Depending on the type of user you want to attract you can include a call to action within the content.
Where to find keywords
Keyword research is one of the most important aspects of SEO. It can be hard to determine what keywords are worth targeting, especially if you don't have an expert eye, but there are a few easy methods we can utilise in order to create a keyword list.
Use Amazon to find relevant keywords
As mentioned previously, keywords need to be included in your category titles too. So a good way to start structuring and labelling your categories is by heading over to Amazon to see how users navigate around their site.
Yes, it may be your competitor but the majority of customers head here first before any other website to purchase. So essentially there is a mound of data that Amazon can give us.
If Amazon structures their categories a particular way and with certain words, then chances are this is what customers are looking and searching for the most. Use this information to your advantage when choosing your category and subcategory titles.
Google Keyword Planner
Google Keyword Planner is a great tool to use when trying to come up with keywords for your content. Having access to this tool is going to help you a lot.
Firstly you can see what the competition is doing in the Google search engine. This can give you ideas on what keywords to use and also help you to see if your content will be able to stand out against other sites using those keywords.
It will help you discover alternative keywords that you may not have thought of before. Displaying the search volume for each keyword also.
In order to access Google Keyword Planner, you will need to create or log into your Google ads account.
Answer The Public
Answer The Public is a great website for finding out topics to write SEO-optimised content on. It highlights in-demand topics and queries users are searching for.
It might not be as keyword heavy as other tools, however, it is great for generating content ideas.
We talk more in-depth about other keyword tool alternatives in tip 3 of our 10 ecommerce SEO tips blog.
Part 2
Ecommerce SEO link building strategies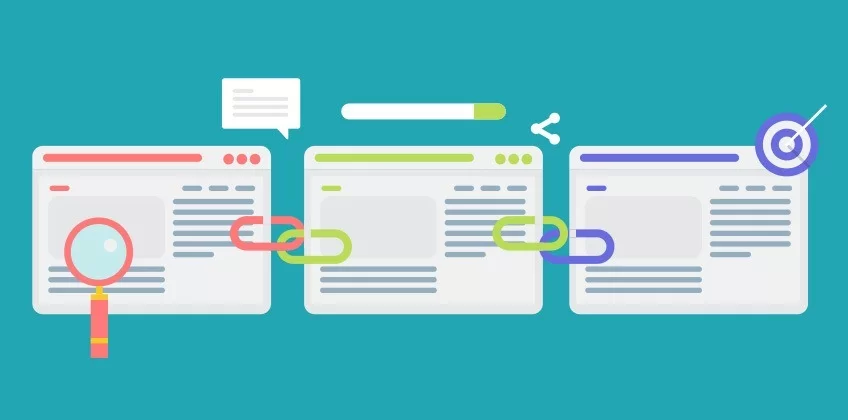 Link building is one of the important elements of SEO. It's the best way to build your website with the intention to get links from relevant websites. The first step to becoming a link-generator is to know how. This is why we will go through some of the best methods to start your link-building strategy.
The 'alternative' SEO backlink approach
If you're a UK business selling online to only UK customers or vice versa, then start to research and find competitors that serve other markets. E.g your US-based competitors.
You can find blog posts that recommend this competitor and contact the writer to suggest your business as a UK alternative. Why would they do this?
For their UK readers of the blog post, this would be extremely beneficial. They would be increasing their user engagement and adding value. Also with you making it easier for them by providing a link, it'll be a no-brainer for them to add you as an alternative.
Broken link strategy
A backlink is much more than just getting a link from another website. A good way to think of a backlink is as a recommendation that the website deems your content to be of good enough quality and added value to its readers.
However not every backlink is weighted the same. Quality matters just as much as quantity. So don't just ask anyone for a link to your website. Make sure they are of good enough quality, relevant and a natural link to your own site.
Another backlink strategy that you could implement is using a free broken link checker such as one from Ahrefs. It will quickly check for inbound and outbound links that can be damaging your ecommerce website. Broken links affect your SEO efforts and can damage user experience. This is why it's important to regularly check the health of your pages.
You can use this broken link checker not only for your own website but to check other sites for broken links and use this as part of your backlink generating strategy. Go to the sites with broken links and offer your content as a replacement.
Internal linking for ecommerce SEO
Internal linking is where you connect your content to other pieces of relevant content on your website.
Not all your links have to come from external websites. In fact, you should be focusing on including internal links in all your written content. This is the best practice for improving your ecommerce SEO as it helps search engines to understand the structure of your site.
Part 3
Technical SEO issues on ecommerce websites
Some areas of ecommerce SEO go beyond creating a keyword list and reaching out to other sites for backlinks.
Below we have listed a few more technical issues you can be expected to run into and their importance for your ecommerce SEO.
Avoid duplicated content on your ecommerce site
Duplicate content on your website can spell disaster, causing Google to penalise your site dramatically and drive huge amounts of traffic to your competitors. When you're building an ecommerce shop you should focus on creating unique products (such as unique product titles and descriptions) and providing value for your customers. The more unique your products are, the greater chance that your products will rank highly in the search results.
However, sometimes using duplicated content is a must in some areas of your ecommerce site. This is when you would use Canonical tags that tell search engines such as Google to not index the duplicated content. Therefore Google will not penalise you for duplicate content and harm your SEO.
If you want to know how to easily stop Google from indexing your duplicate content check out our 10 ecommerce tips to help boost traffic to your website.
Thin content damages ecommerce SEO
Thin content is a common problem when it comes to SEO, especially for ecommerce websites. Thin content is simply short snippets of text that doesn't add any value to your product or service.
The reason why it is an issue, particularly for SEO is due to having short product descriptions. After all, once you've written a product description for one type of product, what can you write differently about its other 5 variations?
It is recommended that for ecommerce SEO, all your pages should have at least 500-1000+ words. This includes category pages also.
How can you fix thin content to improve SEO?
The first thing you should be doing is identifying these 'thin content' pages. Start with pages that have small amounts of content such as 250 words. If you are an EKM customer you will automatically be notified of pages that need attention within your analytics tab.
Next, you should focus on bulking up these pages with relevant content. Utilising your keyword list that you built earlier.
If you are really stuck on word count, you can try this template for a product page description:
Deep dive product description (when, why, how the customer should use the product/service)
Short conclusion including a call to action
One thing you should not be doing is using duplicated content to bulk up your thin content. As we discussed earlier this will do more damage to your ecommerce SEO.
Improve ecommerce SEO with the 3 click rule
This one is pretty straightforward. Your product pages should be no more than 3 clicks away from the home page. This means if a visitor is having to click 4 times to find what they want then this isn't only ideal for user experience but also means you have a 'deep' site architecture. Meaning authority is diluted the more and more layers you have on your site.
Having deep product pages is not ideal for ecommerce SEO. As when users are looking for that specific product on search engines then you are less likely to rank.
With products being just 3 clicks away It helps pages to rank on Google as it is easier for them to be indexed. So take a look at your navigation structure. Are there any pages that are more than 3 clicks away from your homepage? If so, consider moving these first to a higher level in your category.
Page Speed – CDN and image optimisation
Page speeds are important for SEO. Having a fast website means visitors are given the best experience possible. It means your website is responsive and easy to navigate.
PageSpeed Insights is Google's tool to measure the speed of web pages. It shows you how long it takes for a page to load (on mobile, by default) and how long it takes for resources to download – such as images, CSS and JavaScript. Basically, page speed is one of the main things that affect how visitors will perceive your content and experience your website.
CDN
CDNs (Content Delivery Networks) are software-based systems that distribute static web content (such as web pages and images) to different locations via a distributed network of data centres across the internet.
The system keeps cached copies of web pages locally so that when a user requests a web page directly from the server, the request is served without having to fetch a remote copy from another location.
Through load balancing and other algorithms, CDNs optimise the delivery time of cached web resources for all users regardless of where they reside.
This is definitely a technical side to SEO and can sometimes be visualised better. Your web pages will be stored on servers around the world. Essentially the closest server to the user visiting your site will serve the webpage. This reduces page loading times significantly.
Optimising Images to improve ecommerce SEO
Images typically have large file sizes and are key contributors to slow page loading times. You simply need to optimise your images and reduce their file sizes by compressing them.
This will not reduce their quality enough for it to be noticed however will drastically reduce their file size, hence fast page loading times and improved SEO.
There are two simple ways to compress your images depending on if they are .jpeg/.jpg or .png files. You can use the below websites to simply bulk upload your images and have them compressed.
Keyword cannibalisation impacting ecommerce SEO
Keyword cannibalisation is simply when a single website unintentionally targets the same keyword across multiple pages and posts.
Typically search engines will only show one or two results from the same domain. Meaning if your pages are trying to rank for the same keyword, then you are essentially competing against yourself.
This is especially important to understand as Google cannot determine which one you'd want to rank higher for a certain query. In order to find out if this is happening on your ecommerce site then you simply need to Google the following:
Site:[Domain.com] [Keyword]
This will show you which pages are ranking for that specific keyword. The only real way to solve this is to audit your content and then determine if it should be removed, merged or redirected.
No schema markup
Identifying and understanding schema markup is critical to successful ecommerce SEO. Schema markup is a mechanism used by search engines to display content matching the search query in a way that is more relevant and descriptive to the audience of a website.
It helps visitors find the information they are looking for, and can help improve your conversion rates. Understanding how search engines interpret and display schema information is essential if you want to rank well in search engines.
It is no surprise that this is a great way to improve your ecommerce website's SEO by displaying more information on the SERP and how this results in more clicks.
However, implementing schema markup manually can be complicated, which is why it's recommended to use Google's Structured Data Markup Helper.
If you are looking to improve your ecommerce SEO then these three core pillars are vital in understanding and implementing on your website. You should also be constantly keeping up to date with new ecommerce SEO practices as many search engines are constantly updating the way websites are ranked.
EKM is ecommerce SEO friendly
EKM knows how important SEO is for ecommerce. However, we also know how time-consuming it can be too. This is why we optimise your web page's SEO for you. You can also access important SEO sections easily if needed.
You can learn more about how SEO-friendly EKM is for ecommerce here.
SEO is an important part of selling online and something all business owners should understand. If you want to learn more then be sure to read our ultimate guide on everything ecommerce.
---
If you'd like to learn more about setting up your own online shop, read on for more insights into running your own online business here.