Start your FREE 14 days today!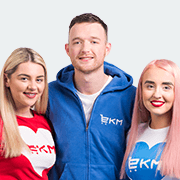 Request a Demo
Enter your number and one of our friendly ecommerce experts will be in touch. All fields are required.
Building your shop is a breeze
No code or fiddly bits, your shop will be up and running on the same day.
Features menu
Add your products effortlessly
Upload an image, set a price and add a description with a few clicks.
Quick product upload
Add your products with minimal time and effort through our award winning interface. If you want to add products in bulk, that's just as easy with EKM's powerful bulk editing tools.
Organise your products
Create a simple to use category structure with minimal fuss, making your shop easy to browse and buy from.
Save time adding your products manually by uploading them in one easy process.
eBay Integration
Already sell on eBay? Move your eBay products to and from your ecommerce website in minutes with our powerful eBay integration.
Import/Export System
Take full control of your inventory. Simply import or export your products to a spreadsheet so that you can move your products where you want, when you want.
Manage your products in bulk so you can spend time on what matters - selling.
Automatic Stock Management
EKM automatically adjusts your stock levels and alerts you via email when it's time to reorder.
Bulk editing
Edit multiple products in seconds with our powerful Advanced Inventory Manager.
Create product images that sell, with tools and features that make editing slick and simple.
Powerful image editing
Crop, enhance or choose from a selection of effects and filters to give your images a professional look.
Drag and drop images
Quickly upload pictures using drag and drop. Perfect for uploading multiple images to your shop.
Multiple staff logins
Give your staff the access they need through the staff login feature. Assign different levels of access to different staff members, depending on what you want them to work on.
Product attribute and variations
Add custom attributes and variants to your products such as brand, colour and size.
Create new webpages
Webpages are used for extra information, like 'About Us' or 'Delivery Information'. There's no limit to how many extra pages you can have.
An interface that optimises itself
EKM's unique Evolution Mode means your shop will detect any areas of concern and fix them, to ensure every one of your customers has a great shopping experience.
Next

Learn about -

Designing
Request a Demo
Enter your number and one of our friendly ecommerce experts will be in touch.