Start your FREE 14 days today!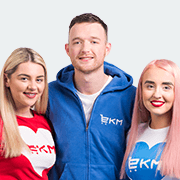 Request a Demo
Enter your number and one of our friendly ecommerce experts will be in touch. All fields are required.
Get your products seen online
Attract visitors, generate orders and turn existing customers into repeat spenders
Features menu
Get found on search engines
Your online shop is built with search engines like Google in mind to help you get seen above your competitors.
Search engine submission
You can submit your shop for listing on all major search engines with a single click.
Custom metadata tools
Optimise your own metadata in an easy to use interface.
Keep customers coming back
Use EKM's powerful marketing tools to build relationships with previous customers and turn them into repeat buyers.
Email marketing
Keep your customers updated with all the latest company news along with exclusive offers through EKM's email marketing solution.
Loyalty points system
Reward your customers with loyalty points to keep them coming back for more.
Get the most value out of every visitor by creating incentives and up selling related products.
Discount codes
Give customers a reason to come back with exclusive discounts off their next order.
Cross sell with related products
Make the most of every sale by displaying related products to customers. A great tool for getting your customers to place bigger orders.
Create a blog
Add a Wordpress blog to your shop to engage with a wider audience. Post the latest company news and behind the scenes to see your online shop climb Google's rankings.
Social network integration
Send your products viral with EKM's social integration. Link all the major social networks to your shop such as Facebook, Twitter, Google+, Pinterest, YouTube and more!
Next

Learn about -

Converting visitors
Request a Demo
Enter your number and one of our friendly ecommerce experts will be in touch.