What is Magento ecommerce?
Magento ecommerce is an established open source ecommerce platform that offers a degree of customisation and flexibility. Mostly used by larger ecommerce businesses, Magento was designed to be fully scalable. It was released in March of 2008 and developed on Zend Framework. It was acquired by Adobe in 2018 for a cool $1.68 billion.
Since then, lots of businesses have used Magento to build and grow their ecommerce businesses. But is Magento the best option for your business? We're going to look in depth at the benefits and drawbacks of using Magento compared to EKM, as well as features, support, pricing and more.
Magento open source vs Magento commerce
When it comes to Magento, there are a few editions to choose from and the scale of your business should really dictate which package you choose.
Magento open source
Magento open source edition, formally known as Magento Community is open source and only has community support. It is free to download, is customisable and self-hosted and is best suited for small businesses making it a good choice for low budget start-ups.
Magento commerce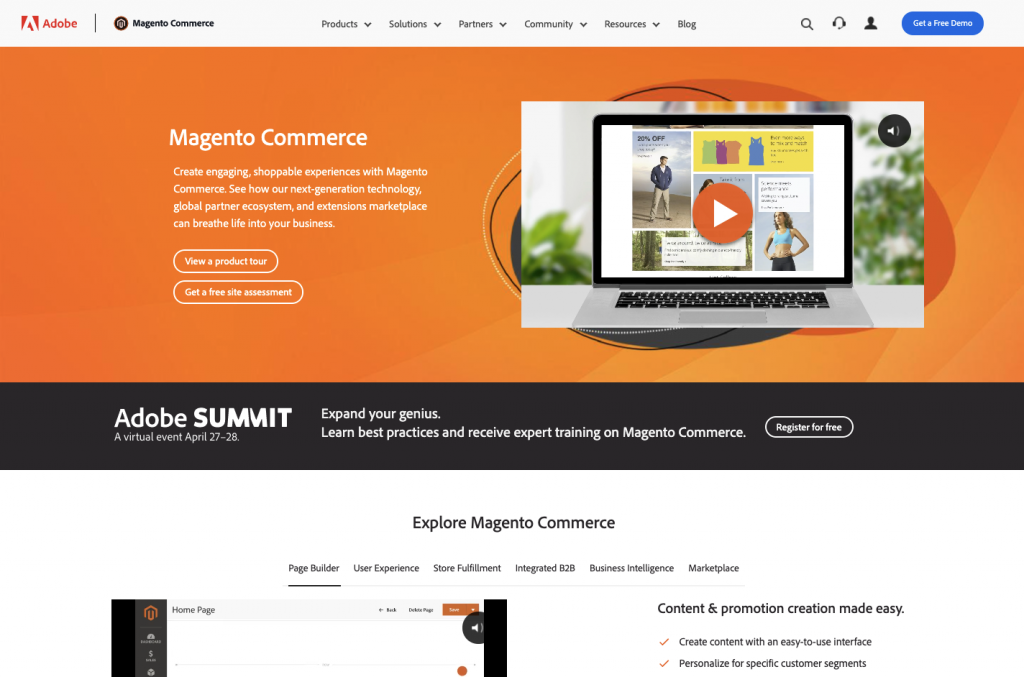 However, Magento commerce edition is their premium paid version, formally known as Magento Enterprise and Magento Enterprise Cloud. These two versions have been unified since leaving one premium paid edition.
It has separate databases for order management, checkout and product data. The paid version also comes with 24/7 support via phone and email, as well as including cloud-hosting as part of the subscription.
But, there are more differences between these two editions to consider. From caching speed, organic search rankings to load times. Not only that but as a business owner you need to consider if Magento is for you. It can be very costly, resource heavy and time consuming.
Let's now look at the features of both Magento and EKM, to give you a better understanding of what your business may need.
Magento features
Magento didn't get to where it is today without having some advantages that attract ecommerce business owners. Let's get into the benefits of Magento ecommerce.
Flexible content management system (CMS)
Their CMS is a visual based editor which allows business owners to build and customise their offerings quickly and easily. Their content management interface has a user-friendly toggle, so what you see is what you get on your live site. This is a nice touch for people who have little to no coding experience but who wish to manipulate basic functionality within their ecommerce shop.
Mobile friendly
Magento is developed to be fully responsive. Which means that your site will look great on any device, from desktop to mobile. However, this has become pretty standard practice for most websites and ecommerce businesses.
Highly customisable
Magento is a highly customisable platform that can be changed and manipulated to look exactly how you'd want your ecommerce site to. The platform also offers an option to choose from a variety of payment, shipment and language options that suit your customers. Almost every functionality on Magento is customisable and they also have lots of plugins available to help improve the functionality of your ecommerce shop.
Fast loading webpages
A large contributing factor to an ecommerce website's SEO is how quickly its pages load. Magento was built with fast load times which helps improve your SEO ranking factors as well as usability.
Advanced reporting
Data and analytics are important to any business. Knowing exactly where you stand, what's performing well and where needs to be improved is a must. Their advanced reporting offers a deep understanding of your ecommerce business, including nearly 20 reports via their web interface.
Insights such as orders, customers and products are given by the reporting feature and are continuously updated with the latest information. Examples include AOV (Average Order Value), taxes, shipping fees, number of registered accounts, number of product orders and insights about your best selling products.
Ongoing costs
The most common disadvantage of the Magento platforms is that there are a lot of ongoing costs. Whilst they do have a free version in the form of Magento open source which is aimed at those just starting out; the use of extensions and support for this edition requires payment.
Aside from that , their premium paid edition, Magento Commerce starts at $2,000 per month. This can be a hefty price to pay for businesses who are just starting out. Whilst Magento Commerce can cost anywhere from $20,000 to $100,000 and sometimes more depending on what your ecommerce business requires. And not only that there are also other development costs to consider too.
Investment time and costs
It can take quite a while to get a Magento site set up properly and you may need additional help. Magento developers or agencies can help you build your Magento ecommerce business, but of course this comes with a cost, on top of what your Magento site is already costing you.
Hosting costs
On top of all the other costs we've already mentioned, you will have to pay to have your Magento site hosted somewhere. There are many companies out there that offer hosting services but yet again, this is another annual cost to your Magento website before you've even made your first sale.
Technical knowledge
With Magento Commerce there will be a steep learning curve and in most cases a need for technical knowledge. Which means this option isn't the best for businesses just starting out or if you have little experience with Magento.
Support
Magento support has a lot of open support tickets currently. Which means huge wait times unless you're willing to bypass Magento support by paying which would then increase your ongoing support costs for your Magento site.
Updates and migrations
Choosing a Magento site means you will constantly need to run updates and maintenance which aren't exactly straightforward. And if you're currently on Magento 1, you're going to have a difficult time migrating to Magento 2, which we'll talk about later on.
Open source
Whilst open source may sound great at first, given that you can customise the code in any way you'd like. This is also one of the biggest headaches when it comes to using Magento. Having a highly-customised bespoke back-end will make it more complicated when it comes to migrating or replatforming.
EKM features
EKM on the other hand, also has its advantages, particularly for UK business owners. Let's look into EKM's features.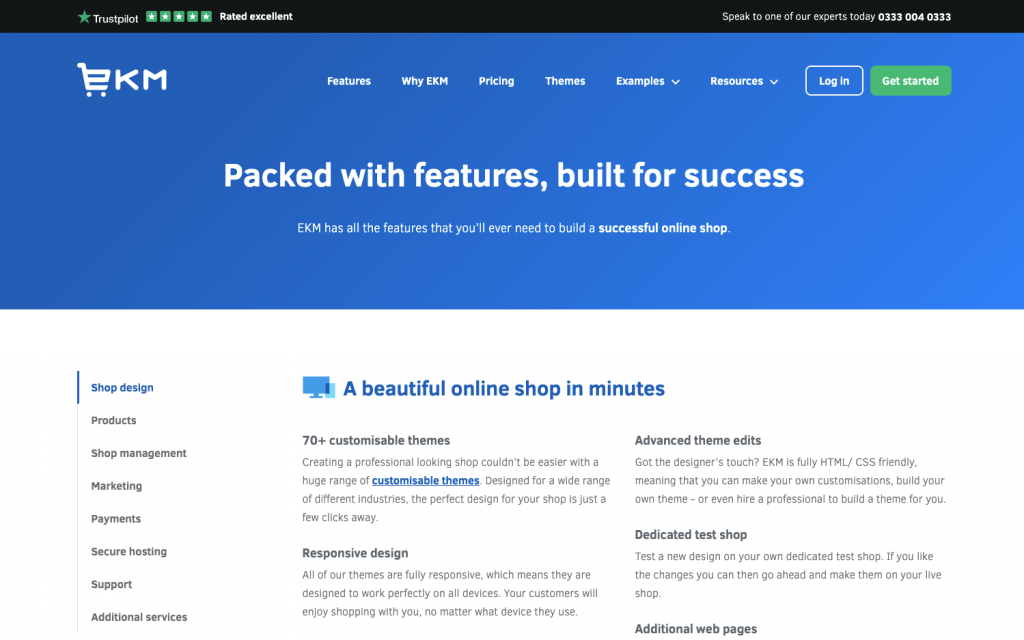 Easy to use
EKM is a very easy to use ecommerce platform. The learning curve isn't very steep and we endeavour to make the platform, its features and our services easy to understand and use. So if you're someone who's never used an ecommerce platform before, EKM is not only really simple to use but we have a whole team of support experts based in the UK – but we'll talk more about that later.
Fully optimised
EKM was also designed to offer fully optimised themes to shop owners. With over 70 themes to choose from, EKM shop owners have more than enough choice when it comes to how their online shop looks and feels.
Built for SEO
With SEO being such an important part of growing an online business, EKM is built for SEO. You can read about how friendly EKM is for SEO here. EKM will automatically generate a meta title, meta description, a flat URL structure for your product pages but the meta title and description can be customised to your liking.
UK customer support
Probably one of the best things about EKM is the UK based customer support team , who are available 7 days a week. This means that someone based in the UK is there to help you exactly when you need it. Keeping our customer support team based in the UK means you have a knowledgeable ecommerce expert at your disposal to help you with everything and anything to do with your online shop.
Account management
For those businesses who are more established, our Account Management team are there to support the needs of your business. Depending on the plan chosen, a dedicated Account Manager will be your single point of contact. Not many other providers offer that level of support for businesses – our Account Managers are an extension of your team and know your business inside and out.
Evolution Mode
A unique feature to EKM – our Evolution Mode means our customers shops will be continually updated and never get out of date. Depending on the plan chosen, every EKM shop has access to our Evolution Mode. Our Evo team will take a look at your shop to see where improvements can be made from design to performance and update your shop for you.
Why not check out all the benefits of our Evolution Mode here.
Integrations
EKM also works with many large and independent businesses to bring our customers the best integrations possible for their online shops. Integrations from payment gateways such as PayPal and Laybuy to middleware integrations and courier services. Everything you need in one place to run a successful ecommerce business.
EKM community
Another great benefit of EKM is our Facebook community group full of like minded people offering peer to peer advice on all things ecommerce. A great place exclusively for EKM shop owners to share ideas, information and seek advice. Our ecommerce experts do dip in from time to time to help answer any questions.
Pricing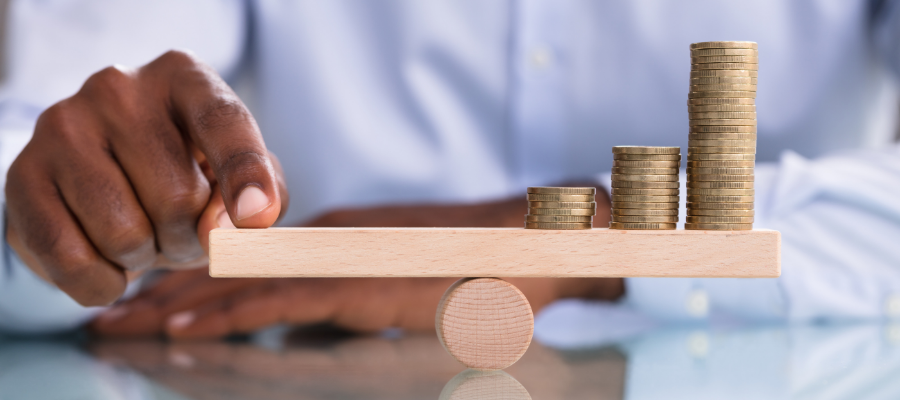 Pricing is probably the most important factor when it comes to looking at Magento. We've already touched upon how much you can expect to pay for a Magento Commerce site, but let's look into all the associated costs in more detail.
Magento pricing
Their Magento Commerce Pro package is marketed as a perfect solution for established B2C and B2B businesses of all sizes (up to enterprise level). This edition includes:
Magento Commerce application
Core application support
Business intelligence pro
B2B functionality
Single-tenant, dedicated infrastructure
Managed cloud services
Deployment tools
Larger dedicated staging environment
Faster support response time
Increased customisation available
Disaster recovery and data retention
Varnish based CDN
Image optimisation
DDoS protection and WAF
Performance monitoring tools
Infrastructure support
Technical account manager
High availability architecture
Automated data backup
Expansive monitoring and alerting
Scale globally on AWS and Azure clouds
On their website, they encourage you to get in touch with their sales team rather than giving a cost on the website. Their pricing is based on annual Gross Merchandise Value (GMV) and Average Order Value (AOV).
If you are looking at Magento Commerce (formally Magento Enterprise Edition), the cost will depend on your business needs. You will need to seek a personalised quote from Magento themselves, but the cost can start anywhere from $20,000 per year and go all the way up to around $100,000 per year.
Licensing won't be the only cost associated with a Magento site. You'll also need to think about:
Infrastructure (web/app servers, databases, firewalls and load balancers
Development (programming, design, and app integration costs)
Support (fees to manage updates, troubleshooting, bug fixes, patches and training)
Technical support (working with someone to manage the software on an ongoing basis)
All can very quickly add up and end up costing you a lot of money right out of pocket, before your site goes live.
EKM pricing
With a SaaS (Software as a Service) platform like EKM, the infrastructure is already built, hosting is included as well as ongoing maintenance, support and development. Take a look at our full plan list here.
| | | | |
| --- | --- | --- | --- |
| Basic | Standard | Advanced | Pro |
| £32.49 + VAT p/m | £64.99 + VAT p/m | £194.99 + VAT p/m | £549.99 + VAT p/m |
| All essential features | All essential features | All essential features | All essential features |
| Up to 500 products | Unlimited products | Unlimited products | Unlimited products |
| 30 minute welcome call | 6 months Account Manager | Full time Account Manager | Full time Pro Account Manager |
| Basic Evolution mode | Priority UK support | 24/7 emergency support | 24/7 emergency |
| Shop health reports | Evolution Mode | Monthly Evolution Mode | Unlimited Evolution Mode |
| Up to £50K in online sales per year | Full analytics | Full analytics | Full analytics |
| | Product urgency features | Mobile app access | Mobile app access |
| | 5 employee accounts | Product urgency features | Product urgency features |
| | 6 month money back guarantee | 15 employee accounts | Unlimited employee accounts |
| | Up to £150K in online sales per year | 6 month money back guarantee | 6 month money back guarantee |
| | | Trade discounts | Trade discounts |
| | | High performance server | Enterprise performance server |
| | | Up to £1M in online sales per year | Exclusive payment rates |
With the cost a fraction of a Magento site, and everything you need included to run a successful online shop. With EKM, there's no need to source a developer, hosting, pay for infrastructure and maintenance costs or hire someone to make sure your site is fully optimised.
Let's now get onto the support side of things for both Magento and EKM.
Support
As a business owner, if you're not that familiar with ecommerce platforms, support is going to be a top priority when it comes to opening an online shop. Having a team to support you and help fix any issues or answer any questions can be a priceless asset.
Magento support
When it comes to support with Magento, if you're happy to take the reins on your own support strategy, then they have lots of resources, blogs, forums and a knowledge base. But Magento tends to not hold your hand through their shop building process.
There's no live chat available on their website, no support phone number to call or email address to get in touch with them. This means that without paying, you're pretty much left to fend for yourself.
Some of their Commerce Cloud packages include customer service, but if not then if you run into any problems running your Magento site you'll either need to find the solution yourself or hire a knowledgeable Magento expert to help you out.
Not great if you're new to selling online or don't have any prior experience with Magento.
EKM support
EKM on the other hand, we pride ourselves on our high levels of customer support – it's what we're best known for.
Our customer support team is on hand 7 days a week to help shop owners with pretty much anything they need. From questions about their online shop to technical support and more.
Depending on which plan you choose, shop owners could also have their own dedicated Account Managers. Someone that works as an extension of your team and is proactive in ensuring your online shop is at its best.
Why not see what some of our other customers have to say about us?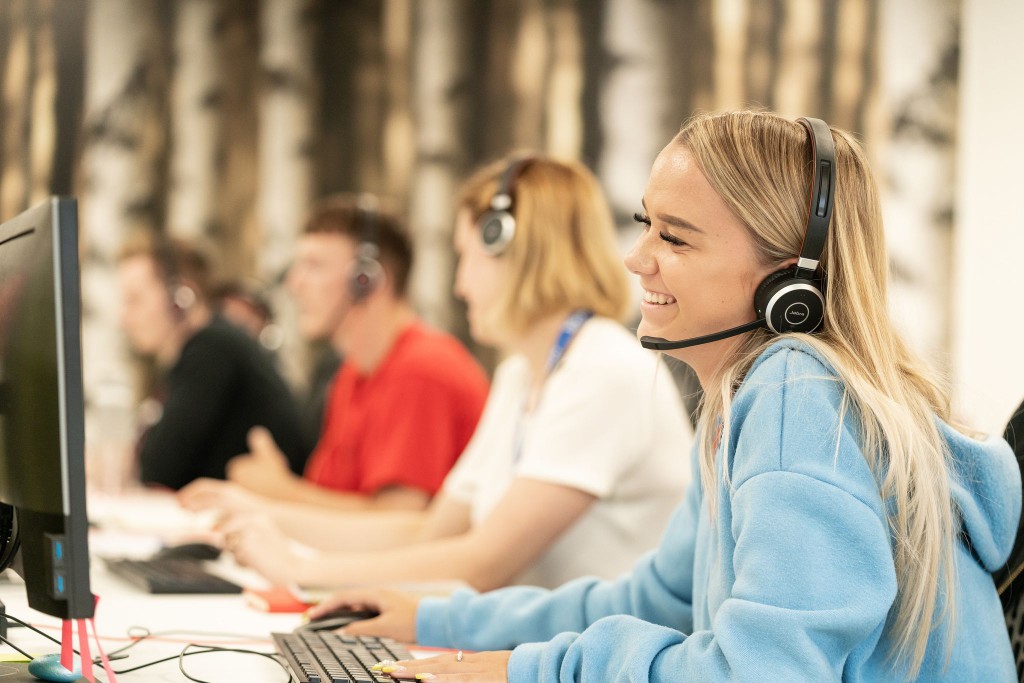 Our support services don't stop there. Our lovely guide writer Eve, creates guides and videos in our Support Centre to help you through anything on the EKM platform. And we mentioned our exclusive EKM community group on Facebook, where you can meet other EKM shop owners and discuss and share ideas, tips and tricks for selling online.
With EKM, supporting you and your business is our number one priority so we're a great choice for both beginners and established businesses who are looking to grow.
What is Magento 2?
In 2018, Magento announced that they would be subsetting Magento 1. So all earlier versions of their products (1.1-1.9) would no longer be supported with maintenance and security patches. Magento 1's end of life date was at the end of June 2020.
Which means any businesses still using Magento 1 are putting their ecommerce shops at risk by using now unsupported software. But, making the switch to Magento 2 isn't completely straightforward.
It's actually a complete re-platform. Businesses who need to make the switch are going to have to migrate data, adopt a new theme and integrate new extensions. This in turn will rack up a hefty bill for design and development costs. Which is why some businesses are taking this time to reconsider if Magento is worth the price point, or if they're better off switching to a SaaS platform, just like EKM.
So Magento vs EKM – which is for you?
Ultimately, whichever you choose will come down to the following:
How large is your business currently?
Are you an established business with firstly, the need for a platform like Magento or does your business size indicate that you could work with a cheaper platform such as EKM, who still work with businesses turning over £1M in sales each year.
What features and or services does your business need?
What features your business needs will help dictate what kind of platform would best support your business.
Lastly, how much of your budget can you dedicate to your business's ecommerce shop. If you can look to reduce your costs from thousands of dollars per year to just hundreds a month but still have a beautiful and optimised website without compromising – why wouldn't you?
The decision ultimately lies with you and your business needs. And while there are other options available, why not take a look around EKM?
---
Learn more about our ecommerce plans and get started with a free 14-day trial here.